Good news for "This is Us" fans: You won't have to wait much longer to find out who Kevin's fiancée is.
"We're almost there. We're a couple of weeks away," Justin Hartley, who plays Kevin, told Us Weekly. "You'll find out!"
Earlier this season, viewers learned in a flash-forward that Kevin is engaged and that his fiancée is pregnant.
Kevin has no trouble attracting women — it's holding onto them that has proved problematic and there are several characters who could be his fiancée.
He had a recent dalliance with his sister's best friend, Madison, but also still grapples with feelings for his ex-wife, Sophie, who was herself engaged earlier this season.
There were also sparks with Cassidy earlier this season and a brief moment where he felt a connection with a woman named Lizzy, played by Sophia Bush, who turned out to be married. And what about his girlfriend from last season, Zoe? There is no shortage of good guesses.
While we will soon find out who the mystery woman is, Hartley also says fans should expect to get some insight into what causes the rift between Kevin and Randall, who we also know through a flash-forward stop speaking.
"It's big. It's a big problem," he said. "I feel like on our show you have these moments where you look back and are like, 'I remember that.' That was a moment. This will be one. It's huge. It's like a massive schism."
Hartley says it only makes sense for the relationship to completely disintegrate, considering the complicated past they share.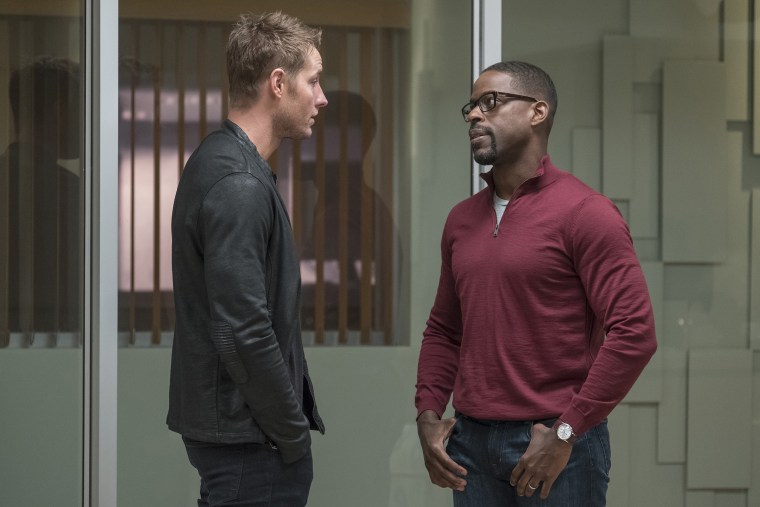 "I think from the beginning of time, they've had issues. They're always fighting," he said. "They've lived their lives in different ways and there's regret and I guess adoration as well as envy and resentment. That's kind of the backbone of their relationship, so I would say strap in, get ready."
The history between the two characters should play a huge role in their disagreement, according to co-star Mandy Moore.
"I think we're starting to understand the simmering tensions they have — this sort of long-standing tension that's kind of been simmering beneath the surface for these brothers for a couple of decades," she told Us Weekly last week.