If you didn't think Lonnie Chavis, the 9-year-old star of NBC's "This Is Us," could get any more charming than he already is on the hit show, you'd be quite wrong.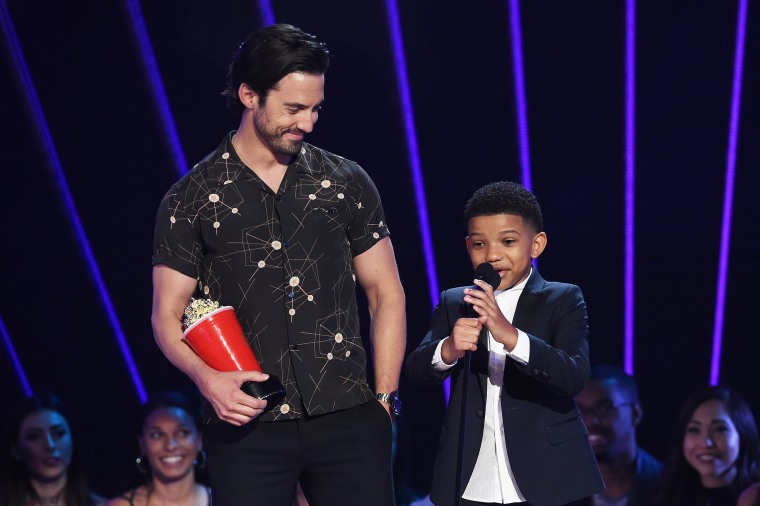 Because on Sunday night, when he took the stage to accept (with co-star and on-screen dad Milo Ventimiglia) the award for Best Tearjerker, he had everybody going from tears (due to the scene) to laughter in seconds.
As he stood holding the award, which looks like a large cup of golden movie popcorn, Chavis noted, "I can't keep faking that this is not heavy!"
Ventimiglia helped him out and then a stagehand lowered the mic so Chavis could at least be heard. He went through a round of thanks, and made sure to ask everyone to "give it up" for the writers, which we have to love.
Still, Chavis wasn't the only on-screen offspring Ventimiglia got to hang out on stage with. Chrissy Metz, who plays the grown daughter of Ventimiglia's Randall (go with us on this) and the actor also took to the stage to present Best Duo during the awards program.
And to our delight, Ventimiglia stayed in character as Jack Pearson!
"You know, things were a lot simpler when I was a kid," quipped the actor, according to Entertainment Tonight. "In the '90s, we had movies like 'Beauty and the Beast.' On TV, we were watching 'Full House,' Blink 182 was making a go of it on tour, and you know, we just couldn't stop talking about O.J. Simpson."
"So, nothing's really changed?" laughed Metz.
"Nope, nothing!" said Ventimiglia.
Hey, is there another award for Best Award Presenter?
RELATED:
Follow Randee Dawn on Twitter.