Jack Pearson may be gone, but his spirit will be celebrated at his daughter Kate's wedding.
"This Is Us" star Chrissy Metz, who plays Kate Pearson on the hit NBC drama, took to Instagram on Tuesday to drop a few hints about how Kate and Toby's wedding ceremony will honor her late father during Tuesday night's season finale.
For starters, Metz showed off her fingernails, which were delicately painted with a tiny gold "J" and "P" — Jack's initials. (Click through Metz's slideshow to see multiple snaps of her snazzy manicure.)
"Something old, something new, something borrowed, something blue. When we were planning Kate's wedding look, I knew I wanted to do something special. Honoring the beautiful relationship Jack and Kate always had, I decided to have his initials close to my heart," Metz, 37, wrote, revealing that the tribute was her own thoughtful idea.
"The nail color was my something blue. Just wait till you see what the something old might be!" she teased.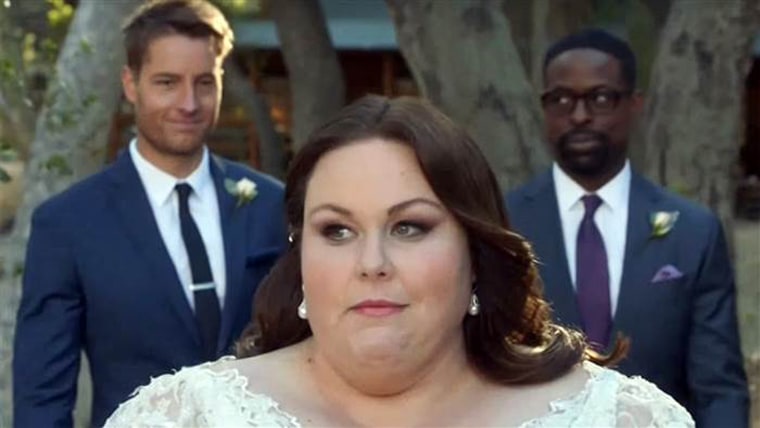 Of course, fans already know we'll be seeing an aged version of Jack celebrating Kate's special day. Is Old Jack part of an alternate timeline or fantasy sequence? And, could he be the "something old" Metz mentioned?
The actress also shared a cute pic of Kate and Toby (Chris Sullivan) looking happy together.
And, she shared a shot of a sign welcoming guests to the pair's nuptials, writing, "Don't forget to sign the guest book!"
"Tonight's season finale of #thisisus is special for so many reasons," Metz promised fans. "Stick around for the reception, it'll be worth it."
The season 2 finale of "This Is Us" airs Tuesday at 9 p.m. ET/PT on NBC.