/ Source: TODAY Contributor
Who says you can't dance your way down the road to Rio?
In a video shared by Team USA that has now been viewed well over a million times, athletes at the Olympic Training Center in Colorado Springs, Colorado, show they've got that good soul in their feet as they dance and lip-sync to Justin Timberlake's infectious hit of the summer, "Can't Stop the Feeling."
RELATED: Dad-daughter duo dance to Justin Timberlake's 'Can't Stop the Feeling!'
Wrestler Robby Smith leads the video that features 2016 Summer Olympians such as gymnasts Sam Mikulak and John Orozco, modern pentathlete Nathan Schrimsher and members of the women's rowing team. Off-season Olympic athletes make cameos too, including bobsledders Jamie Greubel Poser and Lauren Gibbs and figure skater Max Aaron.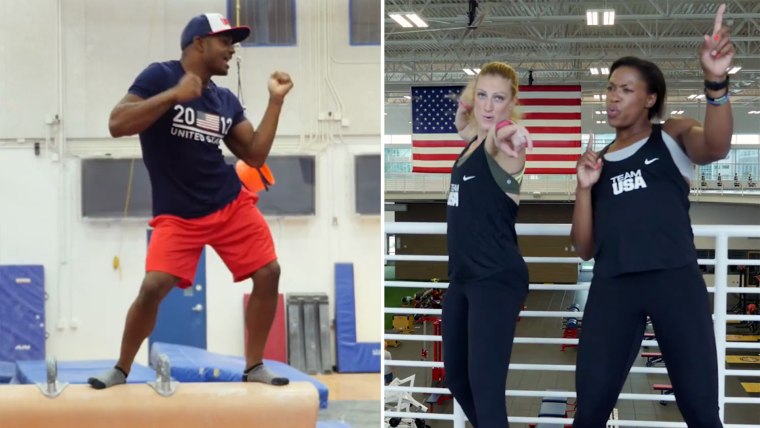 Paralympians from the judo, men's wheelchair basketball, wheelchair rugby, swimming and snowboarding teams also add their moves to the video, which has been shared more than 12,000 times on Facebook.
RELATED: US women's gymnastics team primed 'to go to Rio and just dominate'
"Sometimes we all need to dance it out!" wrote bronze medalist Greubel Poser when she posted the video on her Facebook page. Greubel Poser told TODAY that she and teammate Gibbs stepped out of their comfort zones when making the video, but "it's definitely important to do that and for people to see our real personalities. Even though we're so focused as athletes, that's not all we think about all day long. Sometimes we have goofy dance-off parties during the season, but we never really let anyone outside of that crew see the silliest stuff!"
Here's to hoping that Team USA adds some medals to that sunshine in their pockets next month!