Watching the "This Is Us" Season 2 premiere next Tuesday? Get those tissues ready. To hear series creator Dan Fogelman tell it, the episode will be another cry fest.
"It's very heavy, Fogelman told Entertainment Weekly about the premiere, which finds Jack (Milo Ventimiglia) and Rebecca (Mandy Moore) trying to pick up the pieces after their brutal fight — and their angry separation — in last season's emotional finale.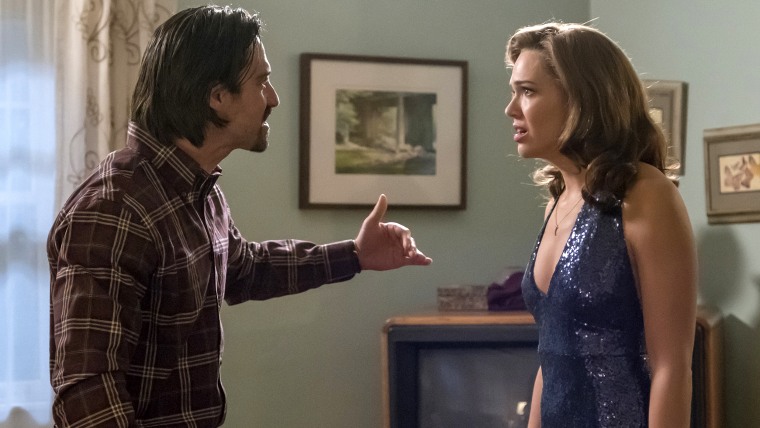 "It's scarring," the writer said of the intense argument. "I mean, they've said stuff they've never said. They've said stuff in the heat of the moment that clearly, they felt for a while. I think it takes a while to buy it back. The first episode is all about the ramifications of those things that have been said, and the regret."
The episode, titled "A Father's Advice," depicts the couple wrestling with their pain after their lack of communication — and Jack's drinking problem — are exposed.
It also finds the Big Three — Kate (Chrissy Metz), Kevin (Justin Hartley) and Randall (two-time Emmy winner Sterling K. Brown) — ringing in their 37th birthdays while trying to achieve all the milestones they dreamed of in last season's finale: Randall hopes to adopt a third child with his wife Beth (Susan Kelechi Watson), Kate is firing up her singing career and Kevin is filming a new Ron Howard movie in Los Angeles.
"Even the uplifting, sweet, lighter stuff feels powerful," said Fogelman.
Fans hoping to learn how Jack dies may be disappointed — the full story is revealed later in Season 2, says Fogelman — though a "huge piece of the puzzle" will be revealed on Tuesday night.
The final minutes of the episode will be especially tear-jerking, said Fogelman.
"The ending has such a wallop to it," he told EW. "I can't say much about it, but it's really, really powerful...There's a bunch of those kinds of moments that are filled with uplift and you get the tear in your eye in a good way and then the end packs just a huge, romantic, sad, beautiful, melancholy wallop."
Season 2 of "This Is Us" premieres at 9 p.m. EST on Tuesday, Sept. 26.