There was a lot going on in the season two finale of "This Is Us," including one real wedding, one dream ceremony and a few jaw-dropping hints about what's to come in season three.
But in the midst of all the drama, fans couldn't ignore the flash of chemistry between two characters onscreen.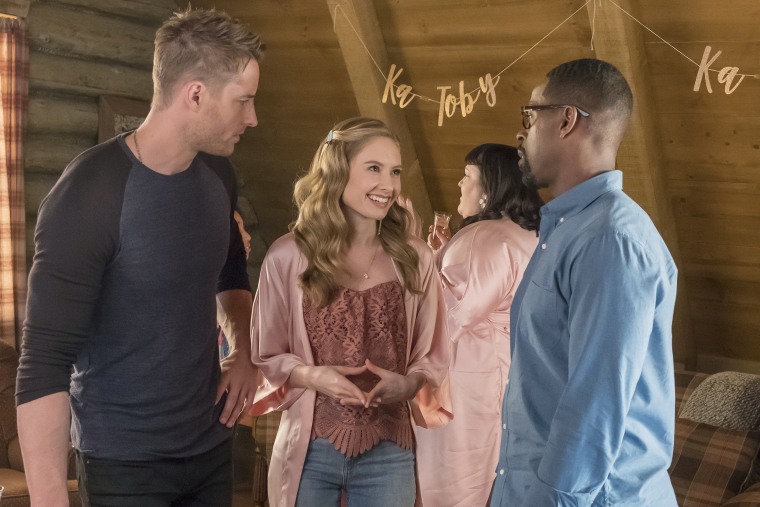 As bride Kate prepared for her big day, two members of the bridal party — brother Kevin and sort-of maid-of-honor Madison — briefly seemed as though they might be preparing for a love connection of their very own.
Or at least a post-wedding hookup.
But it wasn't long before Kevin put the kibosh on that.
During an introductory exchange between the two, Madison turned on the charm, offering up a big smile, making direct eye contact and even waggling her eyebrows at him — the universal sign for "it could happen."
Kevin even seemed responsive for a moment, until he turned around and walked off with fellow brother-of-the-bride Randall.
"Oh, man," Randall said. "She's crazy."
"Yeah, man," Kevin agreed. "Don't let me sleep with her."
No worries there. Even if Randall had given Kevin the thumbs up, it just wasn't going to happen — and not because Madison came on strong or because of her frenemy status with Kate or due to any "crazy" vibe.
It's simply because the actress who plays the part, Caitlin Thompson, is married to "This Is Us" creator Dan Fogelman, and he never had any intention of giving the go-ahead for a plotline that would put his wife in the arms of one of People magazine's Sexiest Men Alive.
After the finale aired, Fogelman took to Twitter to put any speculation to rest.
"Just FYI: Madison is my wife in real life," he wrote. "And if you thought I was letting her sleep with (Kevin star, Justin Hartley) on national television you're nuts."
However, that doesn't mean Kevin will be alone when the series returns in the fall. After all, viewers got a glimpse of him and Beth's cousin Zoe flying off together in the future.