There's a new Al Pacino movie in theaters this month. Whether you regard that as a threat or a promise depends on how you feel about an up-and-down career that's unlike any other.
Pacino's ferocious portrait of Roy Cohn was the driving force behind "Angels in America" (2003), his tightly wound Michael Corleone dominated all three "Godfather" movies (1972-90), and his fascination with Shakespeare led him to star in "The Merchant of Venice" (2004) and "Looking for Richard" (his one-of-a-kind 1996 documentary about the continuing relevance of "Richard III").
But since his 1969 film debut (a small part in the forgotten "Me, Natalie"), he's also appeared in a steaming pile of turkeys, not all of which he saved from total disaster. He could be every bit as bad as his material. Check out, for instance, "Bobby Deerfield" (1977), his first bomb, or "Gigli" (2003), which earned him a "Razzie" nomination for worst supporting actor, or "Revolution" (1985), a hopeless historical epic that would have demolished the confidence of almost any other actor.
Even some of the performances that earned him Oscar nominations are not universally admired. In 1979, he revealed a previously contained weakness for showboating in the semi-hysterical courtroom drama, " ...And Justice For All," yet the Academy nominated him for best actor.
And that represented restraint compared to Brian de Palma's excessive three-hour remake of "Scarface" (1983). Trashed by critics, it was not a success at the time of its release (the Harvard Lampoon gave Pacino a prize as the year's worst actor), but the picture became a cult favorite with a huge following when it turned up on television and video. It's the gift that keeps on giving: a movie that definitely revived his career, but only in hindsight.
Down, but never out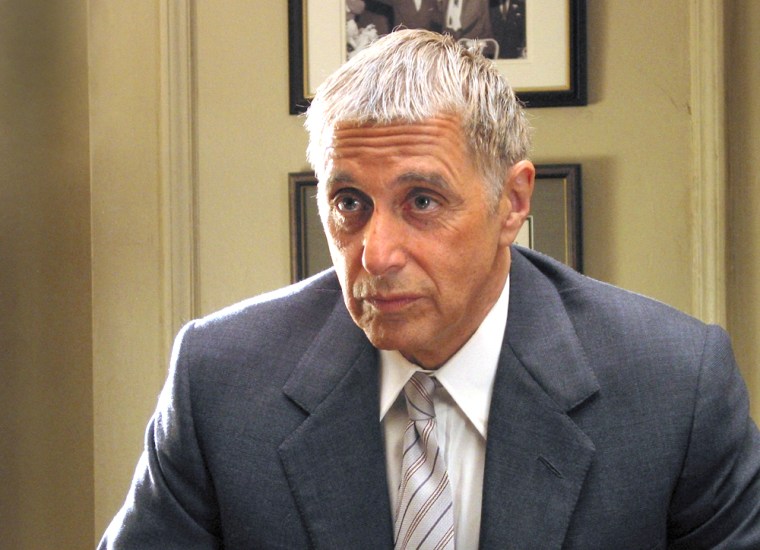 Indeed, Pacino has enjoyed as many comebacks as Madonna and John Travolta, even if he doesn't seem to share their passion for reinvention. If it works, fine. If not, well, on to the next project.
In Pacino's new movie, "Two For the Money," he plays a sports-gambling expert who matches wits with a former college football star (Matthew McConaughey) who has a knack for predicting games. The role combines elements of  "Scarface" and "The Devil's Advocate" (1997) — in other words, it emphasizes the actor's more aggressive side.
Pacino recently signed on to do a remake of Jules Dassin's mid-1950s French heist classic, "Rififi." It's not the freshest idea. The silent heist scene has been copied in numerous unofficial remakes, including Dassin's own "Topkapi" (1964). But perhaps Pacino can recapture the coal-black brilliance of the original.
Although he took a four-year break after the "Revolution" wipeout, Pacino works a lot these days, frequently accepting scripts and roles that seem less than challenging to an actor with his phenomenal early-1970s track record. Still, you rarely find him walking through or phoning in performances.
The problem is usually that he tries too hard, pushing the limits and going over the top. In the case of Roy Cohn, that's defensible. It's hard to overplay a real-life character who virtually defined 20th century corruption and hypocrisy. But it's been a few years since Pacino did something as graceful and nuanced as "Donnie Brasco" (1997), which recalls his early classics.
Born in the South Bronx in 1940, Pacino studied under Lee Strasberg and won prizes for his stage performances in the late 1960s. He made his starring-role film debut in the little-seen but gripping "Panic in Needle Park" (1971). The love story of two junkies, it won a Cannes award for his co-star, Kitty Winn, but it didn't do much for his career.
Indeed, if Francis Ford Coppola had not insisted that Pacino play Michael Corleone in "The Godfather" (1972), he might not have had a movie career. Coppola fought studio executives who found Pacino unimpressive in the role. Thanks to Coppola's determination, and his decision to cast him again as Michael Corleone in "The Godfather, Part II" (1974), Pacino became one of the few actors to earn two Oscar nominations for playing the same part.
Between the first two "Godfather" movies, Pacino earned a 1973 Oscar nomination by switching sides — playing an incorruptible New York cop instead of a Mafia king. That same year, he co-starred with Gene Hackman in a road movie, "Scarecrow," that was honored by the Cannes Film Festival for the two men's raw, unpredictable performances as hitchhikers exploring wide-screen America. An actors' showcase, it is just now being rediscovered on DVD.
Unpredictable role choicesPacino earned his fourth Academy Award nomination in a row for his performance as a surprisingly sympathetic Brooklyn bank robber in "Dog Day Afternoon" (1975), the unlikely-but-true story of a loser trying to raise money for his transvestite lover's sex-change operation. If that hadn't been the year that "One Flew Over the Cuckoo's Nest" swept the Oscars, Pacino would have taken home the prize.
Instead, he made a series of choices that appalled the fans. The experimental 1970s were ending, the mass audiences for "Star Wars" (1977) and "Jaws" (1975) were having an effect on the kinds of movies studios were green-lighting, and it was tough to finance character pieces like "Scarecrow."
Pacino found himself sputtering through such awkward mistakes as "Author! Author!" (1982), a meek comedy about a Broadway playwright, and "Cruising" (1980), a nasty thriller that was widely perceived as homophobic. Pacino lost many of the gay fans who had admired his gender-bending work in "Dog Day Afternoon."
Absent through most of the 1980s, he won back the public by establishing a strong rapport with Ellen Barkin in "Sea of Love" (1989), then earned a supporting-actor Oscar nomination for his goofy comic-book performance as Big Boy Caprice in "Dick Tracy" (1990).  He collected another supporting nomination for his dynamic work as a real-estate salesman in "Glengarry Glen Ross" (1992).
That same year, he finally won the Oscar for best actor for playing a blind army officer in "Scent of a Woman." The award may have had less to do with his performance (wasn't Denzel Washington's work in "Malcolm X" more deserving?), but the movie was a crowd-pleaser, and no one really wanted to deny Pacino an Oscar, if only to recognize the body of his work.
It was his last dance with Oscar, although he probably should have been nominated for "Donnie Brasco" — and he did collect an Emmy for "Angels in America" just a couple of years ago. While most of the choice performances came early, he's still capable of great work.