/ Source: msnbc.com contributor
Flat, square, and heavy as paving stones, the display books arrayed in our living rooms serve as indoor bumper stickers after we've perused them.  They advertise to visitors who we are and what we care about; as our guests flip through their oversized pages while we busy ourselves in the kitchen, they are educated not just on the volume's topic, but also on their hosts.
As gifts, display books are easy to wrap and, thanks to the postal service's media mail rate, cheap to ship.  However, evaluating their quality and suitability for the prospective recipient can be difficult.  Is that folio on human anatomy a seemly present for your young nephew?  Will your middle-aged dad find "The Book of Inventions" too juvenile?  Is "American Country Churches" so stunningly dull that even your Baptist grandmother will nod off while perusing it?
This season's offerings encompass a cornucopia of Americana:  not only the aforementioned churches, but other collections on the suburban icon of the ranch house, the natural splendor of the Grand Canyon, the genius of Edward Hopper, and the lives of American Indians.  Other selections delve into the scientific, with explorations of the human body and of human ingenuity.
Icon of isolationismThe quintessential Hopper image "Nighthawks" — depicting worn, sallow-faced souls at a diner counter that is the only oasis of light on a bleak city corner — graces the cover of "Edward Hopper," the catalog from the Tate Museum's Hopper retrospective (Tate, $55).
Within are five analytical chapters on Hopper's "profound internalization."  There is some overlap in the essays, but the best are those by editor Sheena Wagstaff, who draws on the journals of Hopper's wife Jo, and by Peter Wollen, who skillfully points out the parallels between Hopper's work and the film noir he loved.
The latter half of the book presents Hopper's works in strict chronological order, and the progression towards Hopper's renowned starkness is fascinating.
This arrangement allows readers to view Hopper's works either way —with all the commonly-held subtext of modern anomie spelled out for them, or standing alone, representing nothing other than what they depict.  (Hopper himself made clear that his interests lay with shades of light and composition, not shades of meaning.)   It's thoughtful gift fare for either the serious modern-art enthusiast or the casual browser who recognizes Hopper's brilliance without dissecting it.
Back at the ranchAlan Hess's "The Ranch House" (photographs by Noah Sheldon; Abrams, $45) is a love letter to the archetypal postwar blue-collar home.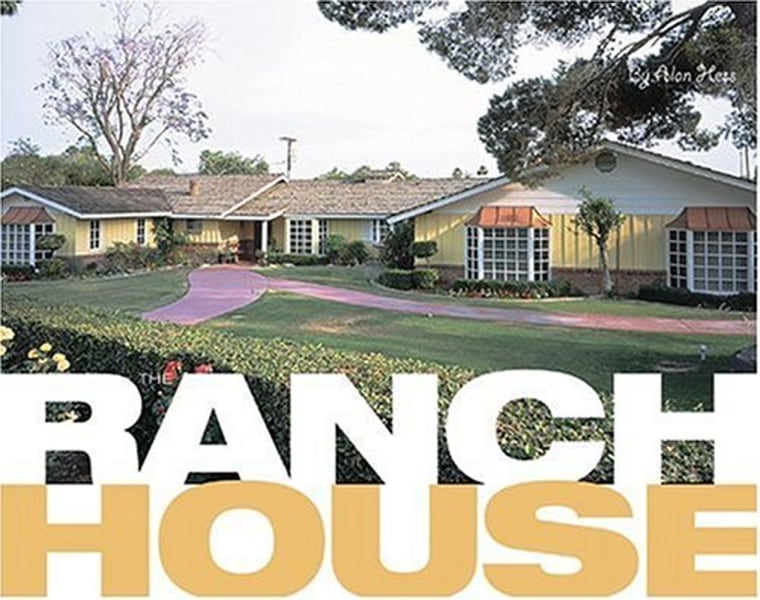 Typified by rambling, open floor plans, enclosed backyard patios, and ground-hugging profiles, the ranch house is as thoroughly identified with suburban sprawl as the shopping mall.
The photographs in the "History" chapter, sadly, depict only the older homes' facades, not their floor plans or interior decor.  Since the text emphasizes repeatedly that the wall of a typical ranch house facing the street the least-interesting aspect of the structure, why do these pictures show nothing but?  The text is also difficult for the novice to follow at times; and if you don't already know what "board-and-batten" siding is, you'll have to piece it together from context.
The meat of the book is its second half, the visually rich "Tour" section.  Robert Wagner's hacienda is downright quaint, and a Fresno ranch seamlessly grafts a Japanese esthetic onto the basic western home.  However, the lush, gleaming photographs don't seem to follow from the previous section at all.  Hess had been praising his subject as affordable, middle-income family tract housing, but the showcased homes are nothing like the typical ranch house as most Americans know it. 
Hess tiresomely acknowledges the elite's "oft-repeated critique" of the "little boxes made of ticky-tacky," that are widely regarded as "bland and false." but offers little as a defense other than their rampant ubiquity.  The "Tour" section might be an interesting diversion for ranch homeowners, but overall, "The Ranch House" isn't worth its bloated sticker price.
Inspiring spiresA bucolic excursion awaits in "American Country Churches" by William Morgan (photography by Radek Kurzaj; Abrams, $40).  Architectural photography often calls attention to itself with steep angles, fisheye lenses and tricky framing; Kurzaj has opted for a simple, straightforward approach that suits the topic, naturally allowing what Morgan calls "the clarity of pure light," to shine through.  The captions are brief but illuminating, and the pictures are beatific.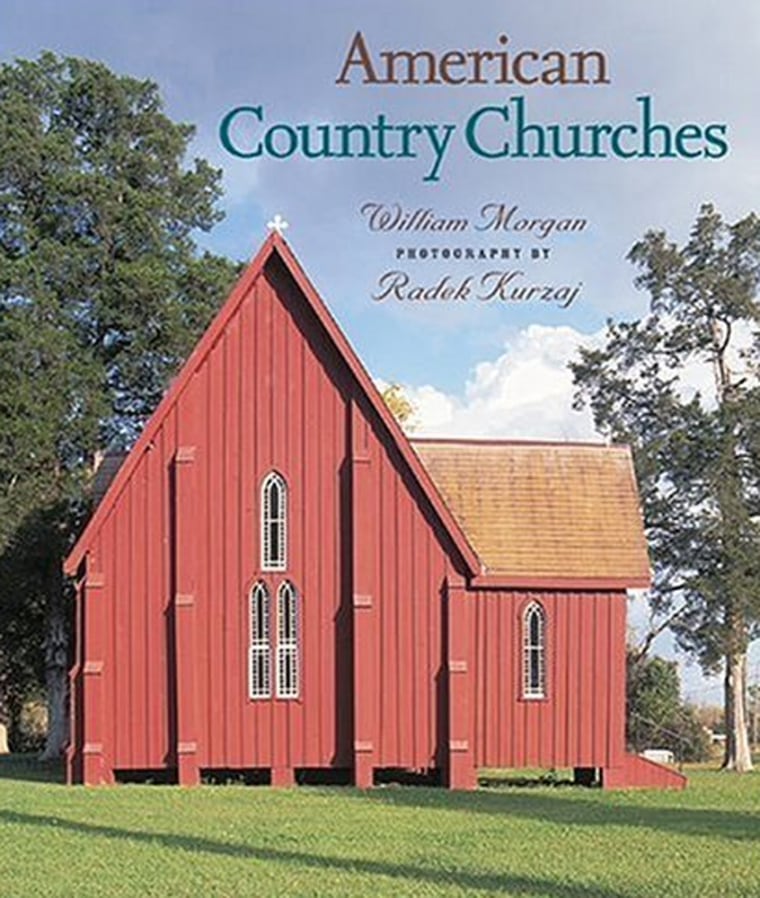 The majority of the featured churches are based on the standard, rectangular meetinghouse — what Morgan calls a "preaching box" — but rather than being repetitive, the constancy of form illuminates how similar spaces can be dramatically diverse.  The selected churches alternate from one extreme to another; rough-hewn logs to polished boards, limestone masonry to adobe brick.  Having disparate styles constantly rub elbows emphasizes how either extreme can seem equally reverent, possessed of its own grace.
Particularly charming are a bizarre Alabama temple whose "stained-glass window" is actually pieced-together Chevrolet Caprice windshields, and a Czech Catholic steeple in the Texas heartland that's equipped with a mad-with-color baroque sanctuary. This volume would be a welcome addition to the library of a clergyman, devout relative, or aficionado of traditional American architecture.
America's 'Grand' Dame
John Annerino's "Grand Canyon Wild: A Photographic Journey" (Countryman Press, $30) is organized as a deep plunge spanning four chapters — "Horizons" surveys the surrounding countryside, "Rims" tips us over the canyon's edge, "Chasms," takes us to its depths, and "Rivers" dips into the Colorado that carved it all.  If anyone on your list this year is registered at REI, this book will fit snugly in among their gift-wrapped crampons and Clif bars.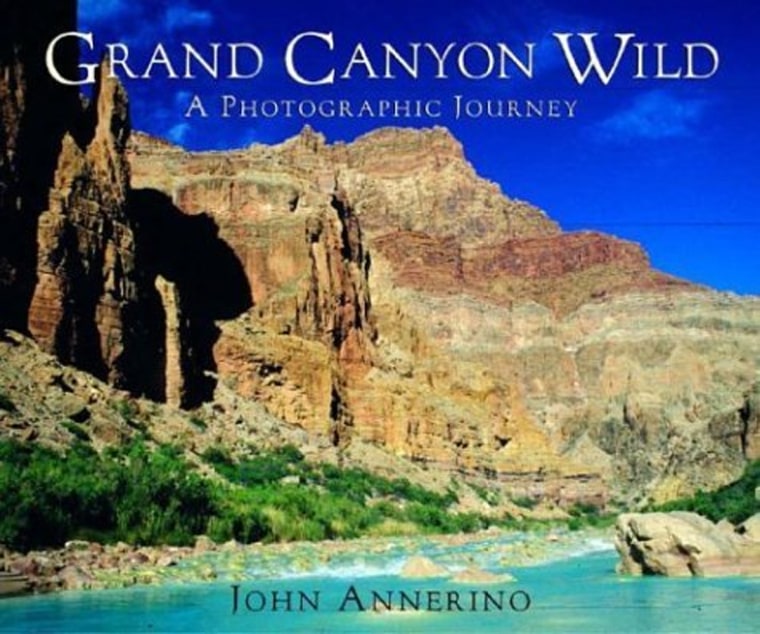 Annerino credits his inspiration for this book to having observed a tourist halfheartedly attempt to capture the grandeur of the Canyon on a plastic Instamatic; he set out to do the job properly. The images are daring, moving beyond terra-cotta postcard vistas; they include a sliver of indigo sky as seen gazing heavenward from the depths of Bucksin Gulch, a flash flood where the river runs russet, and stones that the waters have, over many millennia, whittled and smoothed into mushroom forms.
The text is a little skimpy, lacking explanations for some of the more intriguing rock forms.  The sparsity of the prose is all the more disappointing when Annerino proves to be as talented with a pen as he is with a tripod: "And I wanted to feel the blisters, worn by hardwood oars, turn my palms to leather, my bones, chilled by icy water, warmed by hot wind burning my skin brown."
Return of the 'Native'"Native Universe," edited by Gerald McMaster and Clifford Tafzer (National Geographic Books, $40) features the inaugural collection of the Smithsonian's new National Museum of the American Indian in Washington, D.C.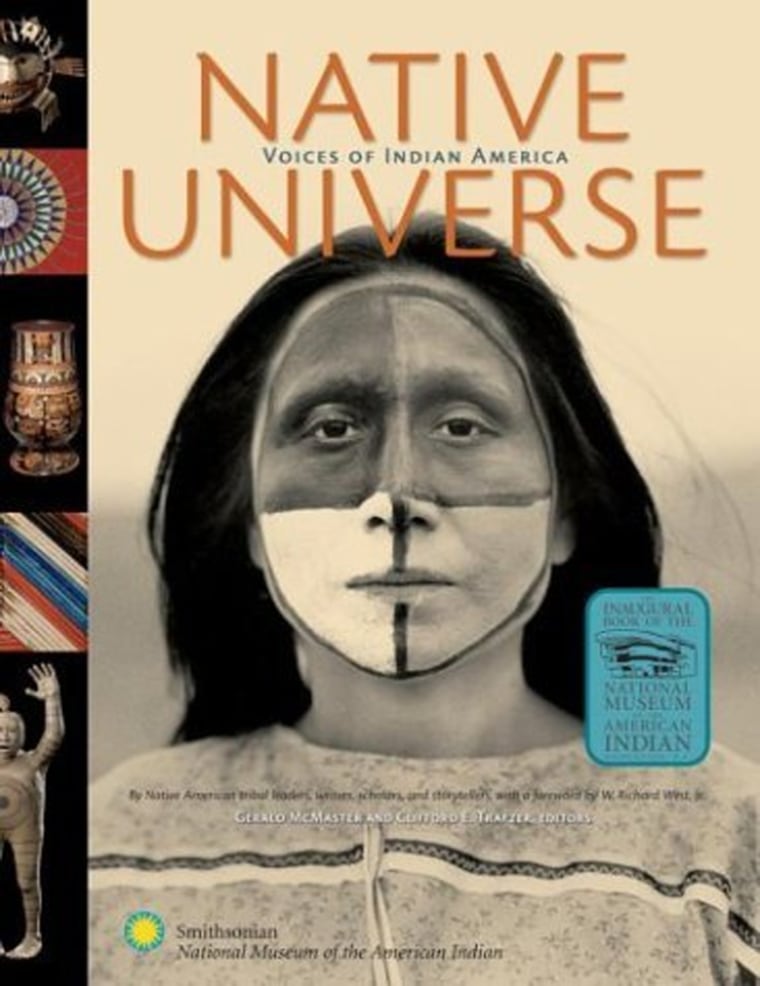 Dedicated to telling the tales of all peoples native to the western hemisphere; it discourages readers from thinking of today's clans as the last vestiges of a dying culture.  Although the book does not shy from the U.S. government's culpability for suffocating the native way of life, it celebrates a vivid past and unveils stunning contemporary Indian works of art.
Each chapter has been entrusted to a different Indian author; the selection ranges from dry academic offerings, to a highly personal memoir of a chief's granddaughter, to a snippet of a screenplay by the fabulous Sherman Alexie. The collection itself is a mirror image of the material within: it passes tribal knowledge onto the next generation of Indians, preserving the present as it transitions into history, just as in the ancient oral tradition. 
Moreover, as if echoing the many nations indigenous to America, the chapters form a mosaic of variegated, distinct voices. It's a gift certain to be appreciated by any U.S. history buff, friend of native descent, or admirer of Indian arts and civilization.
"The Book of Inventions" by Ian Harrison (National Geographic Books, $30) exhibits an artfully varied selection of gizmos, from the mundane (the bottle cap) to those almost indistinguishable from magic (beta blockers).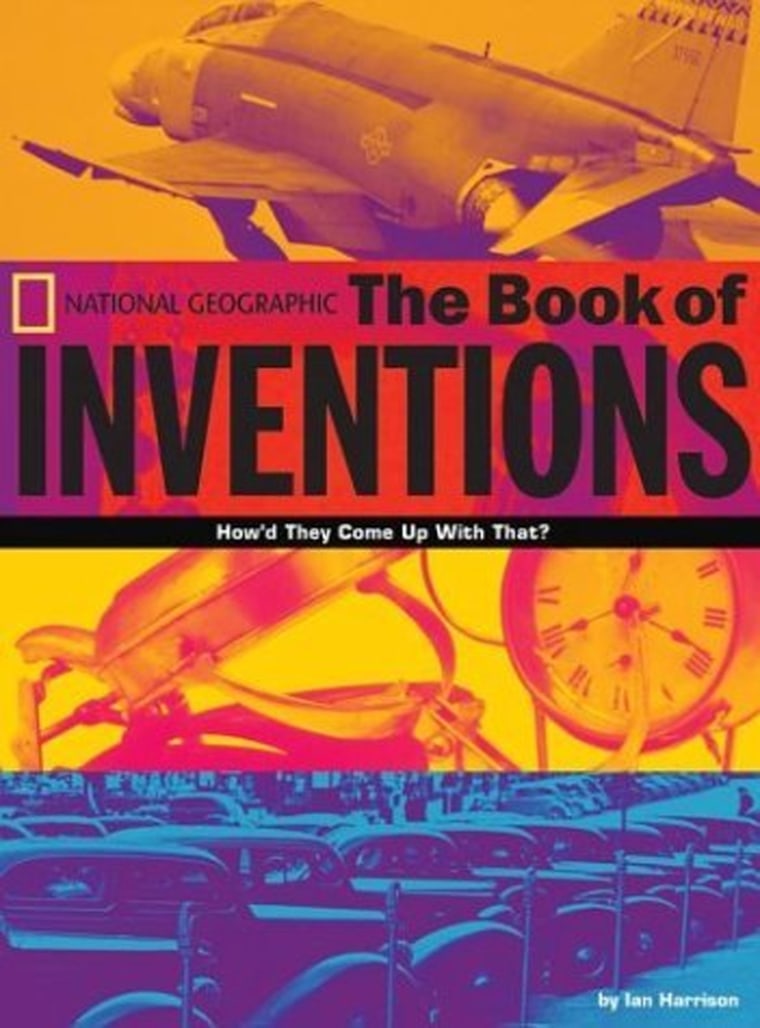 The text is accessible to anyone over the age of roughly nine, but it's adults who will best appreciate Harrison's wry humor, such as the story of Bette Nesmith making Liquid Paper in her kitchen mixer after being told by IBM that there was no market for such a thing. 
Ditto the quirky illustrations — the entry on the safety pin features the sartorial stylings of Elizabeth Hurley and Johnny Rotten, while the "air brake" entry shows a derailed locomotive lying alongside its tracks like an iron beached whale.
The false starts that aspiring inventors weather can be unintentionally funny; when chemist Spencer Silver at 3M was proposing uses for a weak glue adhesive, he envisioned "a noticeboard covered with the glue to which notes could be stuck."  Ah, so close, and yet so far.  (Colleague Arthur Fry, of course, turned Silver's discovery into the nigh-indispensible Post-it note.)  
Overall, this is a clever gift, colorful in every sense of the word, that will encourage a delightful awareness at how we are surrounded by the fruits of human endeavor and serendipity.
Under your skin
The human body is a machine so powerfully complex that it makes a 747 look like a wind-up toy. Alexander Tsiaris and Barry Werth powerfully bring this home in "The Architecture and Design of Man and Woman" (Doubleday, $50), a collection of digital scans of our interior anatomy generated with such equipment as MRIs and CTs, overlaid on gently lit photographs of the nude form.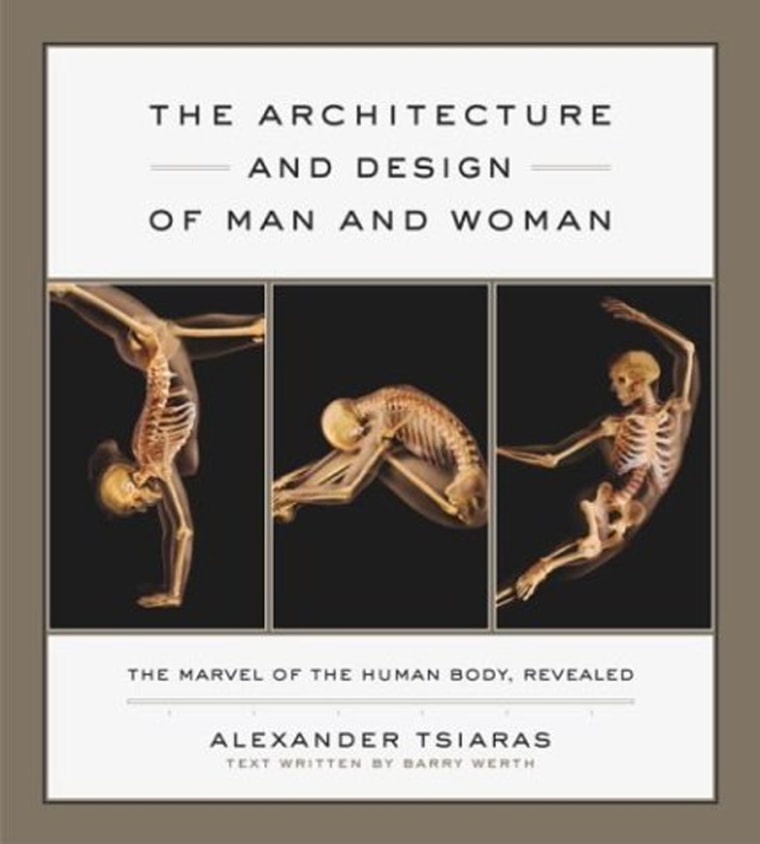 We usually see our inner workings only vaguely. Here they appear vividly alive, such as in one memorable shot of a couple kissing, their skulls visible beneath their flesh.
Unfortunately, lacking an index, the book isn't useful as a reference guide.  Nor is it arranged in an intuitive manner — an amazing cutaway view of a late-term fetus in utero is in the chapter on skin. These and other stylistic choices hamper the book's practical use, regardless of how arresting its imagery may be.
Like many books whose impact relies on spectacular pictures, there is some inattention to the text; the introduction, for example, misidentifies the femur as "connecting the ankle and the knee" when that particular leg bone is actually connected to the hip bone. 
Overall, the book is too sexually explicit (including, as it does, a cross-section diagram of the very act of intercourse) and relentlessly Darwinian for conservative sensibilities.  The foreward promises an "erotic frisson" that has been missing from previous anatomical studies, and that it delivers.  As a gift, it would be a risque surprise for a med student—or pair of newlyweds.  Just enclose a note reminding them to take it off the end table when they have their in-laws over.
Kim Rollins is a writer in Seattle.