"Full House" nostalgia is everywhere you look. First, Netflix announced its upcoming reboot of the beloved '80s sitcom, and then Lifetime revealed plans to cover the show's behind-the-scenes drama in "The Unauthorized Full House Story."
The movie, which premieres Saturday, focuses on "the rise of the cast of one of America's most beloved family sitcoms and the pressures they faced in balancing their television personas with their real lives," according to a press release.
TODAY.com caught up with one of the Lifetime flick's stars, Justin Gaston, to find out what it was like to step into John Stamos' shoes (and mullet).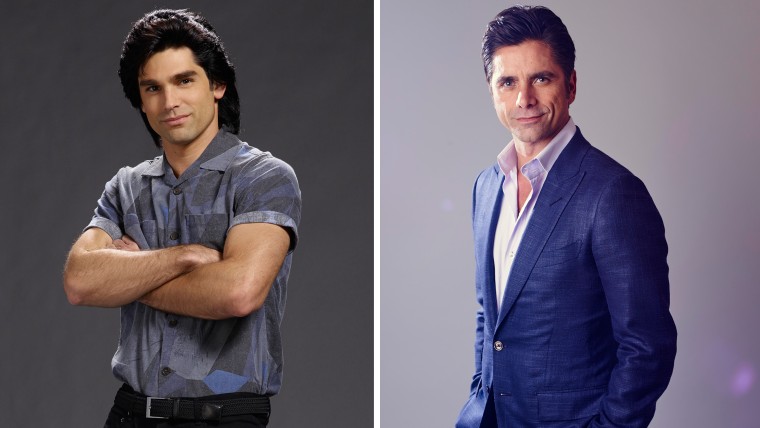 Had you watched "Full House" before you did this movie?
I grew up watching the show and was a big fan. I've probably seen every episode. I mostly knew [Stamos] for "Full House," and was a big fan of Uncle Jesse, but also I knew that he was a musician and sat in with the Beach Boys a lot and played with them. Clearly, he's an extremely talented guy.
What was your first reaction to being cast as Stamos?
Ecstatic. It was really cool. It's a little nerve-racking to play someone who's so beloved and a character that's so beloved. But it's fun and exciting at the same time.
What was the biggest challenge playing him?
Probably switching back and forth between the sitcom character and his real life. He's a musician, so just trying to nail all that down and fluidly go back and forth. One scene you're filming Uncle Jesse, and the next moment you're filming real John Stamos in his personal life.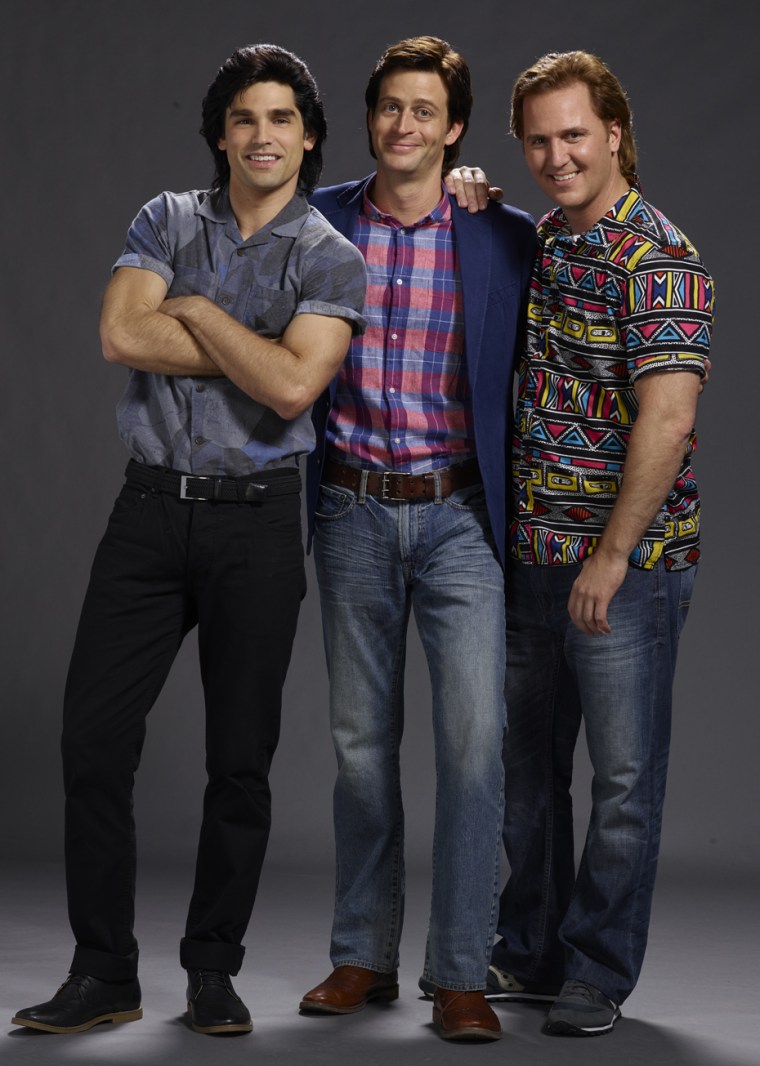 How did you get into character?
Even before the audition, I went back and started watching a few episodes, and once I found out I got the part, I started from Season 1 and watched as many as I could. Then I started trying to find old interviews and biographies. I tried to watch him on "General Hospital" and find old clips of him playing different characters.
What's your favorite Uncle Jesse moment?
My favorite scenes with him were normally with Joey. I really liked the chicken-pox episode. They were always nagging each other, which I really liked.
What's the secret to recreating Stamos' mullet?
He was so well-known for his hair and the mullet in the first season. In this film, I was wearing a wig because my hair was about as short as it is now — maybe shorter — when I got the part. If I had the time, I'd try to grow it out. A hairstylist and a wig is the secret.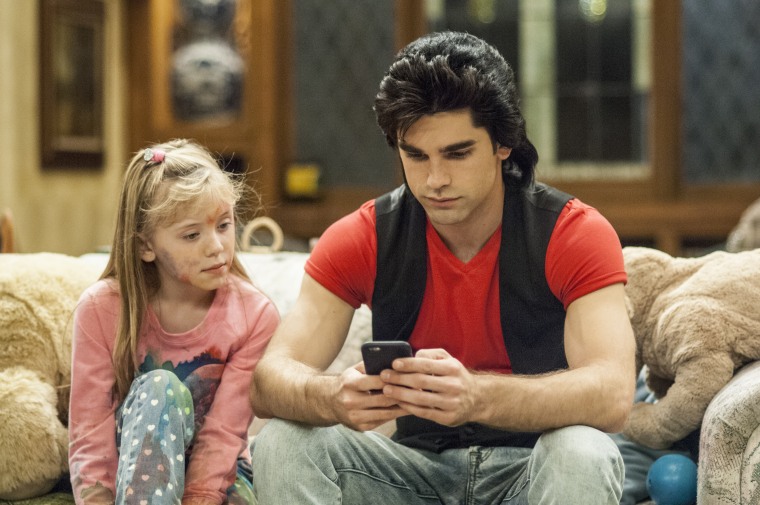 Did you learn to play any Jesse and the Rippers songs while filming?
We did play a couple songs. We didn't use any of the ones that they sang, but we did do a couple scenes with the Rippers, and it was a lot of fun. We didn't get to do any Beach Boys songs. We couldn't do anything that they actually did on the show. But "Forever" is so good — I wish we had done that one.
Have you ever met Stamos?
I did meet John Stamos a few years ago, in L.A. at the Gibson Showroom. He was really nice. He talked to me for a couple minutes and I got to see him play. He got up and played drums for a little while. You see him as this character, but I didn't expect him to be as good as he was.
MORE: Lifetime releases first cast photo of 'The Unauthorized Full House Story'
With "Fuller House" in the works and a San Francisco Giants parody that went viral just this past weekend, why do you think "Full House" is still so popular?
I think it was just such a great show, such great characters. It came out at the right time, with TGIF. It's just good family fun. I think it's still on every day and I still enjoy it. I don't know if it brings me back to that time in my life or what. I'm really excited to see the Netflix show.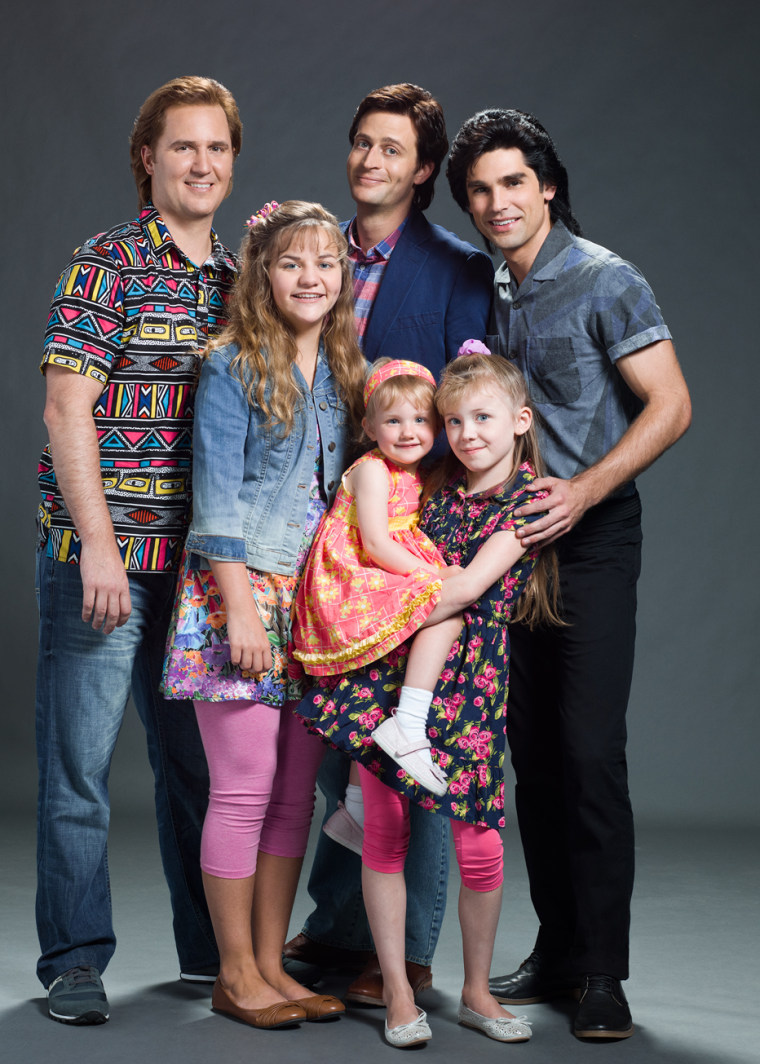 Where do you think Jesse would be now?
I guess the twins [Jesse's sons, Nicky and Alex] would be about 20-something, so probably not a grandfather yet. But I think he'd probably be playing music somewhere. Hopefully, they'd bring the radio station back. He and Joey would have the biggest commercial firm. Still with Becky.
What's your favorite "Full House" catchphrase?
"Not the hair, huh?" Or "Cut. It. Out."
What was the best part of making "Unauthorized Full House"?
I think because I was such a fan of the show, just getting to step onto these sets that look so similar to the actual show and be dressed as these characters, and be around all the other actors. It's just so surreal to be in that environment after growing up and watching the show for so long.
A preview clip from the movie shows your character trying to get the Olsen twins fired. What was it like working with the little girls who played them in the movie?
I thought they did a really good job. I can't imagine starting that young. You see at some points, they just check out, because they really are just babies, but they got it all done and they were so cute. It was my first time to work with kids that young, so it was interesting to see them work and be fed a line and try to say it.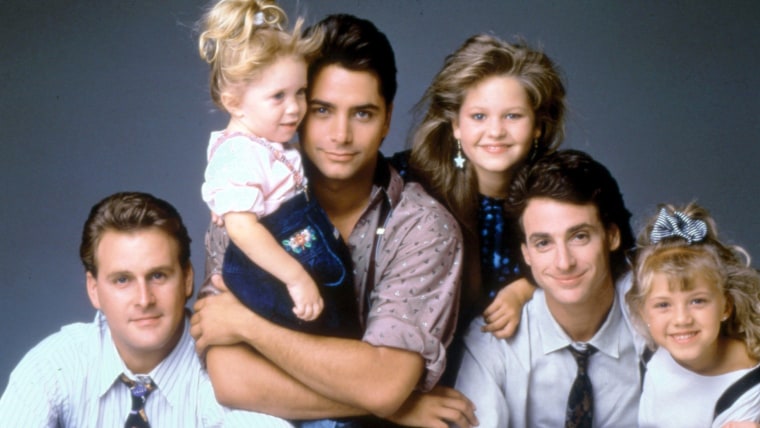 Any funny stories from the set?
For some reason, Brittney [Wilson], who played the older Candace Cameron — we had this one scene where we just started laughing. There wasn't anything that happened really, we just started laughing. And so every other scene that we filmed, we couldn't really look at each other too much.
MORE: 'Unauthorized Full House Story' clip gives sneak peek at Lifetime tell-all
Who, out of the cast, looks most like their real-life counterpart?
Garrett [Brawith] looked a lot like Bob Saget to me, out of anyone else.
What were your costumes like?
I think it's exactly what you'd expect — vests and tank tops and crazy suits. He wore a lot of crazy suits.
Did you ever step out in public dressed as Uncle Jesse?
We'd be on location sometimes and everyone would be looking at us like we were absolutely ridiculous because I'd be in full '80s gear with this wig on and people were just so confused. I got some really strange looks.