Tyler James Williams' younger brother is applauding the work he did after the "Abbott Elementary" star's two brothers came out.
Tyrel Jackson Williams responded to his older brother's post speaking out against speculating a person's sexuality, saying in a Twitter thread he loves "seeing people realize the caliber of person my older brother is."
"The way he handled my and our younger brother's coming out should be studied," Tyrel Jackson Williams, 26, said of his older brother. "He COMPLETELY deconstructed his views on masculinity and made sure to build spaces for us to be comfortable and seen until we were ready to tell our friends/family."
Tyler James Williams, 30, read "We Real Cool" and "The Will To Change" by bell hooks, before recommending and discussing them with his brothers, Tyrel said.
"We all rebuilt our definition of manhood together, brick-by-brick. And it was not easy work. But we weren't doing it alone," Tyrel Jackson Williams said. "THAT is gender affirming care. Someone allowing you space to, not only express, but discover yourself."
Tyrel Jackson Williams added: "One of the (many) joys of queerness that isn't talked about nearly enough is the act of complete reconstruction of one's ego. What you are is not what you've been conditioned to believe."
He said his brother embodied "how you be a f------ ally."
"So I want to give Ty his flowers this pride month," he said. "A true representation of healthy masculinity and effective allyship. Give him all of the awards forever."
Tyrel's tweets came after Tyler shared a statement to his Instagram story on June 4 addressing speculation about his sexuality.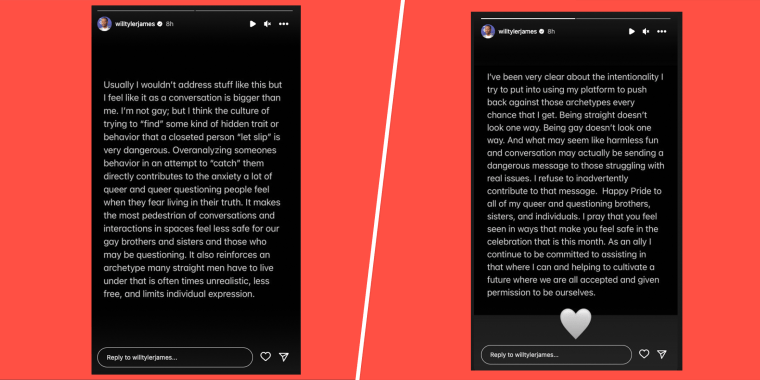 "Usually I wouldn't address stuff like this but I feel like it as a conversation is bigger than me," he wrote. "I'm not gay; but I think the culture of trying to 'find' some kind of hidden trait or behavior that a closeted person 'let slip' is very dangerous."
"Overanalyzing someone's behavior in an attempt to 'catch' them directly contributes to the anxiety a lot of queer and queer questioning people feel when they fear living in their truth," he continued.
Tyler James Williams said he intentionally uses his platform to push back against archetypes of straight and gay men.
"Being straight doesn't look one way. Being gay doesn't look one way," he wrote. "And what may seem like harmless fun and conversation may actually be sending a dangerous message to those struggling with real issues. I refuse to inadvertently contribute to that message."
He concluded: "As an ally I continue to be committed to assisting in that where I can and helping to cultivate a future where we are all accepted and given permission to be ourselves."
His youngest brother, Tylen Jacob Williams, commended both of his older brothers' advice and guidance, saying he was able to become "well adjusted" and "comfortable" with his sexuality because of the two of them in an Instagram post.
"The way Tyler unashamedly and instantaneously accepted me and Tyrel's coming out without batting an eye and continued to rally behind us and fight for us whenever we needed it, even when we felt as though we could not, speaks volumes for people like me and how powerful it is to have such an active straight ally in your life," Tylen Jacob Williams, 21, said.
"As a collective society we HAVE to change how we view male behaviors and their alleged attachment to sexual orientation and our malicious infatuation with 'catching-a-closeted-man-slipping,'" he continued.
Tyler commented on Tylen's post with a message of support: "I love you kid and I'll drag anyone to hell for you. Thank you."