/ Source: The Associated Press
A child plucks a Twinkie from a tree.
Another Twinkie stands in for Jesus in an interpretation of Leonardo da Vinci's "The Last Supper."
Such are the imaginings of sugary snack by members of the American Society of Media Photographers' Pittsburgh chapter.
For its annual object show, held at Point Park University this year, the group selects one object that members must incorporate in their creations. Past items have included an umbrella, a baseball and a piece of wire.
"This is like our big, fun thing to do," Tom Altany, chairman of the exhibition committee, said.
So why the famous cream-filled yellow cake?
"Twinkies are fun," said Altany, whose wife suggested using them.
Altany, who acknowledges he's not very religious, entered "The Last Snack," in which baby dolls with their heads replaced by snack cakes sit at a long table. Jesus is the only Twinkie.
After his wife came up the idea, Altany contacted Interstate Bakeries Corp. — the Kansas City, Mo., company that makes the Hostess snack — to see if they'd be willing to help. Turns out, the Twinkie turns 75 this May and the company was happy to oblige, supplying nearly 1,000 Twinkies for the artists and as freebies at the show, which runs through April 7.
"We thought it was a great fit for us," said Jacques Roizen, chief marketing officer for Interstate Bakeries, noting that Twinkies are part of American culture.
Twinkie cultureIndeed.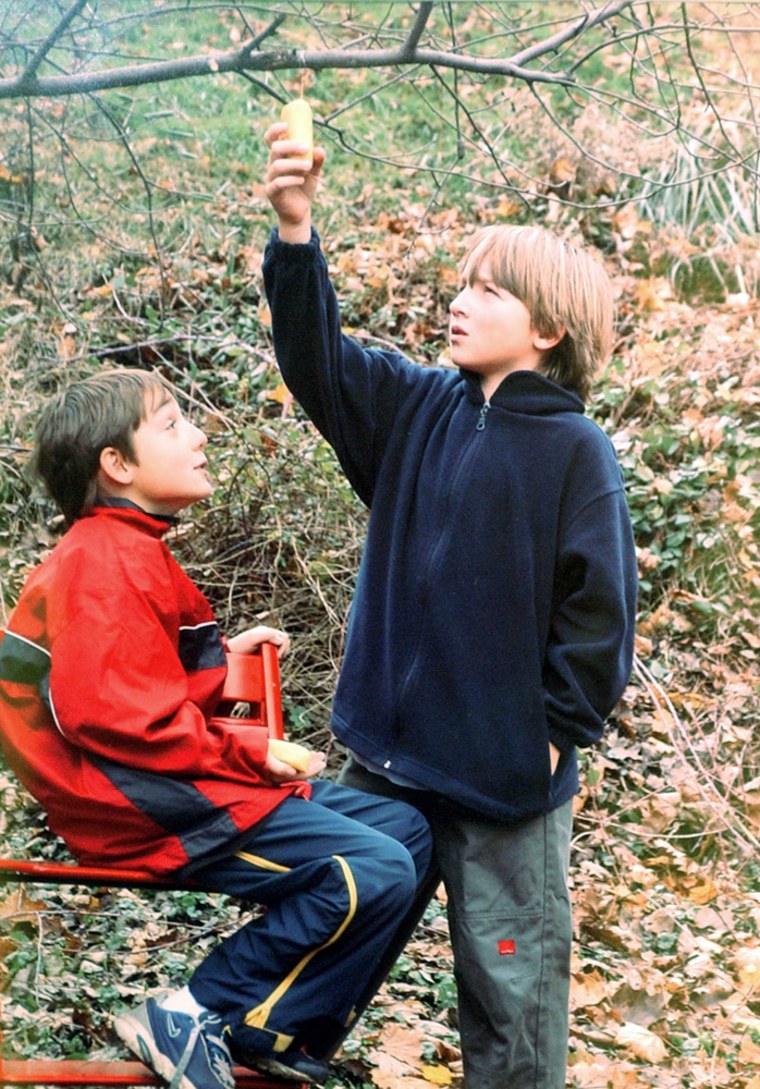 In 1999, seniors from Shoreline, Wash., chose the Twinkie as "an object of American symbolism" to be included in the nation's time capsule. And after former San Francisco supervisor Dan White killed Mayor George Moscone and Supervisor Harvey Milk in 1978, the defense argued diminished capacity due in part junk food consumption. The tactic became known as the "Twinkie Defense."
While Roizen said Twinkies must have been used as art before, he was unaware of a specific example.
Roizen is quick to defend charges that Twinkies are junk food. And while he acknowledges that Twinkies stand for indulgence, high calories and are considered a kid's snack, he said that "way more than 50 percent" are eaten by adults.
Several photographers appreciated being able to eat their subject.
"I hadn't eaten a Twinkie in probably 20 years," Altany said. "If you get the Twinkie fresh from the factory, oh, you can't believe the difference."
Archie Carpenter's piece, "When the Twinkie Is Gone," consists of nine different images on foam boards, each image the bits of cake left after the Twinkie is peeled from its backing.
Visitors are invited to write what they see — a sort of Rorschach test. In one, Carpenter said, his friend sees the Shroud of Turin, which some Christians believe was Jesus' burial shroud.
Perhaps. Wait. Yes, it sort of does.
Two dozen photographs make up the exhibit. One features rows of Twinkies in a heavy green tint, giving it a chunky, graphic feel. Perhaps a nod to Pittsburgh native Andy Warhol?
In another, a Twinkie stands in for a stone pillar at Stonehenge.
Oddly enough, three photographs display the Twinkie in a tree as though it were some sort of fruit.
Greg Blackman, who shot one of the tree photos, said his is a parody of the Mary Cassatt painting, "Young Women Picking Fruit." His 9-year-old twins, Jonah and Tobias, stand in for the women.
And yes, he said, his boys loved eating the Twinkies.