"Love Is Blind" star Zack Goytowski has been a trending topic on social media since Season Four premiered on March 24.
Fans of the hit Netflix series playfully mocked the 31-year-old lawyer after witnessing his passionate serenade in the pods and they called him out for initially breaking up with Bliss Poureetezadi and proposing to Irina Solomonova.  
In between critiquing his behavior on the show, viewers have also spent most of the season trying to figure out Zack's celebrity look-alike, and it seems they have agreed the reality television star resembles Property Brothers Drew and Jonathan Scott. 
Some social media posts have pointed out the resemblance between the three and suggested they could be distant relatives. 
"Zack from Love Is Blind looks more like the Property Brothers than their actual third brother," one Twitter user said, giving a shout out to the HGTV stars' older brother, JD Scott. 
It looks like even Drew Scott agrees that Zack could have a branch on the Scott family tree.
Last week, Drew Scott uploaded a TikTok video that showed Zack's features slowly morphing into all three Scott brothers' faces.
"We've had a lot of #PropertyBrothers fans saying they've found our fourth brother!" Drew Scott wrote in the caption and included a laughing-face emoji. 
Fans below supported the comparison. "Are you sure you guys weren't triplets. It's scary how much he looks like you two!!" one person commented. 
Another said, "They have been calling him the 'Property Cousin.'"
Zack also commented on his famous doppelgänger's post. 
"The internet has finally brought us together," he said. 
The "Brother vs. Brother" star replied and simply wrote, "Hey man!"
Zack continued to joke about the similarities between him and the Property Brothers on his Instagram page. 
Zack shared Drew Scott's video on his own account. In the caption, he said, "Ever since my first year in law school, I've had strangers telling me I look just like these twins on HGTV. And then I went on love is blind and I thought to myself maybe there will come a day when people will say to Drew and Jonathan hey, has anyone told you you look just like that guy on love is blind?"
"That day has come," he added before tagging Drew Scott in the post.
He also included a poll and asked his followers to vote if they should all take a DNA test.
Sharing a likeness with the Property Brothers is certainly better than being told he resembles a cartoon character, which is what Zack heard the first time he met ex-fiancée Irina face-to-face on "Love Is Blind." 
Her first impression of Zack did not improve and the two mutually decided to call it quits during their trip in Mexico in Episode Five.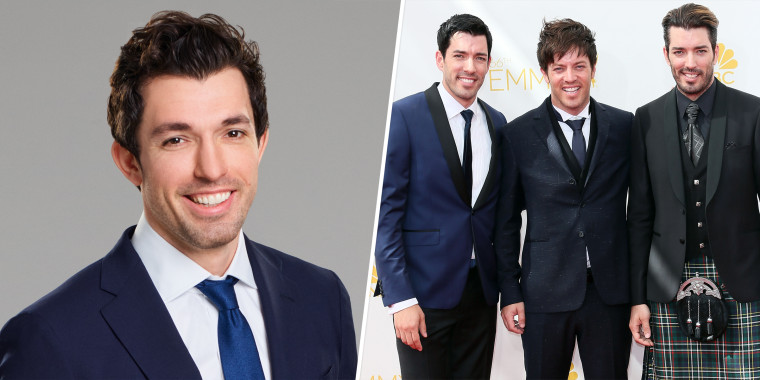 Zack immediately returned to Seattle and met with Bliss. He explained why he made a mistake and they decided to try dating again. In Episode Eight, Zack asked Bliss to marry him and she said "yes."
While their love story continues, Irina's time on the show has seemingly come to an end. In early April, she uploaded an apology video to Instagram where she specifically named Zack, Bliss and the other people she "hurt."
"I wanted to say I'm so so sorry for the people that watch the show that felt frustrated, angry, hurt by the way that I mistreated people on the show," she said. "It was very immature and naive of me in a lot of those situations. And I just want to say that Zack, Bliss, Amber, Jackie, Micah, none of those people deserve to be treated the way that I treated them."