The globe-trotting fourth installment of "You" premieres on Netflix on Feb. 9, and per the trailer, opens in London.
As for what happened in Season Three to put Joe — sorry, Jonathan Moore — all the way across the Atlantic? You might be wondering, and we're here with a season three recap covering all the essential plot points.
Some things don't need to be explained. Just like previous seasons, these episodes are promised to be filled with Penn Badgley's ominous, smug narration as Joe; a cast of slightly irritating side characters plus a few sympathetic ones; and lots of murder. Seriously – lots. Take a look at the death toll for Season Four for proof.
Unlike past seasons of the show, this season is split up into two parts. Part One will be released on Feb. 9, and Part Two will follow a month later, landing on Mar. 9. on Netflix.
Here's everything to remember about Season Three of "You." 
(R.I.P. Love.)
At the start of Season 3, Joe and Love Quinn (who are now new parents) move to a California suburb
You could title Season 3 of "You" as Joe's suburban fantasy-turned-nightmare. No longer haunting the bookshops of New York, Joe now lives in sunny California with his wife, Love Quinn (Victoria Pedretti), and their infant son Henry, who has to contend with having murderers for parents — more on that later.
From the start, Joe is uncomfortable with his new home in Madre Linda. As Joe describes in the season's first episode, they're "in this fake, plastic suburban hell." 
Rounding out the season's cast of characters are Joe and Love's neighborhood of wealthy company founders, aspirational influencers, librarians, and a locally famous mommy blogger.
Joe finds a new obsession: His neighbor, Natalie.
Joe hates his new home, but he doesn't mind the view. The view being his new neighbor, Natalie (Michaela McManus), who is not only attractive and interested in Joe, but (similar to Beck from season one) reads to escape. That's enough to pull Joe — despite all his attempts to keep on the straight-narrow — into his internal pattern of fantasies and ultimately into plotting out the ending of his arrangement with Love.
However, as is usually the case, Joe's obsession doesn't end well for the woman he's fixated on when Love, Joe's wife, gets involved.
Love, of all of Joe's romantic partners, is his best match because she's just like him: She's also a killer. And in season three, she kills as much as Joe does.
Love's first victim is Natalie, whom she kills after discovering a box of Natalie's things that Joe has collected.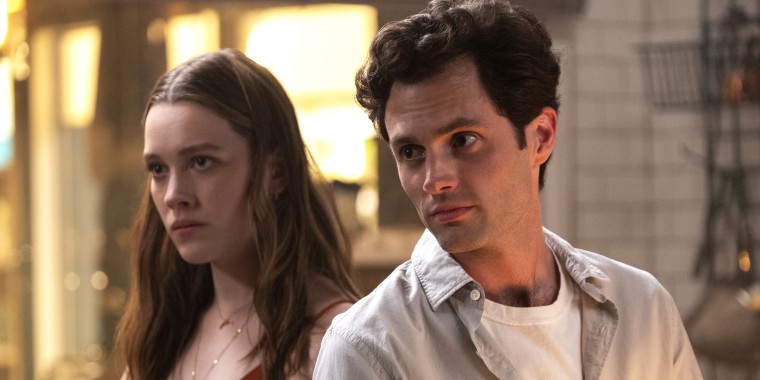 Together, the couple captures Gil, a local dad and geology professor who admits his unvaccinated children gave Henry measles. Love knocks him on the head with a rolling pin; to deal with the Gil problem, they lock him in their convenient cage downstairs. Eventually, Love pays a PI and discovers a history of sexual assault in his past. Gil takes his own life, and they pin Natalie's murder on him.
Joe spends much of the season cleaning up Love's murders rather than his own.
A reminder here that Love entered her and Joe's relationship with a hefty body count of her own. By the time she met Joe, Love had killed her childhood nanny, who had been abusing her twin brother Forty. She also (accidentally) killed her first husband, James, who wanted to leave her after she helped him through cancer. Originally intending to paralyze him, she gave him a fatal dosage of aconite. Oh yes, and then after meeting Joe, she killed his apartment manager Delilah Alves and Joe's ex-girlfriend Candace Stone.
Eventually, she tries to kill Joe, her second husband, in the same way.
Then, Joe finds a second obsession: his boss and local librarian, Marienne 
Joe can't go long without his connection to the book world. He takes on a volunteer job at the library. There, he meets Marienne Bellamy (Tati Gabrielle).
Their relationship starts off rocky, as Marienne assumes Joe is as privileged as the rest of his Madre Linda neighbors. They learn they actually have some things in common, with hardship in their backgrounds. Now, she's a single mom with dreams of returning with her daughter to Paris, where she grew up, all while trying to make up for her past.
The precariousness of their relationships with their children eventually helps Joe and Marienne to find even more common ground, and the two end up kissing in the rain.
Joe gets rid of the obstacle in their way: Marienne's husband
Marienne's ex-husband Ryan Goodwin (Scott Michael Foster) is the town's seemingly "trusty" local reporter. Beneath his shiny white-toothed exterior, however, is a dark past rife with drug addiction and manipulation and a motivation to prevent Marienne from getting any sort of custody over their daughter.
With all of this looming large overhead, Marienne tells Joe that she won't risk her chances of being with her daughter by pursuing a relationship with him. If Ryan found out that she was seeing a married man, he'd have another reason to keep her daughter away.
Ultimately this dynamic drives Joe to resort to what he knows best. Yep, Joe kills Ryan.
What happens to Love at the end of "You" season three?
After Ryan is out of the way, Joe tells Love he wants a divorce. 
Unsurprisingly, Love won't let Joe go so easy.
As she did with her last husband, James, Love paralyzes Joe with the aconite, a.k.a wolf's bane, she's been growing in her garden. She then plans to kill Marienne, but after seeing her daughter Juliet, she changes her mind.
But Joe is one step ahead of Love and ends up killing her
Turns out Joe knew Love would try to use aconite on him — he knew she was growing in the garden and took adrenaline tablets to prevent the effects of the poison on him.
He uses Love's poison on her, injecting her with aconite. As Love dies, she tells Joe that the two are perfect for each other.
In the end, Joe fakes his death and blames it all on Love
After Love dies, Joe fakes his death and blames it on her. He cuts off two of his toes (leaving one in a pie on the counter) and sets his house on fire before making an escape.
The end of Season 3' of "You's" final episode reveals that Joe has stolen away to Paris on a hunch that Marienne has moved there with her daughter.
But what happens to Love and Joe's baby Henry in Season 3 of "You"?
Before he jets off to Europe, Joe leaves his son in the care of his colleague at the library, Dante. Dante and his husband Lansing had been trying for a child, and Joe writes them a letter saying he hopes that together they will raise Henry. Dottie, Love's mom, wants to fight for custody of her grandchild but gives up.
Is this the last we see of Love and Joe's son? Stay tuned.