The finale of "The Ultimatum: Queer Love" was a series of makeups and breakups — none more drawn out than the conclusion to Yoly Rojas and Xander Boger's saga.
Both came onto the show with other partners and fell for each other during their trial marriages, exchanging "I love yous."
However, once reunited with their previous partners, they decided to navigate their next steps differently. Whereas Xander chose to break up with her girlfriend Vanessa Papa, Yoly accepted Mal Wright's proposal.
Yoly, speaking to TODAY.com, calls the decision "the hardest thing in the world."
"My heart was saying, 'I love Mal.' But something was not feeling right anymore. But (in) my head, it only made sense to continue with this person who I started this journey with. My heart wouldn't have been at peace if I didn't see it through with her," she says.
After accepting Mal's proposal, Yoly met up with Xander. They shared an intimate conversation — and, according to Yoly, a bit more. Yoly tells TODAY.com the two shared a kiss during this encounter, which she "regrets" looking back.
"I'm mourning my relationship and what was a possibility of a future with Xander," she explains. "Emotions are there. It's sad. She's so important to me. I went in for the moment and we kissed, which I super regret. Considering I literally had just said yes to Mal. That was not a good moment. I'm not proud of it. I'll forever apologize to Mal for that."
She continues, "I wish I would've cried and was sad, instead of going into the last kiss."
The kiss was not televised. Rather, the two only embraced and said they loved each other in the episode. TODAY.com has reached out to Netflix for comment.
During the reunion, Mal also took issue with Yoly holding hands with Xander after their trial marriage was done. Yoly says she doesn't regret that. "That was very brief," she says.
Xander tells TODAY.com she already knew what Yoly's news would be during their meeting in "The Ultimatum" finale, even though they hadn't discussed it previously.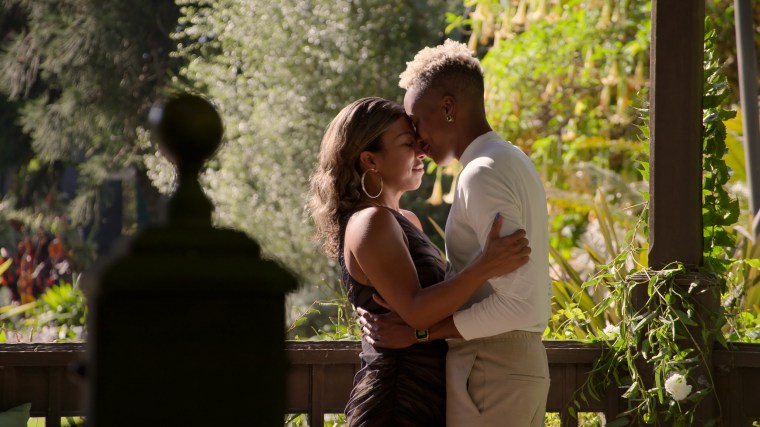 "I remember when I was walking up to meet her and in my gut, I felt it, 'She's engaged.' Which is totally fine. But it was something I felt very deeply. It's the reason, to me, I was calm. This is what's happening. I was happy for them, too."
During the reunion, Xander and Yoly revealed they met up at the Coachella music festival after the show was filmed, but didn't rekindle their romance.
Xander calls Yoly an "important person in her life," like her ex Vanessa.
"I'm there for (Vanessa), same with Yoly," she continues. "They both have very special places in my heart. They helped me learn and grow in a lot of ways, which I'm very appreciative for."
However, she says the door is closed to relationships with either. "I don't think that they're two people that I would hang out with necessarily," she says. 
Yoly, speaking to TODAY.com, is more open to the future. "I don't know," Yoly says, regarding a relationship with Xander. "I don't think I see it, but then a lot of times I really do see it."