"Yellowstone" actors Hassie Harrison, 33, and Ryan Bingham, 42, are dating in real life!
On Wednesday, April 12, Harrison and Bingham shared a photo of themselves kissing in front of a burning bush while they both wore camouflage jackets, blue jeans and a hat.
"More than a spark 🔥 @hassieharrison," Bingham captioned the snap, which Harrison later shared on her Instagram Stories.
In the comments, Harrison wrote, "I love you, cowboy. 🥰."
"Yellowstone" actor Jennifer Landon said, "😍😍😍😍."
And "Sex/Life" star Adam Demos hinted that it might've been him who took the picture and said, "Epic! Also Great pic… I wonder who took that."
In "Yellowstone," Bingham plays a musician and former convict who is recruited as a ranch hand, and Harrison plays a barrel racer and ranch hand.
Before Bingham got together with Harrison, he was married to his wife of 12 years, Anna Axster, from 2009 to 2021. The pair share three kids together.
Bingham and Harrison's romantic post comes after fans wondered whether Kevin Costner will still be on "Yellowstone" after he didn't attend a scheduled appearance at PaleyFest earlier this month, even though the rest of his co-stars were there.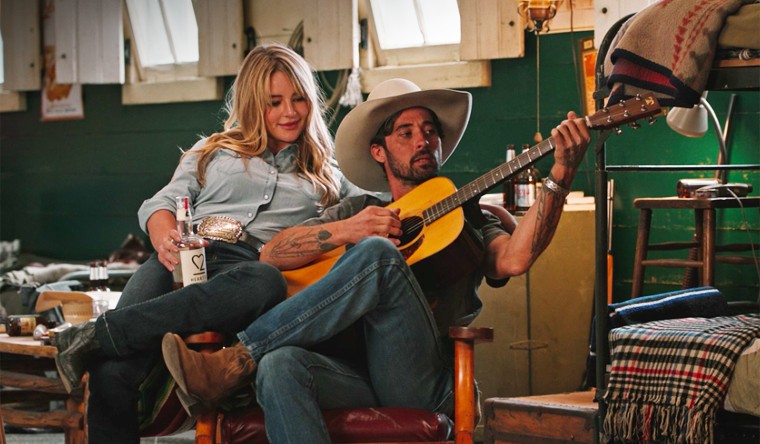 "People traveled from around the country to sit in the audience and watch Kevin Costner talk about Yellowstone, and half-an-hour before the event was supposed to start they said he's a no show," Marc Malkin, Variety's senior editor and columnist, said on TODAY.
While Paramount Network President of Development and Production Keith Cox said he was "very confident" Costner will continue with the show at PaleyFest, Malkin still questioned what Costner's fate will be on "Yellowstone."
"He's not saying how much he's going to be involved," Malkin said. "Will he be starring on the show? Who knows at this point — it's really anybody's guess."
In February, Deadline and Variety also reported that Costner has been less and less available for "Yellowstone."
At the time, a Paramount Network spokesperson said the company had "no news to report" in a statement to TODAY.com.
"Kevin Costner is a big part of 'Yellowstone' and we hope that's the case for a long time to come," the spokesperson added.