On the Wednesday, April 12, episode of "The Late Late Show," host James Corden hilariously showed what it would be like if he was the Kardashians' assistant for a day.
First, Corden started off his day by helping out Kris Jenner. When he arrived at her house, he noticed that she already exercising on the treadmill.
"Usually, my assistant works out with me in the morning so we can take notes," Jenner told him.
Corden jokingly gave her a blank stare and replied, "I already worked out."
After Jenner instructed him to make her smoothie, Corden went to the kitchen and threw nearly a whole bottle of wine into a blender with various greens and Rice Krispies cereal.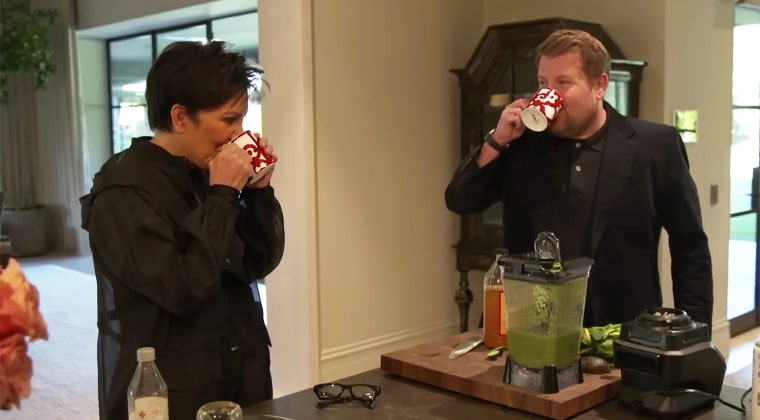 "That is f------ vile," Jenner said, spitting out the concoction into the sink. "What f------ planet are you on, James?"
Next, Corden went to help Kim Kardashian. His task for the day was to drive her to the gas station so she could pick up some gummy bears. But once they got there, Corden hilariously told a customer to "get on the floor" so no one would see the Skims mogul come and go.
"I'm sorry that happened," Corden said, escorting Kim to her Rolls Royce.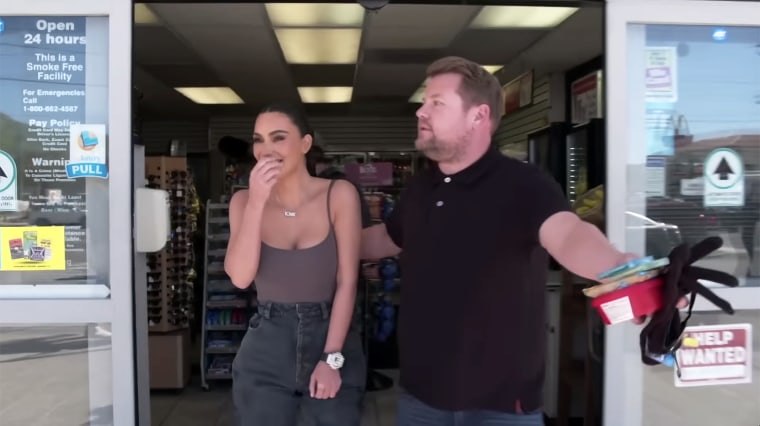 At Kylie Cosmetics, Corden looked like he was ready to start the day.
When he arrived, he announced himself as Kris Jenner's assistant. But when Jenner got there, the momager hilariously found him taking a shower in Kylie Jenner's bathroom.
"Oh, my God! What the f--- are you doing?" Jenner said after finding him naked in the shower. "I can't unsee that!"
Once she got him to come out of the bathroom, Corden went to bring Khloé Kardashian a salad. That's when she taught him her perfect technique to mixing the salad dressing into the bowl.
The pair shook their salad bowls in different directions before they opened it up and began eating. But as Khloé Kardashian's assistant, Corden took it upon himself to feed the Good American co-founder himself.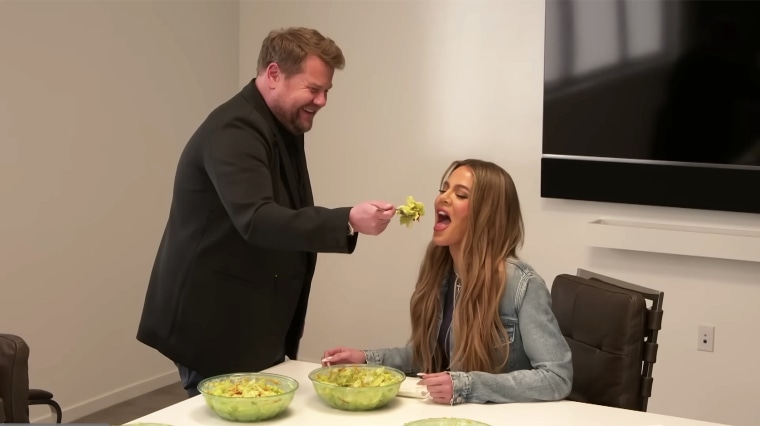 "I'm very comfortable here," he said while chewing. "I mean, honestly, it doesn't even feel like I'm working."
While shaking her head in agreement, Khloé Kardashian said, "Yeah, it doesn't look like you are to me either."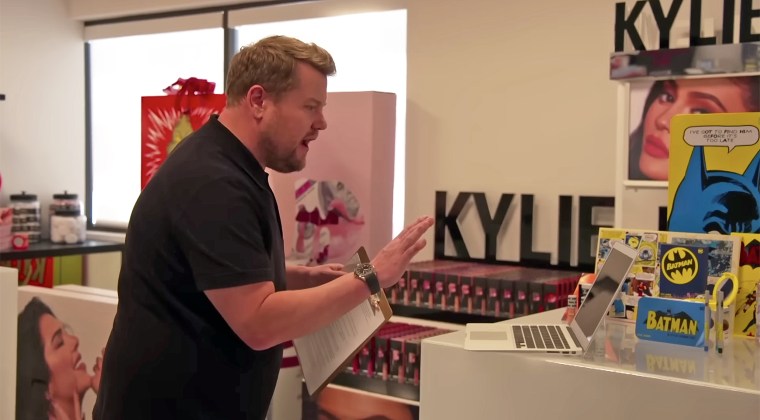 After he finished helping everyone out, Corden jokingly acted like he was filming a few confessional scenes for the Kardashians' self-titled reality TV show.
While acting like one of them, he said, "Honestly, Kris looks at me differently after that shower, and let's just say, there's a twinkle in her eye."
In another take, he said, "Feeding Khloé was fun. But she's still a b----."