Ahead of the May 17 finale of Season 10 of "Vanderpump Rules," Lala Kent is issuing a warning to viewers: Bring tissues.
After watching the finale in advance, Kent took to her Instagram story May 12 to share her reaction to the highly anticipated episode that is expected to document the "Scandoval," a cheating scandal involving Tom Sandoval and Raquel Leviss, in real time.
"if you thought you h*ted them before," Kent teased on her story.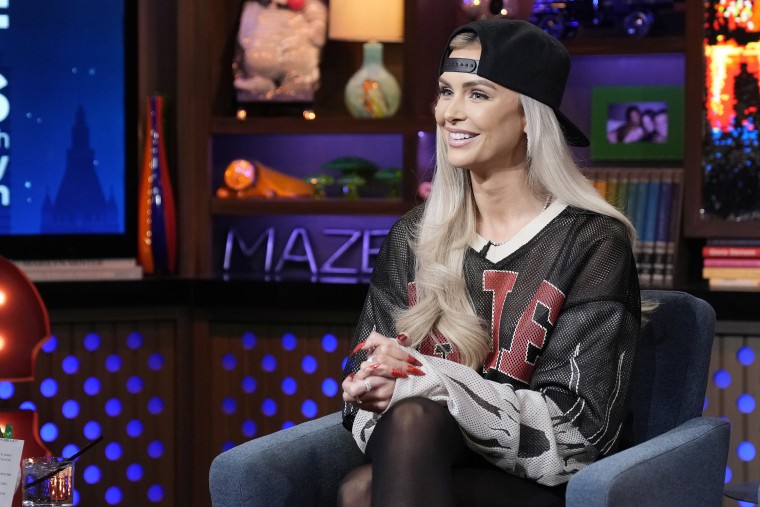 In March, the Bravo reality TV show made headlines when Ariana Madix and Sandoval split after nine years together in the wake of allegations that he and Leviss, one of Madix's close friends, were having an affair. The news broke at the beginning of Season 10's release on Bravo. The show, which was still in production, resumed filming and tweeted that "this story will be unfolding on camera."
So far, Season 10 has chronicled the at times questionable friendship between Leviss and Sandoval, as well as the rising tension between Madix and her boyfriend.
The trailers for Wednesday's finale and the upcoming three-part reunion have previewed Madix and Sandoval's explosive confrontation and dramatic fallout.
Now, Kent is advising viewers to come prepared for the drama.
"I feel like I would be doing you guys a disservice if I don't tell you what you're going to need in your final episode of 'Vanderpump Rules' care package," she said in the video.
Her list of essentials includes:
A box of tissues
"Lots of water"
Throat lozenges
Tea and honey, "because you'll need it for the screaming, after"
Eye drops
Alcohol, "if you drink"
A frozen eye mask — "because if you have to work in the morning, you don't want to be puffy, and I feel like you will be"
"Oh. You're also going to need a sleep aid," she added in a follow-up post to her story.
In the upcoming "Vanderpump Rules" reunion, which was filmed in March and starts airing May 24, Kent appears to be a staunch supporter of Madix and leads the confrontation against Sandoval and Leviss.
At one point in the trailer, Kent screams at Leviss.
"James and Lala can't talk because they f-----," Leviss says, referring to Kent's previous tryst with James Kennedy, Leviss' ex-fiancé.
"I wasn't your best friend!" Kent shouts back at her.
Photos released by Bravo also show Kent rising out of her chair and pointing across the set, where Leviss, Sandoval and Tom Schwartz, who also had relations with Leviss in Season 10, were seated.