Jenna Ortega is gearing up to host "Saturday Night Live" March 11. But some people can't handle seeing her act like anyone but Wednesday Addams.
In a new promo for the episode, the "Wednesday" star, 20, shocks cast member Bowen Yang when she introduces herself in an upbeat, bubbly manner.
"Hi, I'm Jenna Ortega and I will be hosting 'SNL' this weekend with musical guest The 1975," Ortega gushes as the rock band stands behind her, stone-faced.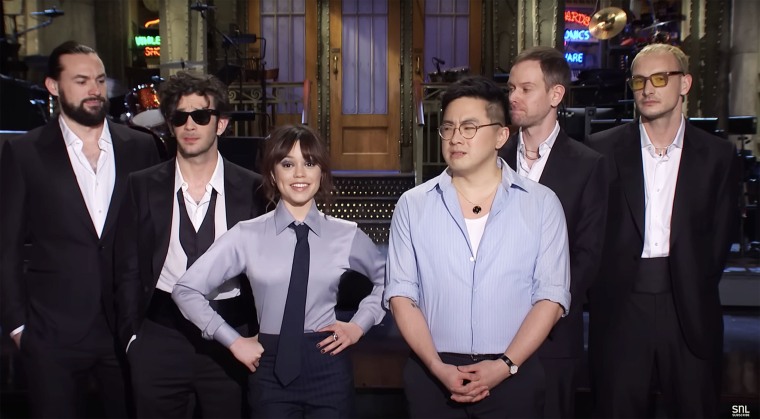 "What are you doing?" asks a concerned Yang.
"I'm being upbeat," Ortega responds, grinning.
"You know, I don't want people to think I'm like my character Wednesday," she adds, with the mannerisms of a peppy cheerleader.
Yang, for one, isn't having it.
"Well, cool it," he warns. "You're freaking people out."
Yang then turns to the band members behind him, asking, "Are you guys freaked?"
The musicians admit that, yes, seeing an animated Ortega — whose "Wednesday" character is bitter and morose on a good day — is off-putting.
"We're freaked," they mumble.
The short clip ends with Ortega clapping her hands in defeat.
"I can't win," she says.
In a "Saturday Night Live" promo released earlier this week, Ortega reluctantly reprised the "Wednesday" dance she made famous in the Netflix series.
The cute clip finds all three members of the show's in-house comedy team Please Don't Destroy dressed up like Wednesday Addams. The trio tries to sell Ortega on the idea that they should all perform the viral dance together for the video.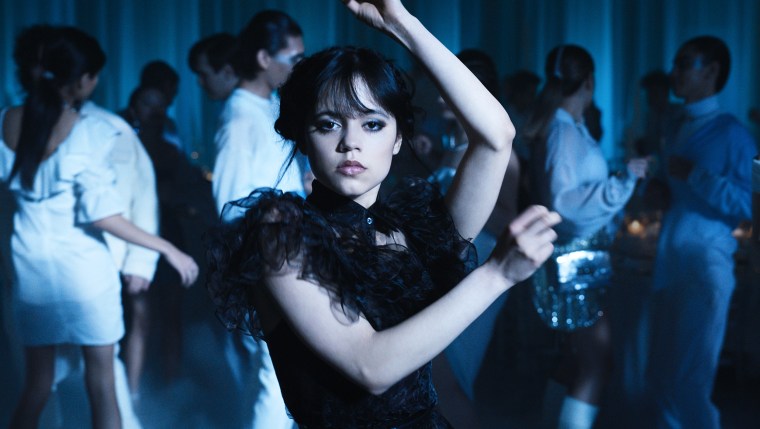 When Ortega rejects the idea, the comedians — Martin Herlihy, John Higgins and Ben Marshall — struggle to downplay their disappointment.
"We didn't want to do the dance either," Herlihy lies.
"Oh OK I just didn't know because you're all dressed exactly like Wednesday," Ortega points out.
The comedians try pretending that they've actually never heard of "Wednesday." But by the end, Ortega gives in and dances with Higgins and Marshall to a remix of Lady Gaga's "Bloody Mary."