Tyler James Williams has heard fans loud and clear on their hopes for romance between his character Gregory and Quinta Brunson's Janine on "Abbott Elementary." Still, the actor revealed in a recent interview that if the fireworks are to last, he thinks the two characters need time to grow.
In the Feb. 22 episode of the breakout ABC series, viewers finally witnessed the long-awaited kiss between the teachers that their eager glances and wistful moments had undeniably been building up to.
For Williams, the question as to whether the show could "pull off" a relationship between the characters loomed large after he read in the script that the pair would kiss.
"We have to protect the two of them," the actor told GQ in an article published March 22. "I knew that the top of the episode started with Gregory in a whole other relationship. My one thing with Quinta is that she sometimes gives me these hairpin turns in an episode. I'm like, 'Dog, give me some breathing room to get to these things!'"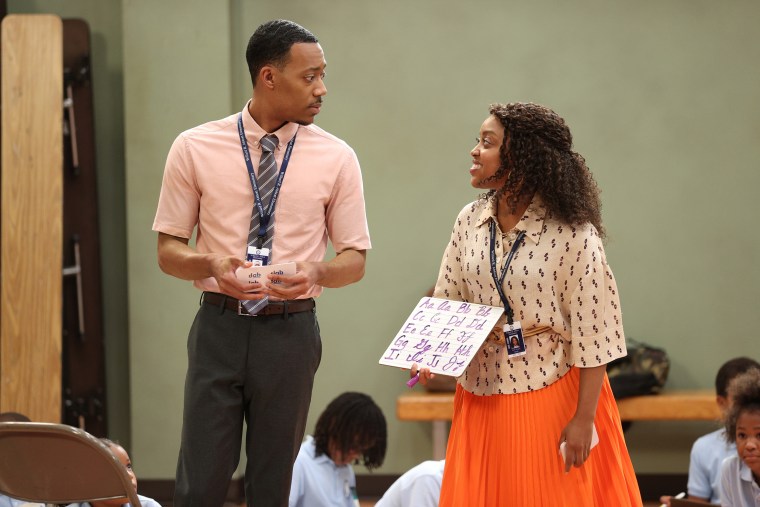 Of course, the road to love for the two characters won't be easy. After all, the words "oh no" are the first ones Janine utters seconds after she returns Gregory's kiss. By the end, the two ultimately decide that they are better off as friends, much to the chagrin of the show's fans.
Williams said he has debated whether their kiss means the couple would last. In real life, he noted, not all things work out as we expect.
"How many times have you been with somebody or been excited about somebody, and you thought this could be it? Three weeks later, it's a wrap." Williams said.
Speaking about another romance story he thinks "Abbott" fans ought to root for, Williams said Janine's ex-boyfriend, Tariq (played by Zack Fox), deserves a chance to get back into the game after the couple broke up
"I've always been pro-Janine and Tariq because I love him," he said.
Above all, however, Williams' point of view is that for Janine and Gregory to have the love story that fans have been rooting for, they both must first mature.
"I'm pro-Janine and Gregory after growth," he said. "They need to grow into the people they're becoming. Because I've yet to even see who they're becoming as a performer, I can't say that they should be together yet."