"Vanderpump Rules" star Tom Sandoval has broken his silence on social media after his split with Ariana Madix.
TODAY.com can confirm the couple have parted ways after nine years together, a split that comes amid allegations he cheated on Madix with a co-star.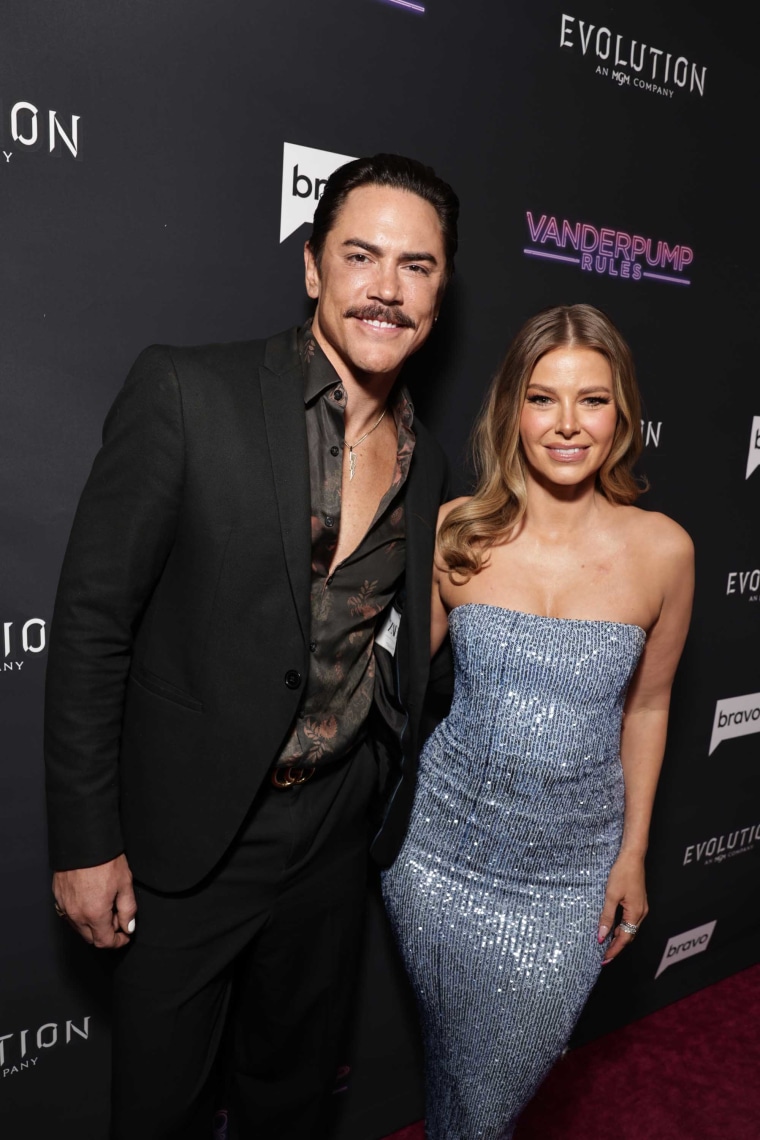 On March 4, Sandoval shared a statement on Instagram, which addressed the rumors and asked for fans to leave out his restaurants, TomTom and Schwartz & Sandy's, for the benefit of his business partners and staff.
"Hey, I fully understand and deserve ur anger & disappointment towards me, but please leave Schwartz my friends and family out of this situation," he wrote, referring to his friend and business partner, Tom Schwartz. "Schwartz specifically only found out about this very recently, and most definitely did not condone my actions. This was a very personal thing."
Sandoval added, "Schwartz & Sandy's might have my name on it, but also there are 3 other partners and 20 employees, who especially rely on the restaurant for income for them and their families. Just like TomTom, I'm a small part of a much bigger thing."
"I will be taking a step back & taking a hiatus out of respect for my employees & partners," he concluded. "I need some time to address everything else. Sorry for everything."
A representative for Madix declined to comment to TODAY.com.
The cocktail lounge Schwartz & Sandy's also released a statement on Saturday on Instagram, thanking fans for their support but also acknowledging the "outpouring of outrage" directed toward the business.
"Those of us who are not famous have dedicated our time, hearts and money to make this restaurant a reality," the statement read in part. "We too are disappointed by the current situation, as Ariana has always been a good friend and a great supporter of the restaurant. We appreciate you may feel a certain way, but please understand that the livelihoods of others also depend on this business."
The 'Vanderpump Rules' cast reacts
Since news broke of Sandoval's alleged cheating, current and past cast members of "Vanderpump Rules" spoke out on social media in support of Madix.
Lala Kent shared several Instagram stories that addressed her past feuds with Sandoval. She also shared a video talking to the camera about the situation and encouraged fans who went to Sandoval's recent show to chant "Ariana" from the crowd. 
"This is so fun. I usually don't get involved in the Instagram s--t, but now I'm activated," Kent said, adding that she got permission from Madix to speak out. "Blowtorch. Gasoline. Grenade launcher. It's all ready."
Kent also shared Sandoval's statement in another Instagram story, writing in part, "Where's Ariana's apology in this? it's called narcissism."
Kristen Doute, who previously dated Sandoval from 2007 to 2013, shared several Instagram stories on the topic and weighed in on the split, writing that she was "#TeamAriana 25/8."
"I don't know why I feel like I need to make this clear, but there are so many people right now wondering if this is making me happy and you guys…Ariana and I have been really good friends for many, many years now," Doute said in another story. "So, I am Team Ariana all day, everyday. That's what's up."
She also shared a sweet video with Madix, which she then posted as an Instagram Reel. In the clip, she said, "I stan Ariana…I love you so much."
"I ❤️ Ariana. PERIOD," she wrote in the caption.
James Kennedy, who was previously engaged to Raquel Leviss, according to People, also weighed in on social media. On Instagram, he shared a screenshot of an article from TMZ first reporting the split.
Kennedy wrote in the caption, "Hope you all feel as sick as I do. This explains everything."
Katie Maloney also re-shared Sandoval's statement in an Instagram story, adding commentary similar to Kent. Maloney is the ex-wife of Sandoval's business partner, Tom Schwartz, according to People.
"Where's the mention of hurting Ariana?!" Maloney said. "No apologies to her?"
Erika van Olphen, the mother of "Vanderpump Rules" star Scheana Shay, shared multiple posts in support of Madix, including a frame that included a photo of her with text that read, "She's beauty and grace! I love you so much Ariana!" 
She also shared a photo of Madix, Shay, Maloney, and Kent and added several stickers to the frame including one that read "Stronger Together" along with the hashtag "#TeamAriana."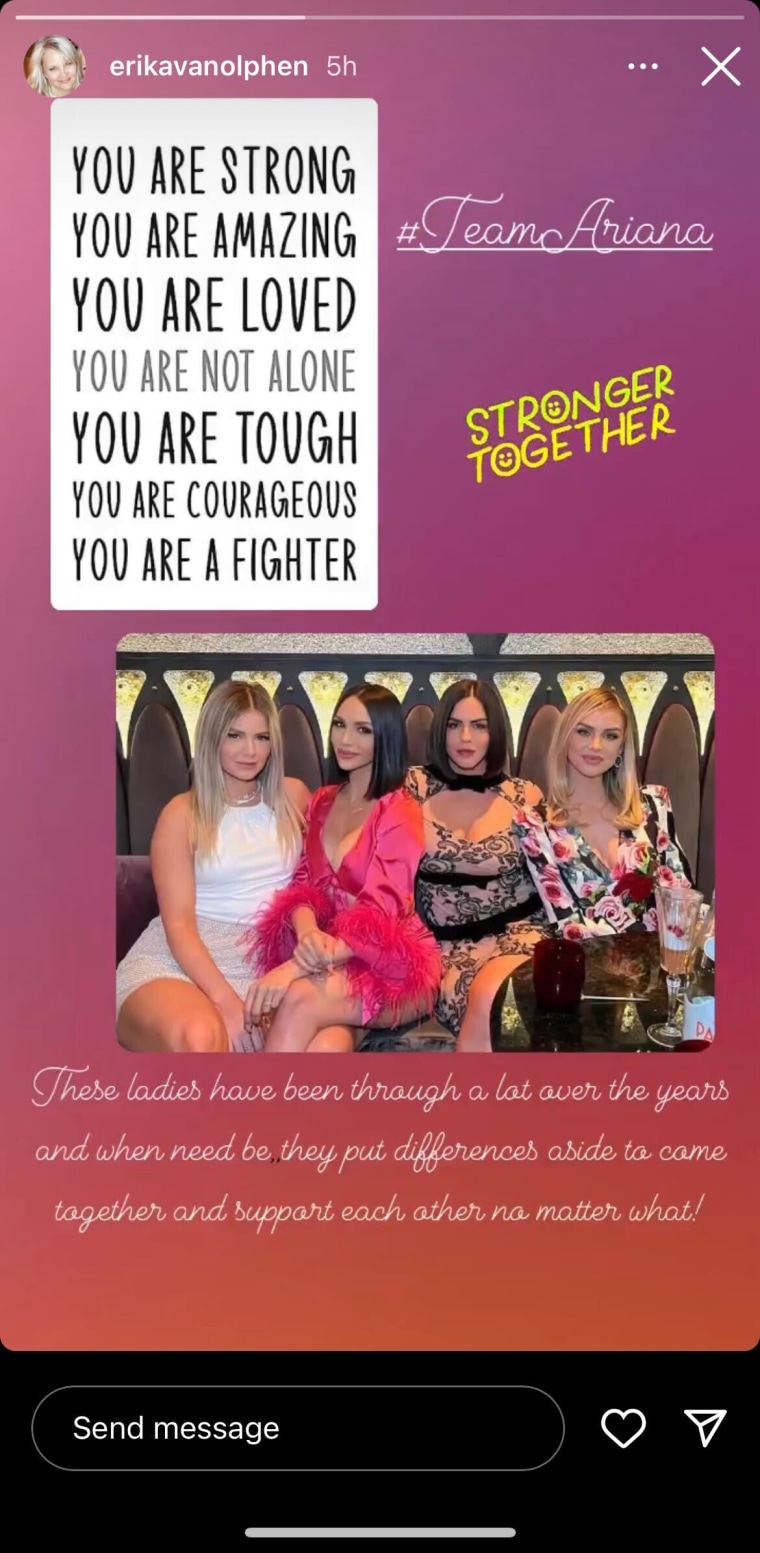 "These ladies have been through a lot over the years and when need be they put differences aside to come together and support each other no matter what," van Olphen added.