Tig Notaro definitely had the "crashing" part right when she hilariously flubbed the answer to a puzzle on "Celebrity Wheel of Fortune" recently.
The comedian spoke to Jimmy Fallon on "The Tonight Show" on Feb. 8 about her attempt to solve a puzzle in which "crashing my _x_rcis_ bi_ _" was showing on the screen.
"Crashing my exorcist bill?" she guessed.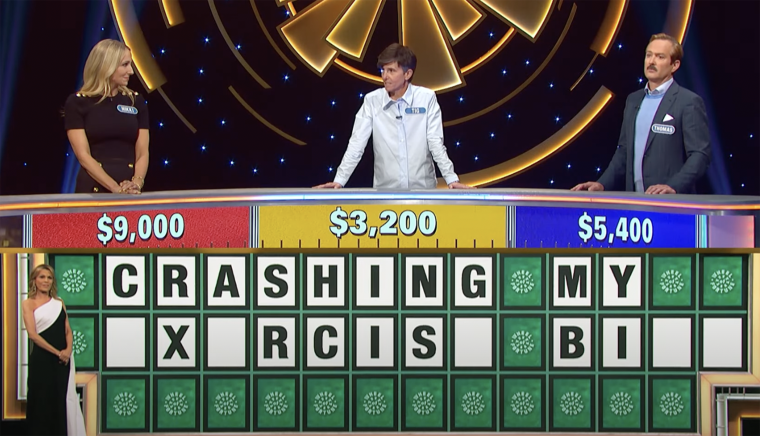 Her fellow contestants and legendary host Pat Sajak couldn't stifle their laughter at her bizarre attempt at solving "crashing my exercise bike."
"Can we edit my guess out?" she asked Sajak.
Notaro then jokingly doubled down.
"That is the answer," she told Sajak. "I'm not going to be humiliated on national television."
"It's too late for that," Sajak quipped.
Fallon asked her what was going through her head at that moment.
"Well, first of all I was thinking I'd never imagined I'd be on 'Wheel of Fortune,'" she said. "Second of all, I was thinking 'I don't imagine I'll be very good at this.' And then third, I was like, 'Well, I'm correct.'"
"I wasn't nervous," she told Fallon. "You know, I was wrong. I was just wrong."
Notaro can take solace in that bungled attempts to solve seemingly obvious puzzles have a long tradition on "Wheel of Fortune."
Snoop Dogg famously gave spectacularly wrong answers in his appearance on the show, while another contestant had a "Wheel" fail when she got a "Jurassic Park"-themed puzzle colossally wrong last year.
However, sometimes the contestants educate the puzzle-makers. Ben Tucker from California had fans pondering whether the answer "taking a quick jog" really belonged in the category "Fun & Games" after he failed to solve it in the bonus round.
"Well, see, I don't consider jogging fun and games," he said.