"The Ultimatum: Marry or Move On" Season Two has already come to an end.
Season Two followed the same format as the show's inaugural season. On "The Ultimatum: Marry or Move On" couples begin the series at an impasse, with one person ready to get married and the other unsure.
They briefly break up, date other contestants and select new partners for a three-week trial marriage. Then, they reunite with their original partners and, hopefully, finally decide if they want to get engaged, break up, or start a new relationship with their trial wife or husband.
The sophomore season began with five couples but by the finale there were only four pairs remaining. After waiting a week to find out which couples got engaged, viewers also learned which Season Two couples decided to stay together during the reunion.
Find out where the Season Two couples are today and also catch up with the Season One cast, below.
Season One
Shanique Brown and Randall Griffin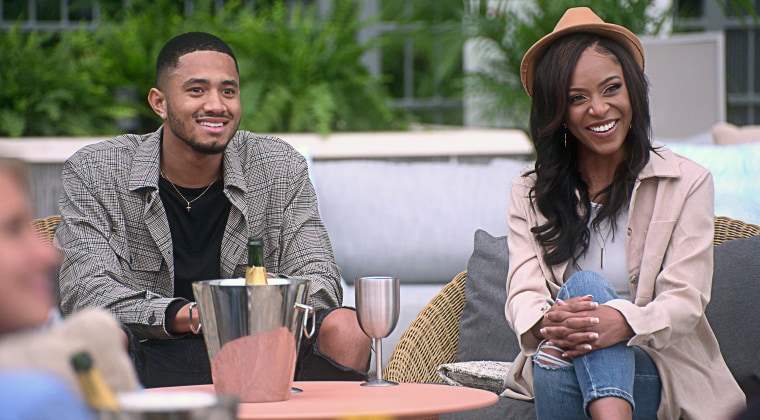 Relationship status: Engaged
At the end of his journey on the show, Randall Griffin reflected on the challenges he and Shanique Brown faced along the way. He called Shanique his best friend and said he has always known he wanted to marry her — and then proposed.
She said yes and they embraced. Later, they both shouted "We're engaged!" to the camera. 
During the reunion, co-host Vanessa Lachey pointed out that Shanique was not wearing her engagement ring. 
Shanique explained that the problems she and Randall had discussed on the show were still issues when they returned to real life. They broke up for six months as a result. Shanique referred to their separation as "the hardest time in her life."
However, they eventually reunited and said they were working on their relationship.
About a year later, in July 2023, Randall popped the question again. The two celebrated their engagement news in a joint Instagram post.
They shared a carousel of photos that included the moment he proposed and showed off Shanique's diamond sparkler. "Yes! — Today and all of our tomorrows," she captioned the slideshow and added an infinity symbol and white heart.
April Marie Melohn and Jake Cunningham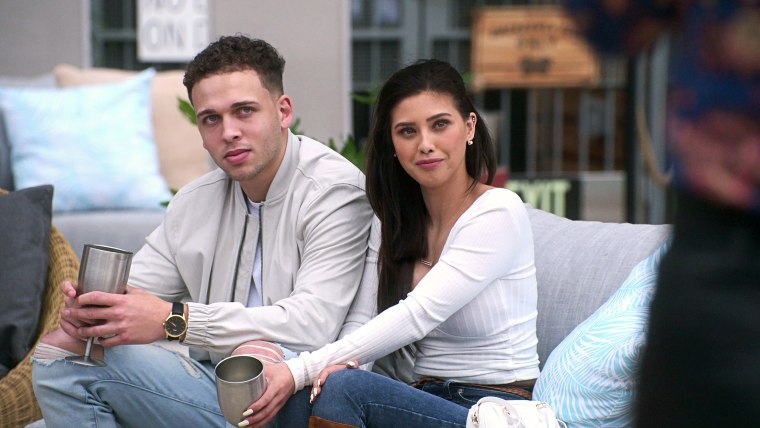 Relationship status: Broken up
April Marie Melohn and Jake Cunningham met up on decision day and she told him she was ready to get married.
He replied, "I tried to push every little bit of me to get to that point. I'm just not ready for it myself." She cried as Jake said he loved her and wished her the best. 
During the reunion, April revealed she met someone after the show ended. She became Instagram official with boyfriend Cody Cooper a few days after the reunion aired. The couple welcomed their first child together, daughter Mila Aven Cooper, in August 2023.
"Baby Girl IS HERE!" she announced on Instagram.
"Everything still feels so completely surreal right now," she added. "Baby girl is healthy (and) so perfect."
Since the show ended, Jake appears to have stepped away from the reality television world and social media. His last Instagram post was uploaded in August 2022. He returned to the post to react to a recent comment about April's baby news.
"Good for her lol," he replied to one Instagram user who shared is now a mom.
Rae Williams and Zay Wilson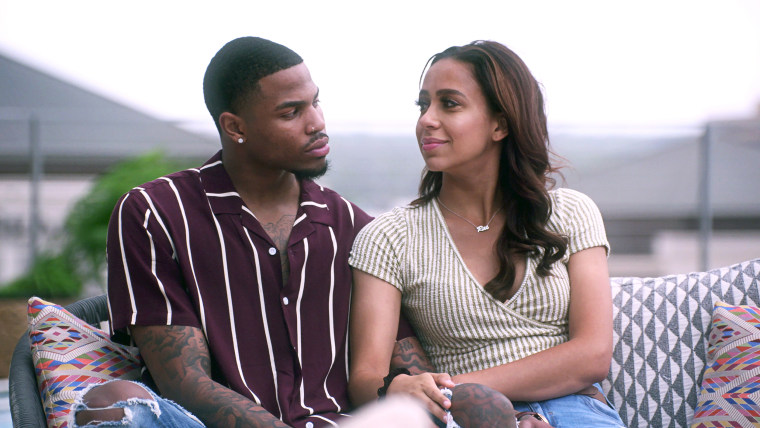 Relationship status: Broken up
By the time Season One, Episode Nine began, Rae Williams and Zay Wilson had already called it quits. While reunited after their trial marriages, Zay left their apartment and stayed out all night without checking in which upset Rae. When he finally returned at 8 a.m., a physical altercation occurred. Rae admitted on camera that she was "so pissed when he came home (she) literally punched him." 
Rae shared during the reunion that she tried to rekindle her relationship with Zay after the show. "Zay and I did try to fix things. And ultimately, that didn't work out, but we did give it a shot," Rae explained. "I tried to be more expressive with him and he became a better communicator after the show."
Jake Cunningham and Rae Williams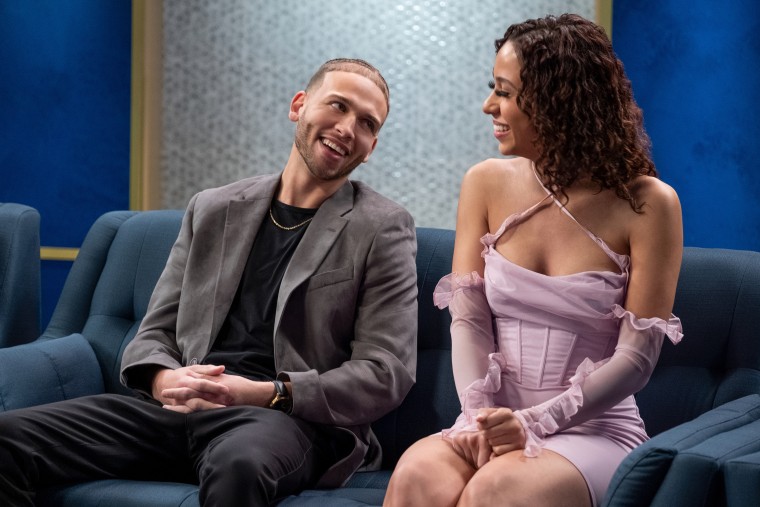 Relationship status: Broken Up
After ending his relationship with April, Jake then spoke to Rae, with whom he had a trial marriage. Jake proposed the start of an adventure. He explained that he had two tickets to anywhere in the world and wanted Rae to come with him. She agreed and they left together, hand in hand. 
Jake and Rae decided not to go on the trip, and eventually called it quits. "We kind of came to a consensus that everybody needed time to heal," Rae said, explaining why they chose to "backtrack." Rae also revealed at the time that she had one relationship with an "amazing" woman since the show stopped filming.
Madlyn Ballatori and Colby Kissinger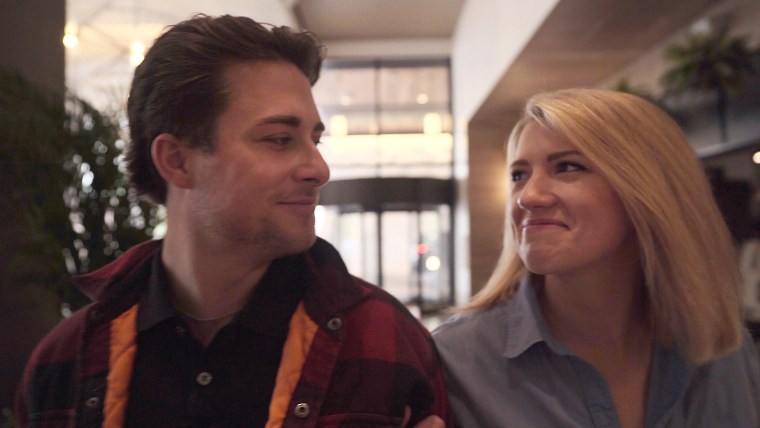 Relationship status: Married
On decision day, Colby Kissinger told Madlyn Ballatori, "I've given you my heart and I want you to keep it forever," before getting down on one knee. Madlyn, who had not spoken yet, revealed her true feelings by kissing Colby. She said yes to his proposal. 
He said he could not wait any longer and wanted to marry her immediately. She agreed, again, and they exchanged "I dos" right then and there.
Colby and Madlyn surprised viewers by announced they were expecting a baby girl together at the reunion.
Their daughter, Josephine "Josie" Riley, was born less than a month later on May 2, 2022. "We could not be more in love," Madlyn wrote on Instagram in a since-deleted post that showed the newlyweds bonding with their daughter.
In January, the couple announced that Josie was going to be a big sister in a now-deleted post. They revealed in March that were adding a baby boy to their family.
As the family awaited his arrival, they enjoyed a pool day on Sept. 10. "We're having a baby tomorrow!" Madlyn said on Instagram next to a picture of her, Colby and Josie smiling for the camera in their swimsuits.
Colby and Madlyn announced their son was born in a joint Instagram post on Sept. 13.
"Conrad Lloyd Kissinger🤍Welcome to the world!" they captioned a slideshow of phots of them cradling the newborn together in the hospital.
"Ours is even brighter now because of you. God is so good!" they said.
Lauren Pounds and Nathan Ruggles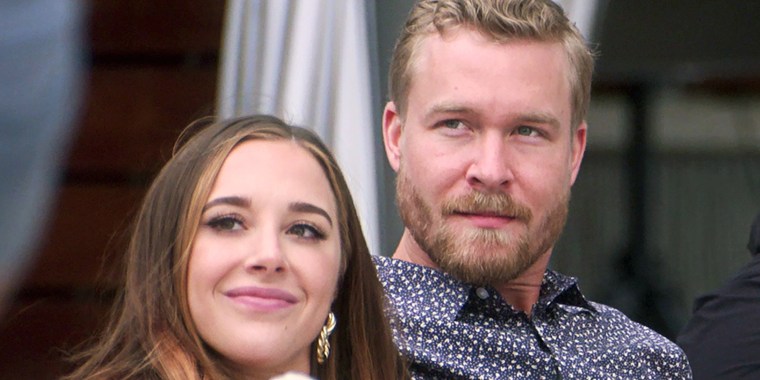 Relationship status: Married
Nathan Ruggles and Lauren Pounds, who hadn't appeared on the show since the third episode's surprise proposal, shared they were still engaged at the reunion.
Lauren said they received expert advice to help them decide if they wanted to have children, which was their main problem. "We did a little bit of outside work with going to therapy," she said before telling everyone that they plan to have one child. 
They tied the knot in October 2022.
Lauren gushed on Instagram that their nuptials "were everything we could have asked for."
Nathan also shared photos from their wedding on his page.
"Still can't get over how amazing our day was," he said. "Thank you to all our friends and family for making our wedding more amazing than we could've ever asked for!!"
He added, "And to MY WIFE!! I love you soo much and can't wait to spend forever with you!!!"
Alexis Maloney and Hunter Parr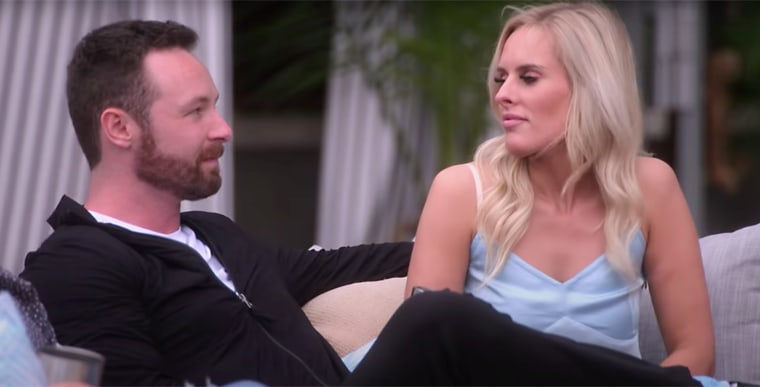 Relationship status: Married
Alexis Maloney and Hunter Parr, who also left the process early, returned for the reunion and revealed they were planning their wedding. Alexis announced they set a date for June 2022.
She also addressed her comments on the show about not being ready to settle down with Hunter until he made more money.
"That was a really big thing for me kind of in the beginning," Alexis said. "Now, living together, we both contribute equally. It's not as important because I think there's a lot of other things in our relationship that are better to focus on than the financial aspect." 
They said "I do" at Wayfarers Chapel in Rancho Palos Verdes, California on June 18, 2022.
She shared multiple pictures from their wedding day. For one post, she wrote, "First walk as Mrs. Parr," in the caption.
Beside a photo of them gazing into each other's eyes, he wrote, "Forever cheesing with my beautiful wife. 06.18.2022."
The pair celebrated their one-year wedding anniversary in Paris.
Hunter uploaded pictures from their trip, including a snap of him dipping his wife in front of the Eiffel Tower. "Happy 1 year Anniversary baby girl! Love you tremendously, here's to many more," he said.
Season Two
Lisa Horne and Brian Okoye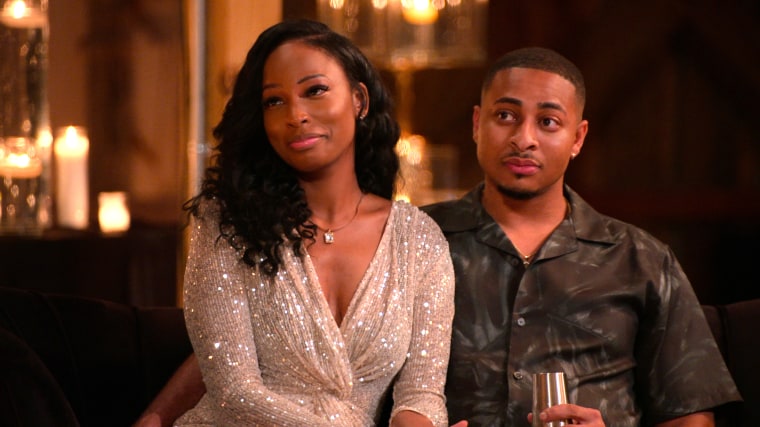 Relationship status: Dating
Season Two kicked off with a huge blowup between Lisa and Brian in Episode Two after she struggled with the process.
In Episode Three, co-host Nick Lachey announced that the couple left the show because Lisa discovered she was pregnant.
Lisa spoke to TODAY.com and said that she would've liked to tell the rest of the cast their pregnancy news in person.
"I'm not gonna lie. I personally wanted to come to The Choice to tell everyone," she said. "But Brian did not. Once I told him I was pregnant, he was like, 'I'm taking my woman. I'm taking my baby and we're going home.' And I respected that."
During the reunion, Lisa and Brian shared that they are now parents to a baby boy. Vanessa Lachey later revealed that the newborn is named Mason.
As they move onto a new chapter in their relationship, Lisa said she is still hoping they get married one day.
"I still have told him, you know, I'm not going to be a baby mama forever. Like, you know, you still have to put a ring on this finger," she told Nick and Vanessa Lachey.
But for now, the couple is doing well.
When speaking with TODAY.com, Lisa said they are "in a really great place" as a couple and new parents.
"I notice it's different seeing the person that you love come into fatherhood," Lisa shared. "Seeing how he is as a dad, it brings on a new attractiveness about him." 
Brian added that they have been prioritizing building a "healthy family dynamic" since the show ended.
Roxanne Kaiser and Antonio Mattei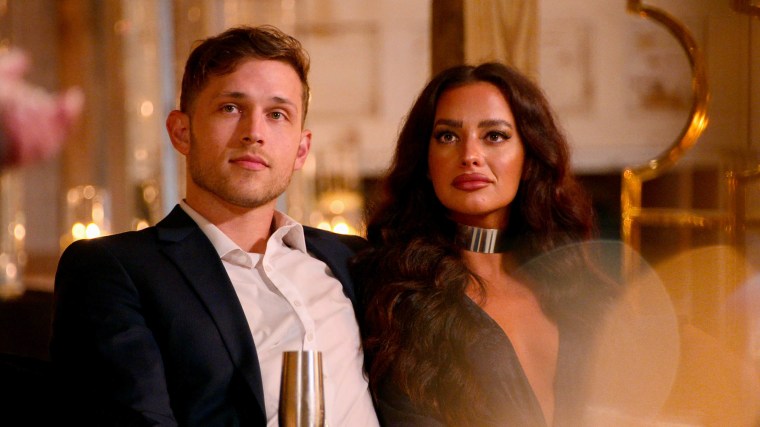 Relationship status: Engaged
Throughout the season, Roxanne Kaiser voiced her concern that she would never want to get married. So, she was unsure if she would accept a proposal from Antonio Mattei when decision day arrived.
They met and Antonio reflected on how their relationship progressed over the past few weeks.
"I have a lot of things to be thankful for and I have a lot of things to thank you for," he said and then knelt down on one knee.
After a long pause, Roxanne finally nodded her head and said "yes."
But, Roxanne was not wearing her ring when the two reunited with the rest of the cast during the reunion.
"We're still not where I want to be," she told Nick and Vanessa Lachey. "Antonio has made great strides. It's a hustle. And now we're both entrepreneurs. And it's tough, but we're getting there."
She also said she does not wear her engagement ring and keeps it in its box. "I don't get why I have to wear one and he doesn't. It feels very possessive," she explained.
Antonio said it "hurts" Roxanne doesn't wear her ring, adding that it seems like she does not want anyone to know she is engaged.
Despite the tension between them, Antonio and Roxanne told TODAY.com they are still going strong.
"Antonio opened a business a month ago," she shared. "I'm still focused on my company. I'm taking baby steps towards the next phase of what happens after an engagement. I'm happy to do it. Antonio and I are growing together. I feel like we're closer than ever, which is cool. Never thought it would happen."
Antonio said life "couldn't be better."
"It's really the happiest that I can ever remember myself being, ever. So things are good," he said.
Kat Shelton and Alex Chapman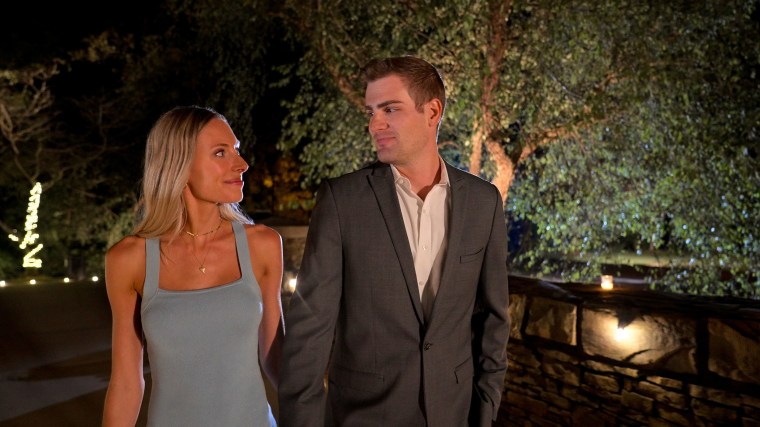 Relationship status: Engaged
Kat Shelton and Alex Chapman were both exuding nervous energy on decision day.
Alex gave his speech first. "Today, I want to give you my love, my heart, my respect, everything, forever," he told his girlfriend of two years.
He continued, "So, hopefully you'll continue to light the way for me, make me the happiest person ever…will you marry me?"
She happily said "yes" before admiring her ring.
Kat then told Alex that she felt "a little lost" before he came into her life.
"You encouraged me to be my best self and you've helped me grow so much. I feel like a better person with you. And I'm willing to spend forever with you, too," she said.
The couple shared during the reunion that they plan to tie the knot on May 10, 2024.
Alex revealed they already have "save the date" magnets.
He also said he is looking forward to buying a house and starting a family together.
Ryann McCracken and James Morris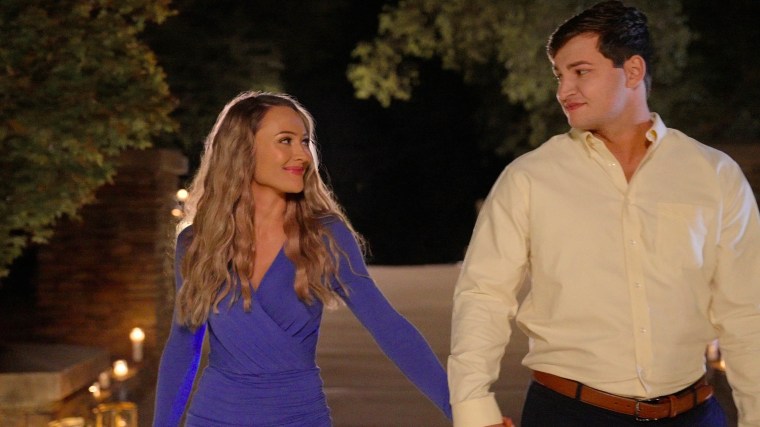 Relationship status: Engaged
High school sweethearts Ryann McCracken and James Morris had dated for seven years before she issued the ultimatum to him.
"It's about knowing you decided I'm the one you want to spend the rest of your life with, cause I feel that way," she told James at the beginning of the experiment.
Initially, he was not sure Ryann was "the one" but by decision day he knew he was ready to pop the question.
He told her he didn't "want to handle all these problems" without her by his side.
Ryann accepted his proposal and said she was glad she signed up for the show.
"Hearing your side of things, all the deep emotional things we talked about, I know that if I didn't bring you here you wouldn't have told me those things," she explained.
Their wedding day is quickly approaching. They told Nick and Vanessa Lachey that they will say "I do" on Sept. 30.
James also revealed that he proposed to Ryann a second time during a romantic weekend getaway.
Currently, the couple are living in Ryann's family's house with her parents and siblings.
She said the move has been "good" for them.
Riah Nelson and Trey Brunson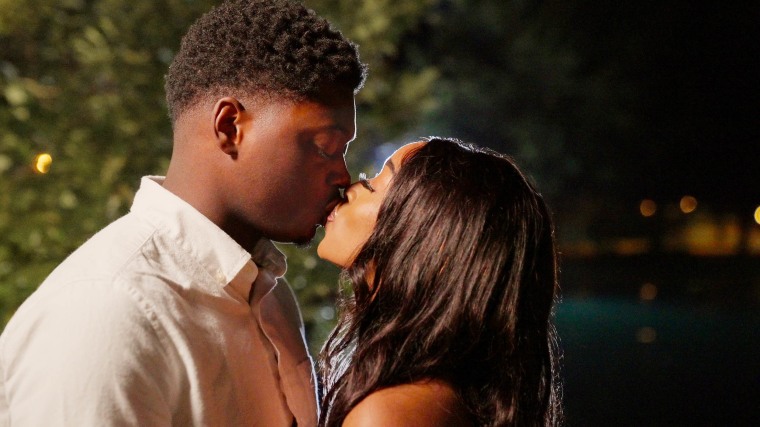 Relationship status: Engaged
After dating for two years, Treyvon "Trey" Brunson knew he wanted to marry Jeriah "Riah" Nelson. But, she had doubts and also felt hurt after Trey developed a strong connection with Ryann during their three-week trial marriage.
He assured Riah on decision day that his feelings for her were still strong.
"I want you to know, from the bottom of my heart, I love you more than ever now," he said. "I don't care about any disagreements we may have. I want to go through everything with you. I want to spend every day of the rest of my life with you."
Riah expressed a similar sentiment. "I don't want to go through any ups or any downs with anybody else," she said before saying yes.
The two are still together, but they revealed at the reunion that they struggled after filming ended.
"Right after got engaged we went back to our regular life. Things are good, but I think work, like our work schedules ... real life hit us again. We've been working through that," Trey shared.
But he said the experience helped their relationship and that they are doing better.
He continued, "We could never have these kind of conversations, it would always end ugly. Now we're having those conversations on a regular basis."
Riah, who said in multiple episodes that she was not sure if she wanted to have children after the couple's previous pregnancy loss, said she hopes to start a family with Trey one day.