The U.S. cast of Season One of "The Traitors" is back and ready to hash it out. And according to host Alan Cumming, there's only one man for the job.
Andy Cohen will host a reunion special streaming Feb. 28 that promises to break down all the twists and turns from the first season of the Peacock original series, which was filmed at a castle in Scotland.
(Peacock is part of our parent company, NBCUniversal.)
TODAY.com has the exclusive first look at a new preview clip from the reunion. In the video, Cumming welcomes the "Watch What Happens Live with Andy Cohen" host into his castle and imparts some words of wisdom.
"The Traitors" followed 20 contestants, divided into the "faithful" and the "traitors," in competition for a $250,000 prize. The faithful are tasked with rooting out the traitors among them, while the traitors strive to scheme undetected in order to win the prize for themselves at the end.
In Season One, a traitor lasted until the final banishment ceremony, winning the final prize. Now, the players are back together under one roof, Cumming reveals in the clip.
"What could possibly go wrong?" he asks, with a smirk. "There's only one man I trust to stir this treacherous pot and find out what really went down back in my castle."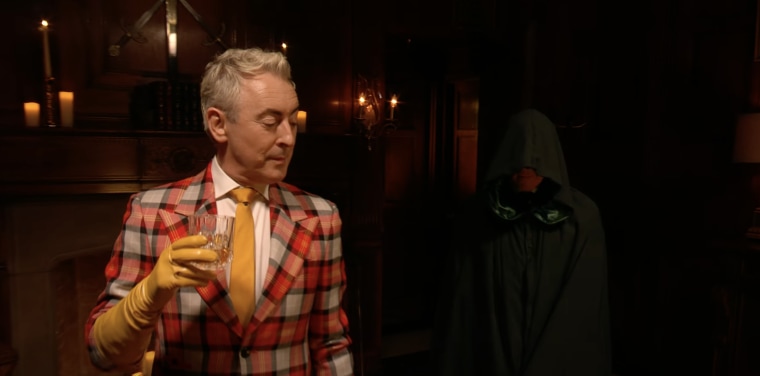 The daunting music crescendos as a cloaked figure emerges. Hands lift to throw off the green velvet hood, revealing Cohen, who introduces himself with a friendly, "Hey, Alan."
"Any advice?" Cohen asks, from one host to another.
"Don't ask any of them to spell Geraldine," Cumming responds, in reference to the player who was first banished. "Don't mention community theater, and make liberal use of the words 'murder' and 'dollars.'"
Cohen then introduces the start of the special, but Cumming isn't satisfied.
"That's a bit too much, Andy, just bring it down, bring it down," he comments.
"'The Traitors' Season One reunion starts now," Cohen tries again in a devious whisper, adding a slight Scottish accent.
"Better," Cumming says.
"The Traitors" reunion streams Feb. 28 on Peacock.