Midge Maisel has said her last "Thank you, and goodnight!"
After five seasons of "The Marvelous Mrs. Maisel," the Prime Video hit show had its final curtain call in the May 26 series finale. There were laughs, there were tears, there were twists that no one saw coming (it is Midge and Susie, after all).
So what exactly happened in the final act of "The Marvelous Mrs. Maisel"? Take your seat for our series finale recap that will answer some of your burning questions (the others, up to your imagination).
1961: Susie reveals she was romantically involved with Hedy
In the final episode, Susie reveals to Midge that her connection with Hedy Ford, Gordon Ford's wife, goes well beyond being college roommates.
In Episode 8, Midge confronts Susie at Grand Central about why she didn't tell her she knew Hedy, who could be Midge's ticket to getting on "The Gordon Ford Show." Susie claims they were only college roommates and at first refuses to reach out to Hedy for help, but eventually caves under Midge's pressure.
In Episode 9, Susie tells Midge she put in the favor. Midge notices Susie is "so upset" when she talks about Hedy, which prompts Susie to say she was "incarcerated" by Hedy in the past.
"You go on with your life, you file s--- away you don't expect to ever have to deal with it again, and then there they are," Susie says while starting to tear up. "Walking back into your life, uninvited, just standing there, and they don't even have the decency to get fat or unattractive or stupid or dull."
"You were ... involved?" Midge asks in shock.
Susie then finally starts to open up. She says she met Hedy while she bussed tables at their college dining room, and Hedy would come in with her friends and always sit in her section. Eventually, one thing led to another, but it all ended when Hedy went to Paris with her mom and came back engaged.
"Is that the only time you've been in love?" Midge asked.
"I didn't say, 'love.'" Susie snapped, then continued to say, "But yes, and the last."
1961: Moishe (finally) retires, to Shirley's delight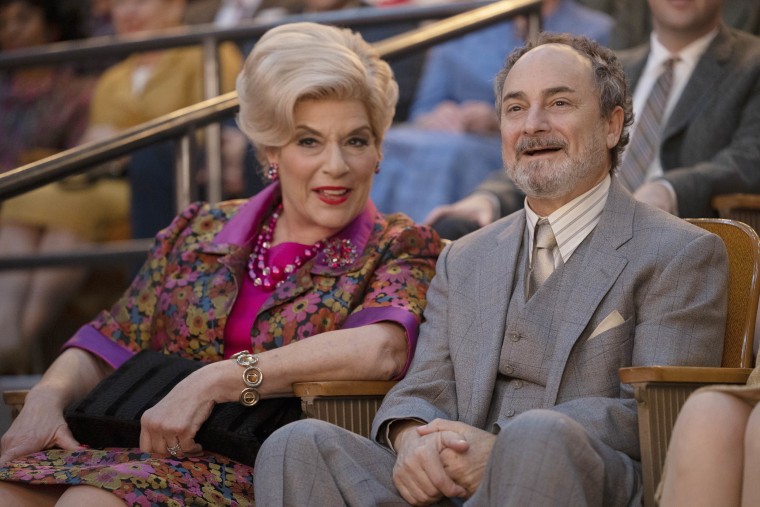 In the finale, Moishe reveals he's retiring from his clothing company after experiencing a near-death experience in the shower alongside his wife, Shirley, that ultimately brought them closer together.
The quirky couple shared the news with their son Joel when he swings by the clothing factory and is baffled to see his parents walk out with canes.
"I'm in the shower, I drop the soap. Bent over to pick it up, and suddenly — bam! I'm down hard, so I call out for Shirley," Moishe recalls of the life-changing incident.
"I'm in bed, dead asleep ... suddenly I heard Moishe calling out my name," Shirley chimes in.
"I ran in, but when he fell, he splashed water all over the bathroom. I'm down like a rock," she continues, with Moishe adding "that rock fell right on top of me."
But then, the story takes a surprisingly sweet turn. Since their cleaner wasn't coming until later that morning, all they could do was lay on the ground and talk.
"We haven't talked like that in years," Shirley says.
"For the first time, I really listened," Moishe expresses, calling it a "terrific moment" that led him to realize "there's more to life than this factory."
"As soon as we can walk again, we are selling the house and getting a condo in Boca," Shirley happily concludes.
1961: Midge gets her big break on 'The Gordon Ford Show'
In Episode 1, Gordon first sees Midge's comedy act at a burlesque club where she frequently does standup, and after some convincing from Susie, he agrees to bring her on as a writer. But as always, Susie and Midge have bigger plans, seeing it as an opportunity to get Midge's foot in the door, wow him with her comedic talent and land a guest spot on his show.
And in the finale, Midge does get that big break on "The Gordon Ford Show" — but not in the way she originally planned.
After Hedy asks Gordon to bring Midge on the show, per Susie's request, the host reluctantly gives in. However, what Midge doesn't realize is that Gordon isn't welcoming her as a comic but as his show writer.
Midge finds this out right before she's about to go on stage, and once the segment begins, she quickly realizes Gordon is gaslighting her and has no intention of giving her any comedic spotlight. That's when Midge's fiery spirit kicks in and she realizes she has to take life by the mic stand, quite literally.
In a spontaneous moment, Midge oversteps Gordon's authority during the live segment and takes her rightful place at the mic, to Gordon's complete horror. However, once she got going with her standup, his anger turned to amazement as he took his place as an observer in the room.
After making the audience laugh with jokes about growing up in a Jewish household, Joel (who is in the audience supporting her) cheating on her with his secretary and the inevitable trauma all these events are causing her two kids, Midge settles into a deep thought as she's on the cusp of fame.
"I want a big life. I want to experience everything. I want to break every single rule there is," Midge says. "They say ambition is an unattractive trait in a woman, maybe, but you know what's really unattractive? Waiting around for something to happen, staring out a window thinking the life you should be living is out there somewhere but not being willing to open the door and go get it, even if someone tells you you can't."
After Midge drops one last joke, a round of applause and a standing ovation follows suit. Even Gordon can't help himself from gesturing Midge to come over to sit on his couch for a quick interview, like the guest star she was meant to be.
Gordon is genuine with his praises, saying it's her "first, but definitely won't be her last" appearance on his show, followed by a whispered, "You're fired."
1965: Lenny Bruce's career is spiraling in San Francisco — and he doesn't want to be saved
In Episode 1 of the final season, Midge runs into Lenny Bruce at the airport in 1961 and finds out he's headed to California to seemingly start a new life for himself (he tells her he has gigs lined up, he's renting a house and his daughter is coming to stay with him).
However, in Episode 9, it becomes apparent that his life has taken a turn.
At the top of the finale, Lenny is performing in San Francisco in 1965, giving viewers a glimpse at what the future holds for the comedian. He appears out of it, cynical and is having a difficult time engaging with his audience, focusing most of his act on his prior crimes when he was making punchier jokes.
Susie is in the audience, looking upset and concerned as Lenny wraps up his bit by breaking into a dance at a last attempt at laughs. She then follows the comic backstage to try and convince him to let her help him get back on his feet.
"I have connections, people owe me favors," Susie says.
"You're going to use your favors up on me? Why?" Lenny asks, surprised.
"Because you're Lenny Bruce, there's only ever going to be one of you. Let's get him back," Susie begs.
After a pause, Lenny says, "Keep those favors. Use them for someone worth it."
While Lenny's fate isn't spelled out in the finale, based on his battle with substance abuse hinted in Season 4 and his character being inspired by the real-life namesake comic, who died of a drug overdose, this scene seemingly foreshadows his dark future.
2005: Midge and Susie are still close and maintain a long-distance friendship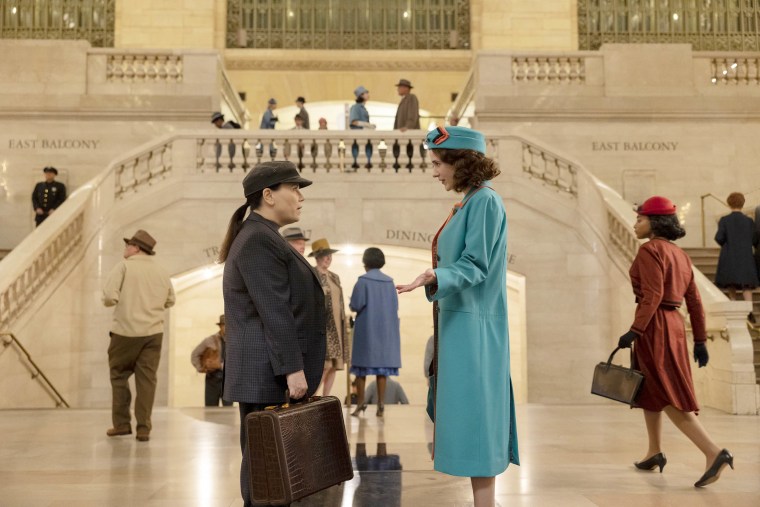 Viewers get catapulted into the 21st century at the end of the finale, with an older Midge residing in a lavish abode in New York City where she maintains a busy professional life. However, after the day is done, Midge wanders the beautiful halls of her empty, massive apartment alone.
After getting changed and eating supper by herself in the kitchen, Midge makes her way to a corner room, cluttered with old memorabilia and clippings of her earlier comedic days. She grabs a phone, dials a number and who else picks up but Susie.
The former talent manager has long, curly white hair, is wearing a free-flowing dress and is inside a house surrounded by tropical plants and exotic animals.
She's searching for her glasses, and as Midge instructs where can find them over the phone, Susie says, "You know, a whole continent away from you is not enough space." Meanwhile, the glasses are exactly where Midge said they would be.
They then each pop a tape into their VCRs at the same time, and "Jeopardy!" flashes onto their screens. While they watch the taped episode, the two talk about work and crack jokes about the contestants, showcasing the same banter that made them friends in the first place.
The finale ends with them two laughing hysterically, and at the end, it's just Midge and Susie — as it always is.
2005: A subtle nod to Joel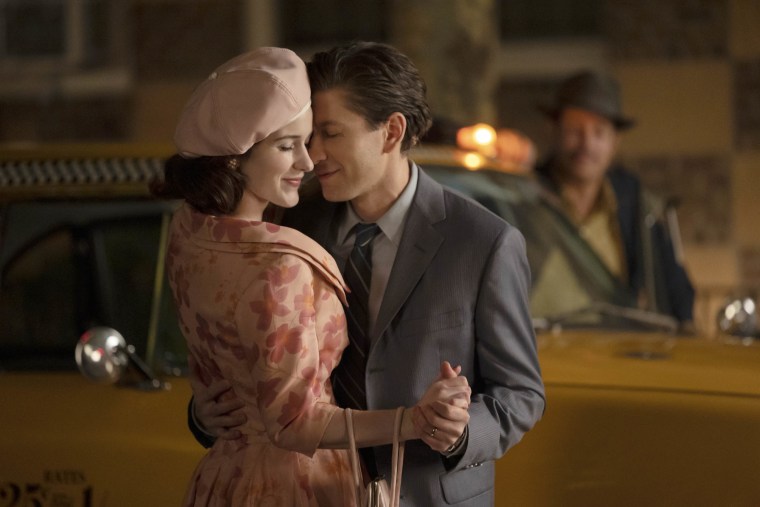 A subtle yet prominent detail at the end of the finale gives viewers a hint of how she feels about her ex-husband, Joel.
In the flash-forward, while Midge is in her bedroom as she gets changed for the night, she misplaces her earring and walks over to her desk.
As Midge picks the piece of jewelry up, something catches her eye, and she walks over to reposition a frame, which is a picture of Midge and Joel on their wedding day.