The first season of "That '90s Show" premiered on Netflix days ago, and the successor to the classic sitcom "That '70s Show" has already proven the value of pairing new characters and old fan favorites to create powerful scenes.
One such moment that has fans buzzing saw Ozzie, played by 14-year-old star Reyn Doi, come out as gay to beloved matriarch Kitty Forman, played by the iconic Debra Jo Rupp.
And it's not just viewers who loved it.
"Being able to work with Debra Jo on such an important scene, I believe, to the show and also to Ozzie's storyline, was really amazing," Doi told People of the experience.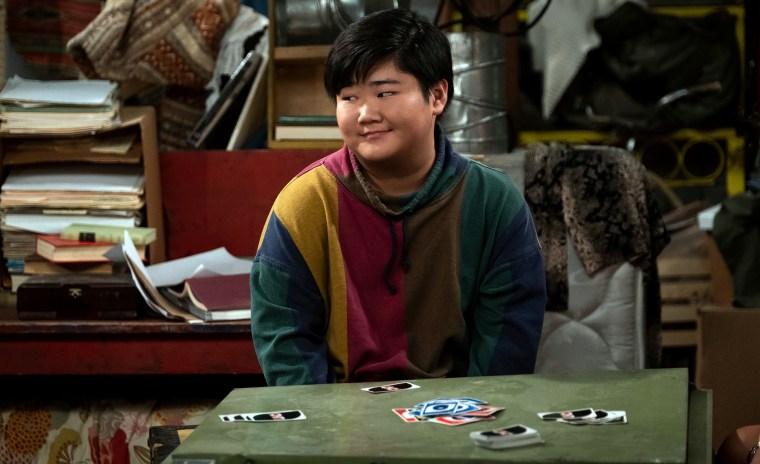 The scene was part of Episode Five, titled "Step by Step," in which Ozzie, a friend of the Formans' granddaughter, Leia, helps the family set up their very first personal computer, and he even gives Kitty a hand with that newfangled email business. 
While bonding with her, he sends her an email, noting, "There's something I've been trying to tell you so, go ahead and open it."
But when she repeatedly fumbles opening the message and accidentally reboots the PC, Ozzie, who's already out to his friends, cuts to the chase.
"Forget it, Mrs. Forman," he says. "I'm gay. I've known for a while now. I wanted you to know. I even have a boyfriend, Etienne, who lives in Canada."
Kitty's reaction? She was a little hesitant at first, because, her "friend Sharon married a Canadian man, and he made off with her Toyota wagon. And her cat's ashes were in there, and she is a mess!"
As for the non-Canadian part of his reveal, she addressed that by hugging him, sharing her support and telling Ozzie he made her feel "really special."
In other words, as viewers have pointed out on social media, she had the perfect reaction.
The live audience, evidently, felt the same way.
"I know that a lot of people came up to me after we had filmed the show that Friday night, and they said, 'That scene made me really emotional,'" Doi explained. "And I still get comments like that today. So, I'm happy that (comes across) on screen."
Related video: