Sherri Shepherd isn't afraid to tackle important topics on her talk show.
During the May 31 episode of "Sherri," former NFL linebacker and current "America's Got Talent" host Terry Crews showed Shepherd how to tackle.
"I've been working out really hard, but I just need to be ready for anything that's happening on the streets of New York," Shepherd says. "Because I've been working out — I do work out — but you've got to show me all the tackling tips."
"I'm going to show you some, but remember, I wasn't that good. That's why I got cut from the NFL," Crews jokes in response.
He then showed her how to properly line up, while stressing the importance of good footwork. He also went full-on Shakira by reminding Shepherd how the opponent's hips don't lie.
"Always, always, look at the hips. The thing is the hips will never go anywhere else. Somebody will fake you out with the head and all that, but the hips will never move," he says.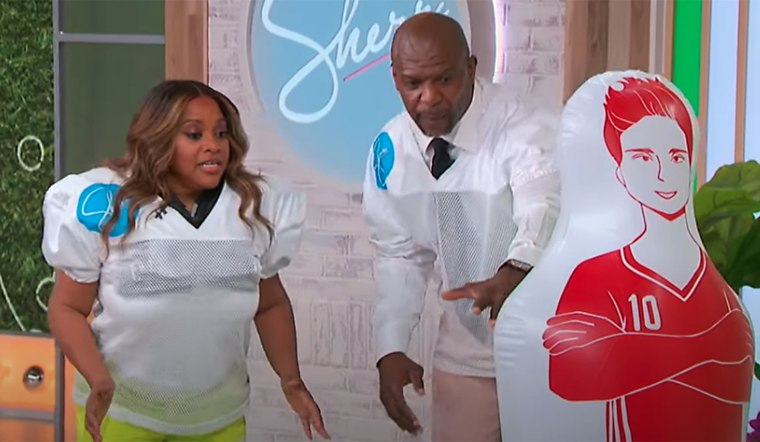 Crews then approached an inflatable tackling dummy and burst toward it, taking it down as if making a tackle. He also urged Shepherd to add some swagger by stepping over the opponent "like you don't care." He reminded her to "drive through the hips" as she stepped up to give it a go.
She began running in place and let out a primal scream before plowing into the dummy with the force of Adam Sandler's Bobby Boucher in "The Waterboy," knocking it down and making herself fall over in the process, while the audience cheers.
She then grabbed the dummy and put it in a leglock.
"You degrade him!" Crews says.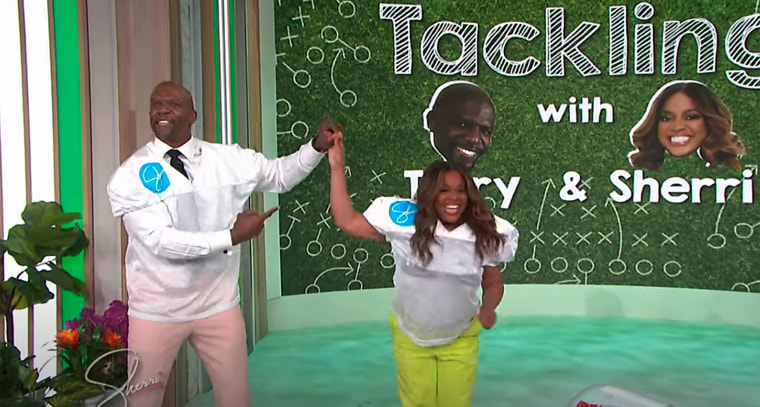 The pair proceeded to kick and throw the dummy around.
"No more alimony payments for you!" Shepherd says while standing over it and launching into a series of fake punches.
The tackling clinic is the latest outrageous moment on "Sherri." Earlier this week, her wig came off during a segment with preacher and motivational speaker Sarah Jakes Roberts.
"The wig came off, her hair, oh, my God!" she said. "And what you gonna do?...The show gotta go on."