In 2013, the world was introduced to Ted Lasso, an American football coach hired to manage a British football team. But what started as a hilarious commercial by Jason Sudeikis and Brendan Hunt for NBC Sports' acquisition of broadcast rights for the Premier League has turned into a heartwarming phenom.
The show's first season, which premiered in August 2020, follows Ted Lasso's attempts to win over the town of Richmond and earn the trust of fans and players. Along the way, Ted and the rest of the colorful cast of characters deal with divorce, confront mental health struggles and learn what it means to rely on one another.
The show's thesis could be summarized by one line delivered by Sudeikis' Ted Lasso in the last episode of Season One: "I promise you there is something worse out there than being sad, and that's being alone and being sad. Ain't no one in this room alone."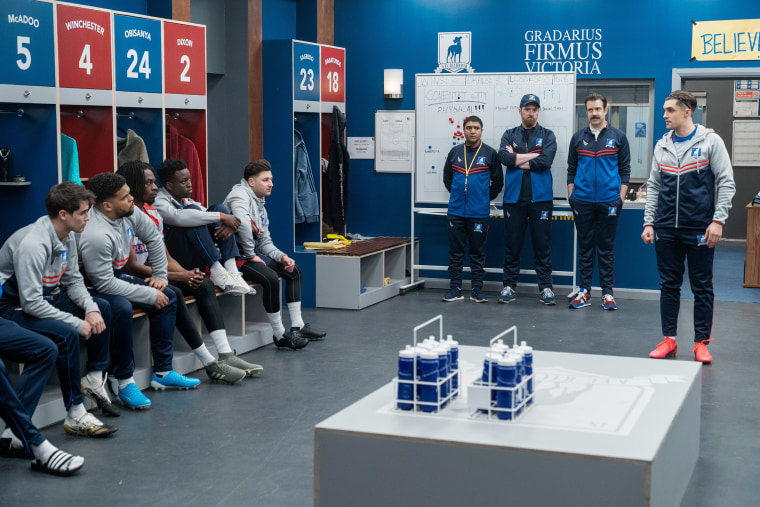 Now, heading into the show's third — and potentially final — season, we caught up with the cast to summarize how their characters have grown and changed over its three-year run.
Now that you've worked with your characters for many years now, what are you most proud of to see in their growth?
Jason Sudeikis (Ted Lasso): I would say Ted's desire to put his well-being at the forefront of day to day existence, so like taking care of himself a little bit more. Or, at least feeling worthy of doing so.
Kola Bokinni (Isaac McAdoo): Isaac showing leadership qualities, and not being a bully, or a d---. He's had a bit of growth showing qualities that he never knew he possessed.
Cristo Fernández (Dani Rojas): I think in Season One, we saw just one side of who Dani was, a very charismatic, cheerful, happy man, very passionate for the game. And then in Season Two, he was more of a person, a real human who goes through ups and downs like all of us. I look forward to Season Three because there's going to be new aspects of him.
Phil Dunster (Jamie Tartt): Jamie's had a very similar sort of arc. We've seen him in the first season — I think we all know a guy like that who is pretty conceited, pretty self involved. Then throughout, through the people around him, he learns humility.
We see him learn from those mistakes that he makes, but also he still get its wrong. And I think that's the thing that I really enjoy about it. Just because he learns the lesson, it doesn't mean that he's better all of the sudden.
Brendan Hunt (Coach Beard): You know, from Season One to Season Two, Beard got a real good upgrade on his wraparound Oakleys, and I think that has really set him off on the right course. We've been paying dividends on that ever since.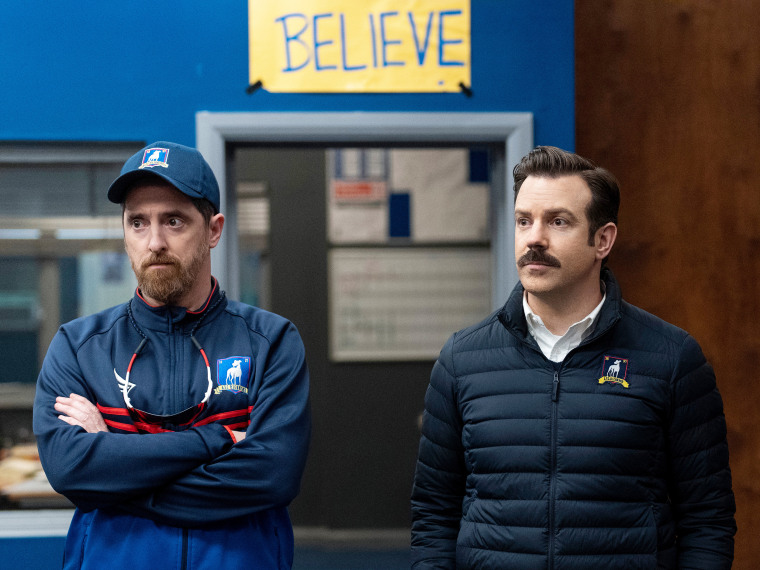 How should viewers prepare for Season Three?
Sudeikis: Watch Season One and Two.
Hunt: A week-long regiment of burpees. We're going to work those abs. We're going to work 'em.
Sudeikis: You definitely want to stretch beforehand. You don't want to pull anything.
Dunster: Yeah, stretches, I heard Brendan say about burpees — I would say burpees are a bit intensive.
Bokinni: Get a subscription to Apple TV+ ... Tweet us loads of things. Phil replies all the time.
Dunster: That's all I ever do. Feels like a full-time job.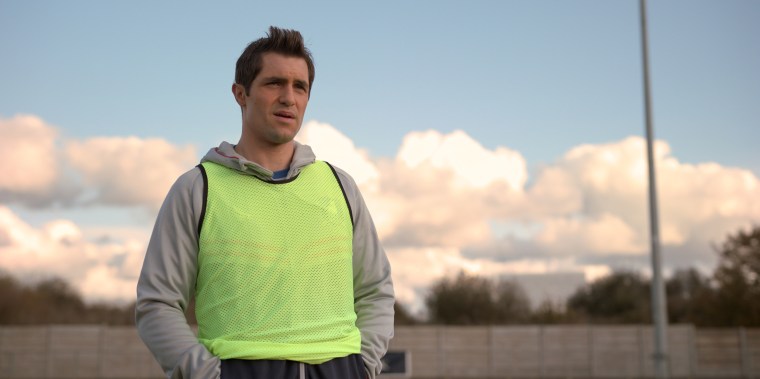 Q: How has the meaning of the word 'believe' changed?
Sudeikis: I mean, any of it changes when you hand things over ... And I imagine, the word probably has shifted for others. I don't know if it has for me personally.
But I'm always interested and open to hearing people's interpretation and take on it. It is one of those words that I think people bring a lot of ... baggage has a negative connotation, but like, bring a lot of themselves to that word, and it kind of meets you halfway, which is the main thing that we wanted with the show.
Hunt: Certainly what people believe in I think has maybe changed focus a bit as we go. You know, at the beginning, it's a sports movie, you think we're just going to believe in happy endings. But you know, believing in yourself, believing in each other ... that's what people bring to us.