Taraji P. Henson makes her guest appearance on the April 12 episode of "Abbott Elementary" and is dishing on the "really fun" time she had playing Vanetta, the "zany" mom of Quinta Brunson's Janine Teagues.
"We all know those moms who were — are — still trying to hold on to their youth," Henson tells TODAY.com.
"And when you look at the dynamic of the daughter-mother relationship, it was actually the daughter who was more of the mother than the mother," she shares. "So I thought that that was a great concept to play."
In the episode, titled "Mom," fans learn that Janine is planning to do a solo Memorial Day trip. But her plans are pushed aside when Vanetta shows up at the school, asking for help.
Although fans will have to tune in to find out what Vanetta exactly wants from Janine, Taraji says playing the outspoken mom wasn't too heavy of a lift because of Brunson's ability to craft such an authentic character.
"The writing is just so brilliant that it was on the page," she says of channelling Vanetta. "It was absolutely on the page."
Still, Henson, who is mom to 28-year-old son Marcell Johnson, makes it clear that she and Vanetta don't have much in common.
"I've never played a mother like that," she reveals. "I've always been the rock of the family, the glue of the family. So it was really fun to play this zany woman ... she's just a mess."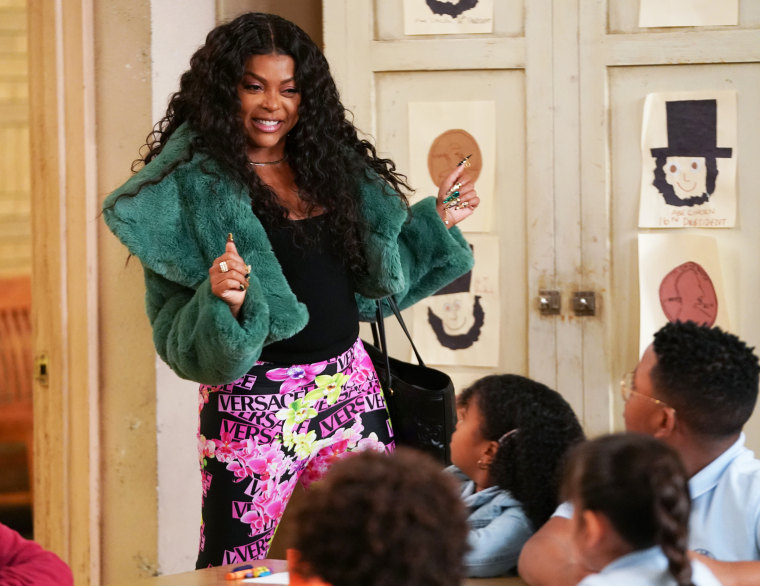 While Henson tapped into a different style of mothering for her guest appearance, the "Empire" star is no stranger to playing an over-the-top character on a hit show.
Her portrayal of the vivacious Cookie Lyon on Fox's "Empire" won her a 2016 Golden Globe for best TV drama actress. Brunson also took home a similar honor, winning a 2023 Golden Globe for best actress in a comedy series with her portrayal of Janine on ABC's "Abbott Elementary."
Though the "Hidden Figures" star said she sees similarities between her and Brunson's onscreen trajectory, she notes that the "A Black Lady Sketch Show" alum doesn't need her advice when it comes to staying level-headed.
"She's very grounded. And I think she's very clear on why she's doing what she's doing and what she's doing," Henson says. "So I just kept giving her her kudos and our flowers and telling her how proud of her I am, you know, as a Black woman.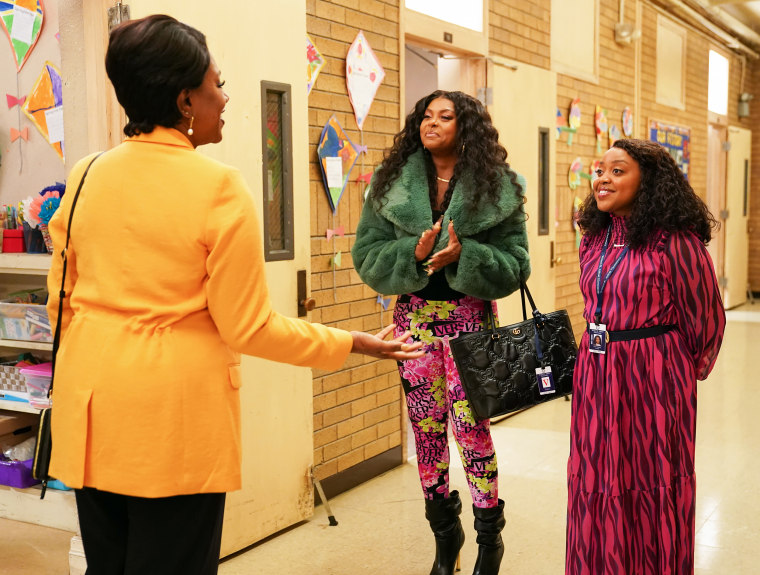 Henson, who calls Brunson "a great creator," also recalls the "Abbott Elementary" star's beginnings.
"We all know she started on YouTube," she says, referring to Brunson's former work as a BuzzFeed personality. Brunson appeared on the media company's YouTube channel between 2015 and 2018.
"So I'm just really proud of her. I kept telling her that and hugging her and just was like, 'You make me so proud. Thank you for having me on the show,'" Henson says, before sharing Brunson's humble response.
"And she's like, 'Are you kidding me? Thank you for being on the show. You know, you uplifted the show.' I said, 'Sis, you uplifted me.' And that's what we do. We all we got, you know," she says.
With such a sweet and earnest connection in real life, it's fair to ask if fans will get to see more of Henson on "Abbott Elementary."
"That's a Quinta question," she says. "I would love ... absolutely I will go back anytime she called. I love supporting."