Sylvester Stallone and his family are the latest Hollywood celebs to put their lives under the magnifying glass for a new reality series.
The 76-year-old actor will star in the Paramount+ docuseries "The Family Stallone" alongside his wife, Jennifer Flavin, and the couple's three daughters: Sophia, 26, Sistine, 24, and Scarlet, 20.
"After playing some of the most legendary characters in cinematic history, three-time Academy Award nominee Sylvester Stallone is ready to give cameras access to what he would consider the greatest role of his lifetime: dad," a press release about the show announced Feb. 2.
The eight-part series debuts this spring.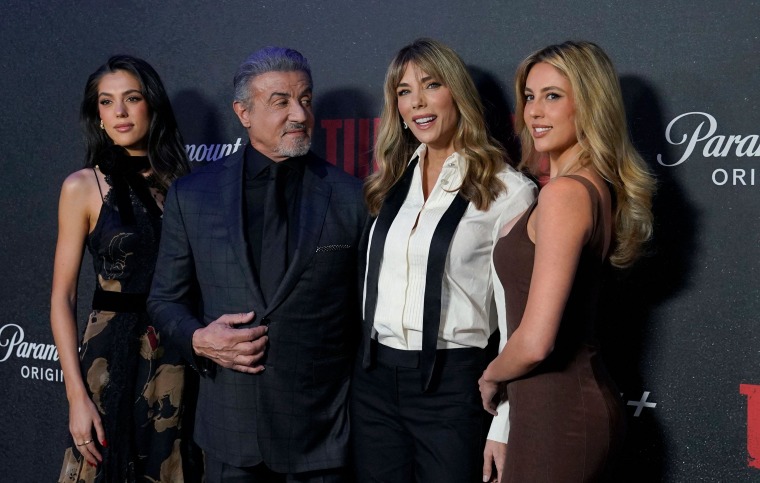 Stallone told The Hollywood Reporter in November that the series will include the fact that Flavin briefly filed for divorce from him last August before the couple reconciled. "Of course it's part of the show," the actor said.
Viewers will also watch the couple try to guide their daughters as they navigate their lives and careers. Sophia, who's "finding her path in life," currently co-hosts a podcast, "Unwaxed," with actor and model Sistine, who's "embarking on a new journey as a filmmaker."
Youngest daughter Scarlet, who dreamed of following in her father's acting footsteps, currently appears alongside him in the Paramount+ series "Tulsa King."
Stallone and his daughters — along with a few more familiar faces — appear in a new Super Bowl commercial promoting Paramount+ and its "Mountain of Entertainment."
The ad finds the three women standing in the snow alongside Dora The Explorer, Lt. Jim Dangle from "Reno 911!," Beavis and Butt-Head and other characters from Paramount+ programming. All of them stare in disbelief at a nearby mountain that's carved into Sylvester Stallone's likeness.
The real Stallone is then seen trying to climb the mountain.
"Is that Dad?" one daughter asks, watching the action star from afar.
The mountain then sneezes and sends Stallone flying. His daughters watch as the actor slams down into the snow below.
"He does this," one of them says, unfazed. "This is normal."
Watch the Stallones' cute commercial in the video above!