Christine Brown and David Woolley are married!
The "Sister Wives" star and her fiancé tied the knot Saturday, Oct. 7 in Moab, Utah.
Brown posted several photos from the day on her Instagram on Sunday, sharing sweet sentiments about her husband and their special day in the caption.
"I'm so blessed! I've married my best friend," she wrote. "@david__woolley and I are happy and honored to have been surrounded by so much love.It was an incredible experience with our family and friends."
Brown called it the "wedding of our dreams," adding the hashtags, "#blessedandhonored," "#loveofmylife," "#honoredloyaltrue," and "#myking."
TLC, the network that airs "Sister Wives," posted a video to Instagram of Brown in her wedding dress and introducing her new husband. The current season of the show, which premiered in August, is following the aftermath of her breakup with Kody Brown. Her journey to find love again, which started in 2022, has not been shown on screen yet.
"Something major just happened! Christine is MARRIED," the caption read. "Keep watching #SisterWives Sundays at 10/9c to watch her and David's journey unfold!"
In an interview with People, Brown described her wedding as "a fairytale." 
"It's everything I never thought I would have," she added. "I get to walk down the aisle to David, him just looking at me the way that he does, it's a dream come true."
TLC shared photos of Christine Brown's big day on Oct. 10, including one where she and Woolley pose with 12 of the 18 children from her plural family. She and Kody Brown have six children together.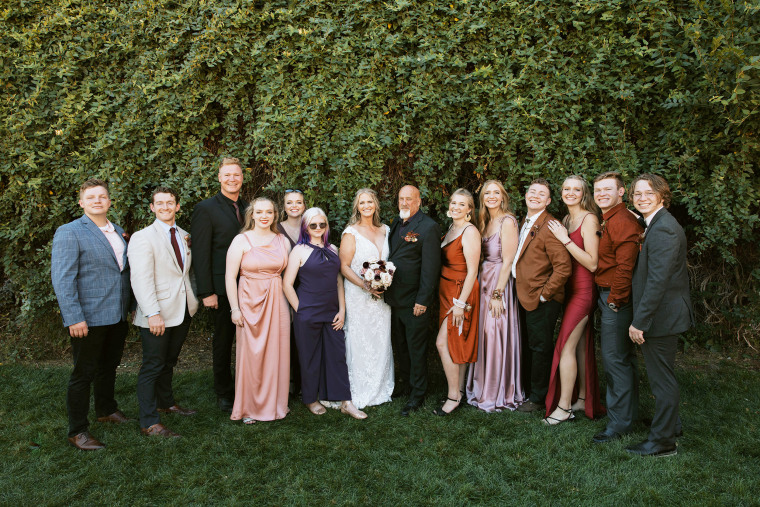 In another photo, the blushing bride and her dapper groom pose with a mountain in the background.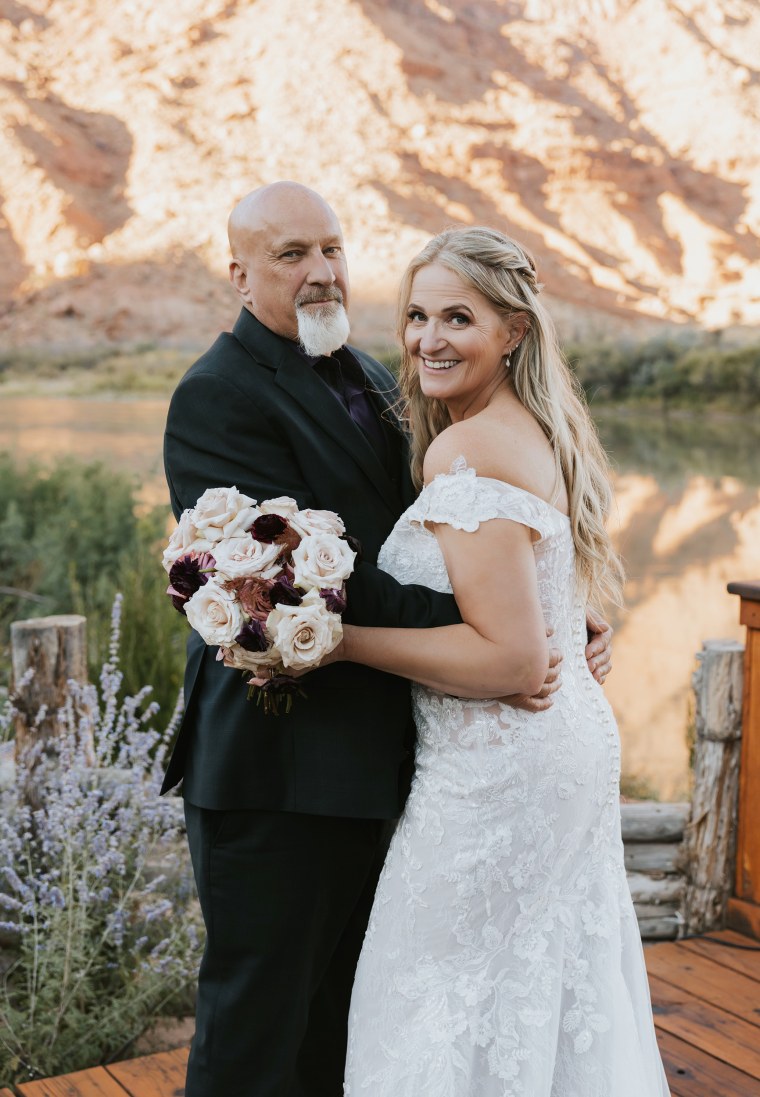 Christine Brown was glowing in another snapshot that shows her looking off in the distance with a big smile on her face as she holds her bouquet.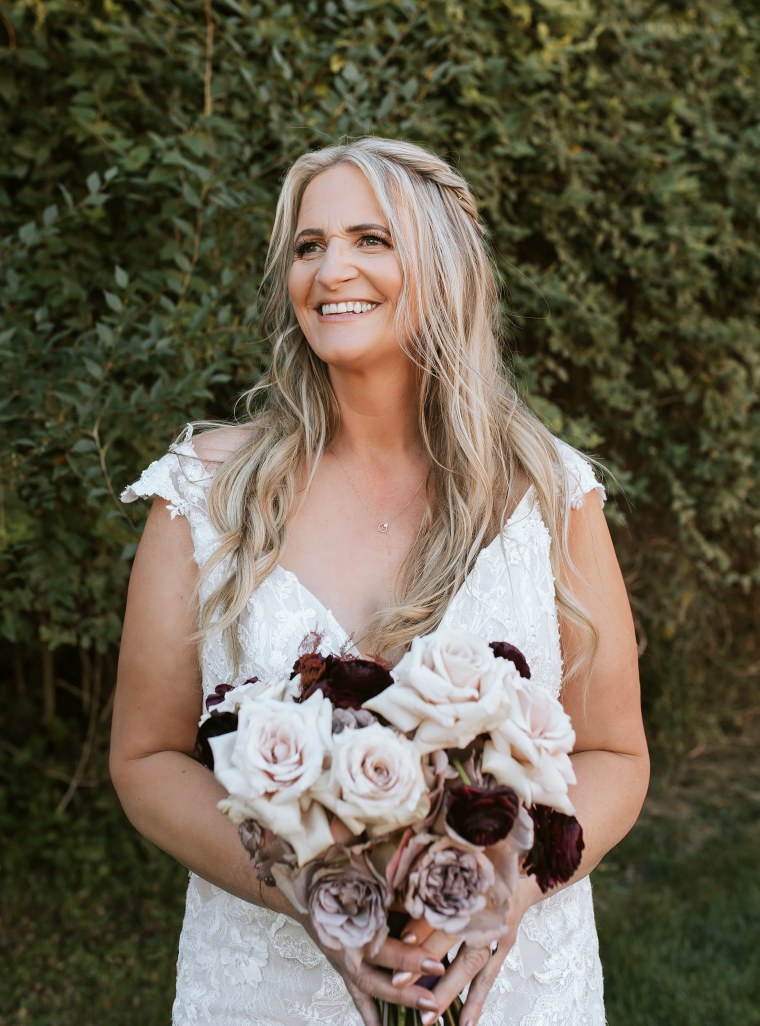 While sharing a kiss with his new wife at the altar, Woolley got cheeky and popped his leg up into the air in another photo from their big day.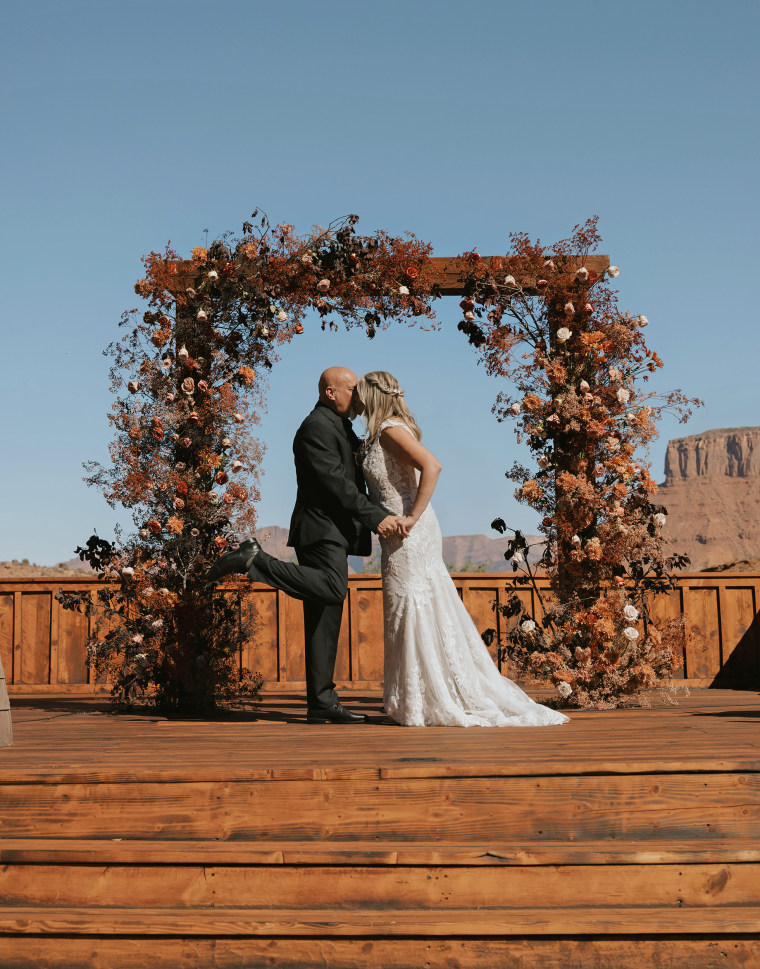 Brown recalled meeting Woolley on a dating app in 2022, saying he had "all the right pictures" on display. She added, "It was him with those eyes. I'm like, 'You know what? I want to be looked at with those eyes for the rest of my life.'"
Both Brown and Woolley were previously married. 
Brown, a mother of six, was in a plural marriage with her ex, Kody Brown, and announced her split in 2021 after 25 years together. The couple share six children: Aspyn, Mykelti, Paedon, Gwendlyn, Ysabel, and Truely. 
Woolley, a father of eight, was previously married, but his wife died in 2012. He reflected on the death of his first wife, telling the outlet, "After my wife passed away, I dated and I just could never find somebody. I knew Christine was 'the one.' It just feels so right."
After telling fans on Feb. 7 that she was "dating someone exclusively," Brown and Woolley went Instagram official on Valentine's Day a week later. At the time, she described Woolley as the "love of my life," adding, "I never dreamed I could find a love like this."
After basking in her new relationship for a few months, Brown announced in April that the couple were engaged. Brown said on Instagram that Woolley "popped the question VERY romantically," with Woolley calling himself the "luckiest guy in the world" on social media.
In an Instagram post shortly after announcing her engagement, Brown reflected on her big life news, writing in part, "We don't always get second chances in life, I'm blessed to have found mine."
Since their engagement, Woolley has spent plenty of time with Brown's family, including her grandchildren. He also went on a family vacation with Brown and four of her six children, with the crew enjoying some quality time together in England over the summer.
This is the second big wedding for the Brown family this year.
After getting engaged in November 2022, Brown's daughter Gwendlyn married her partner Beatriz Queiroz in July. Both Brown and Woolley were in attendance, as well as her ex, Kody Brown, and his former wives Janelle Brown and Meri Brown.