Ever since "Sister Wives" first premiered in 2010, TLC viewers have been getting to know all the ins and outs of the Brown family. Kody Brown shares 18 children with his four wives: Meri, Janelle, Christine and Robyn Brown.
"Sister Wives" was intended to show an example of plural marriage in real time. Today, however, Kody Brown is only married to his fourth wife, Robyn Brown. Christine Brown announced she was leaving Kody in November 2021, and is now engaged to David Woolley, a drywall business owner based in Utah. A little over a year later, Janelle Brown revealed she and Kody Brown had separated in a TLC special. Meri Brown said she and Kody had split, too, and that he had "made the decision."
Season 18, which premiered in August 2023, tracks the further fallout of the family's breakup, which Kody Brown likens to a "civil war."
Can't keep track of the Brown family tree? We did all the research so you don't have to.
Meri and Kody Brown's kids
Kody Brown and his first wife, Meri Brown, have one child together: 27-year-old Leon Brown.
Leon Brown announced they are transgender and use they/them pronouns in an Instagram post in June 2022.
"I remember the first time that i knew i wasn't a girl. i was pretty young & unfortunately i grew up in a context that was incredibly gendered & restrictive," the reality star wrote at the time. "So i continued to be socialized as a girl & later a woman. and here's the thing, i'm finally ready to share my favorite self with the world. and that self is incredibly genderqueer, trans, and unapologetic."
Meri Brown has supported her child following their announcement and posted a birthday tribute to Leon over the summer.
"Laughter runs through their veins, strength and inner wisdom abounds! 27 years in this world, 27 years of learning, of growing, of loving. Forever proud of this kid of mine, forever grateful for their existence," she wrote, sharing a series of photos of Leon.
Janelle and Kody Brown's kids
Kody Brown and his second wife, Janelle Brown, have six children together and two grandchildren.
Logan Brown, 28, is the former couple's eldest child. He married his longtime girlfriend Michelle Petty in October 2022.
Madison (Maddie) Brown Brush, is next in the sibling lineup and is 27 years old. She is married to Caleb Brush and the couple shares two children: Axel (5) and Evie (3). Maddie is currently pregnant with her third child.
Hunter Brown, 25, falls right in the middle of Janelle's children. In July 2022, the proud mom announced that her son was now living close to her and expressed her excitement.
"This mommas heart is bursting ❤️. My son Hunter is 'local-ish' for the first time in 7 years. He was home during Covid for a few months of course. But now he is truly 'adulting' and not very far away from me," she wrote on Instagram at the time.
Garrison Brown, 24, is one of Janelle's two sons who have a strained relationship with their father, Kody. In one Season 17 episode, the mother of six discussed their ongoing feud.
"Kody and my boys are very estranged. He doesn't even want to see their point of view. He's like, 'You've offended me. You've offended those that are close to me (aka Robyn). You guys have to come ... and apologize and grovel.' You know, my boys are just not gonna do that," she said at the time
In Season 17 of "Sister Wives," Gabriel Brown discussed the tension between him and his father. He revealed that he stopped talking to Kody Brown when he forgot to wish him a happy birthday.
"I shouldn't have done this but I did anyway. I didn't remind him that it was my birthday because I wanted to see if he remembered and he didn't," he said.
Gabriel Brown explained that it was "just a phone call" for his dad, but it was "a lot worse" for him.
"He tried to call me back, tell me 'happy birthday' and make up for it. And that's the last time I ever talked to my dad," he said.  
Savanah Brown, Janelle and Kody's youngest child, recently turned 18 and her mom posted a sweet message for her daughter on Instagram.
Christine and Kody Brown's Children
The divorced couple have six children together: five daughters and one son.
Their eldest daughter, Aspyn Brown Thompson (27), lives minutes away from Christine, who moved to Utah in 2022. She is married to husband Mitch Thompson.
The proud mom recently told TODAY.com that she loves getting together for spontaneous dinners with her daughter.
"She'll just be like, 'Hey, what are your plans today?' And I'm like, 'What do you want to do?' And she'll be like, 'I'll just come over for coffee,'" Christine said.
Mykelti Padron, 26, lives a half hour away from her mom and has three children with her husband Tony Padron: daughter Avalon Asa (20 months) and twin boys named Archer Banks and Ace McCord (born in November 2022).
In a recent TODAY.com interview, Christine described her daughter as a "badass mom" and said she is "a better mom than I ever was at her age."
Paedon Brown, 24, isn't as active on social media as some of his siblings, but does have several photos and videos of his mom on his Instagram account. He also recently shared a photo from his brother Logan Brown's wedding.
Gwendlyn Brown, 21, is Christine and Kody's fourth child and recently got married to Beatriz Queiroz. In Season 17 of "Sister Wives," Gwendlyn Brown came out as bisexual.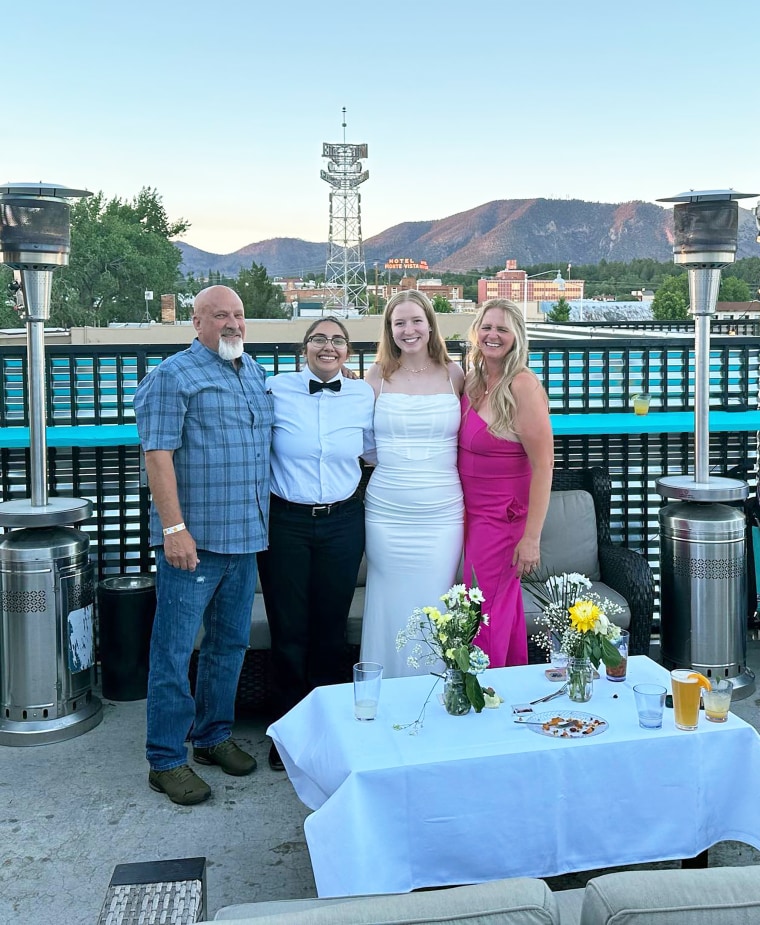 In Season 17 of "Sister Wives," Ysabel Brown graduated high school and moved away to college. She is now 19 and regularly appears on her mother's Instagram feed. In a recent episode of the show, Ysabel Brown explained that she's closer to mom Christine than she is to dad Kody.
"I'm gonna miss my mom more than I'm gonna miss him, I think —because I don't actually think we're close at all. But I mean, he's still my dad," she said.
Truely Brown, 12, is Kody and Christine Brown's youngest child and lives in Utah with her mother. In Season 17 of "Sister Wives," the former couple clashed over custody of Truely while working out their divorce.
When Truely learned that her parents were splitting up during the filming of "Sister Wives", she was upset over the news. While reflecting on the moment, she told Christine how it made her feel.
"I kind of noticed the signs earlier that you weren't as happy but you didn't really show it that much, so of course I didn't actually know. It was a bit of a heartbreak at first but I'm fine now," she said.
Robyn and Kody Brown 's children
In 2010, Robyn Brown joined the Brown family. She and Kody Brown were legally married four years later. Kody Brown adopted Robyn Brown's three children from a previous marriage. The couple also shares two children.
Robyn's son Dayton, 22, is her eldest child. In 2018, the proud mom posted about his first day of college and reflected on how quickly he had grown up.
"We have put so much hard work and determination into getting here and it has been such a wonderful journey. He is so absolutely amazing and so unique," she wrote at the time.
Robyn's eldest daughter, Aurora, is 20 years old. In 2018, the mother of five described her as an "over achiever smarty pants in school with tons of energy and initiative." She also added that she "radiates sunshine and is quite the optimist."
Breanna, 18, is next in the lineup and is the youngest of Robyn's three children from a prior marriage. In a 2018 Instagram post, Robyn Brown described her daughter as "shy, quiet and kind until someone she loves is getting picked on then she is so fierce." The mother of five also said Breanna is an "amazing listener and writer."
Kody and Robyn welcomed their first child together, a son named Solomon, 11 years ago. In 2018, Robyn described Solomon, or Sol for short, as "serious and deep" and "so smart."
Ariella, or Ari for short, is Kody and Robyn's youngest child and is six years old. In a 2018 Instagram post, Robyn described her daughter as a "little warrior princess."