Harrison Ford and Jason Segel appear in a new trailer for their upcoming series, "Shrinking," and their on-screen chemistry looks pretty much perfect.
In the comedy, debuting Jan. 27 on Apple TV+, Segel plays Jimmy Laird, a therapist struggling to move on from the death of his wife. 
Frustrated with his therapy patients and practice, Jimmy decides to try something radical: being brutally honest with his clients and even breaking ethical boundaries by intervening personally in their problems.
Witnessing Jimmy's epic breakdown is his mentor, Dr. Paul Rhodes (Ford), who's trying to help Jimmy be more honest with himself as he grieves his wife.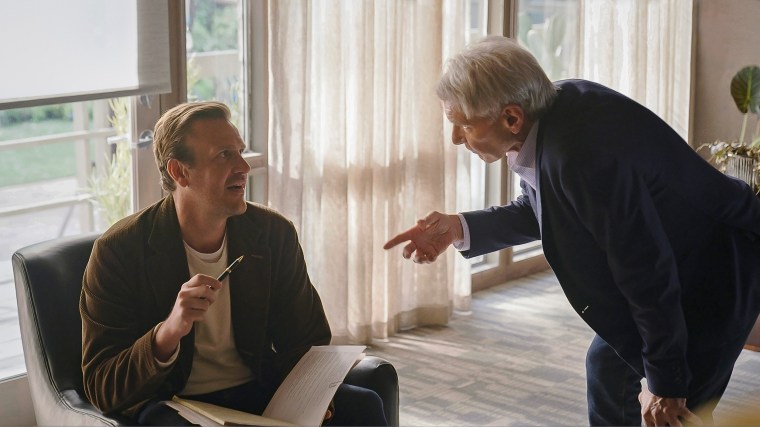 In the trailer, their moving father-son-type dynamic is sprinkled with some hilarious one-liners from Ford's character.
"Get outta here," Paul says in one scene from the trailer. 
Jimmy gets up and moves to the door, but then stops and says, "Wait, this is my office."
"That took you longer than it should've," Paul deadpans.
Segel, 43, opened up about working with Ford, 80, during a visit to TODAY on Jan. 23, joined by "Ted Lasso" star Brett Goldstein, who co-created "Shrinking."
As Segel tells it, he and Ford have great off-screen rapport as well.
"He watched 'Forgetting Sarah Marshall' to familiarize himself again (with my movies), and he forgot that I did full-frontal nudity," Segel said on TODAY, referring to one memorably risqué scene from his 2008 rom-com. "He sent me a very flattering text about it."
"What did he say?" Hoda Kotb asked.
"I'm not going to tell you," Segel replied.
He added that he felt "very lucky" to work with the "Indiana Jones" and "Star Wars" legend.
"You offer something to Harrison Ford assuming he'll say no, but it's fun to make the offer," he said. "And then he said yes, so all of a sudden we're, like, scrambling, like, oh, God, he's going to show up! And he just kills it in the show."
The first two episodes of "Shrinking" will premiere on Apple TV+ on Jan. 27, with new episodes then dropping weekly on Fridays.