Sheryl Lee Ralph took the stage ahead of the 2023 Super Bowl game with a stirring rendition of the song "Lift Every Voice and Sing."
Often referred to as the Black National Anthem, the song was written by James Weldon Johnson, the leader of the National Association for the Advancement of Colored People, in 1900. First written as a hymn, it was set to music by his brother John Rosamond Johnson.
Earlier today, on Twitter, the "Abbott Elementary" star pointed out the poignant connection between her performance and the song's history.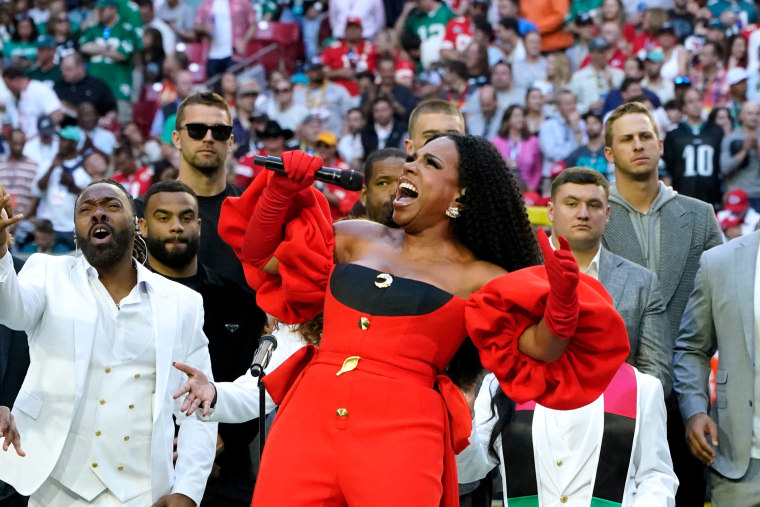 "It is no coincidence that I will be singing the Black National Anthem, Lift Every Voice and Sing at the Super Bowl on the same date it was first publicly performed 123 years ago (February 12, 1900)," she wrote.
Online, commentators pointed out that the performance was especially resonant in light of this being the first Super Bowl with two Black quarterbacks.
In 2021, Alicia Keys became the first to perform the song during the Super Bowl broadcast in a pre-recorded clip. Mary Mary performed the song last year. Ralph was the first to perform from within the stadium.
Etienne Maurice, Ralph's son, poked fun at his mom's upcoming performance with a video posted to Twitter. Ralph, in the video, refuses to speak, ostensibly to preserve her voice. Inclusion of the hashtag comedy gave the video a comedic slant.
"Mommy is taking this vocal rest thing very seriously," he wrote.
This performance follows Ralph's Emmys acceptance speech, which turned into an impromptu concert of jazz singer Dianne Reeves' "Endangered Species."