And just like that, Carrie Bradshaw, Charlotte York and Miranda Hobbes are celebrating 25 years of "Sex and the City."
Three of the popular show's original stars, Sarah Jessica Parker, Kristin Davis and Cynthia Nixon, invited fans to pour themselves a cosmopolitan for the 25th anniversary on June 6.
In a video posted on Instagram by HBO, Davis says, "We're just here to say thank you."
Parker continues, "25 years, oh my gosh. What has happened in our lives in 25 years?"
"So much," Davis responds.
"We've created families. We've created relationships," Parker says. "I realized that you were having the same experience in your lives and we love you for joining us for so many years."
Nixon also thanks fans for their love and tuning into the show for all these years. Similarly, Davis says the actors have been able to continue the show for "so long" because of viewers' support.
"Put on your party dress and pour a cosmo! It's the 25th anniversary of Sex and the City," HBO captioned the video.
However, people were quick to point out in the comments that a favorite character was missing from the short clip: Samantha Jones, played by Kim Cattrall.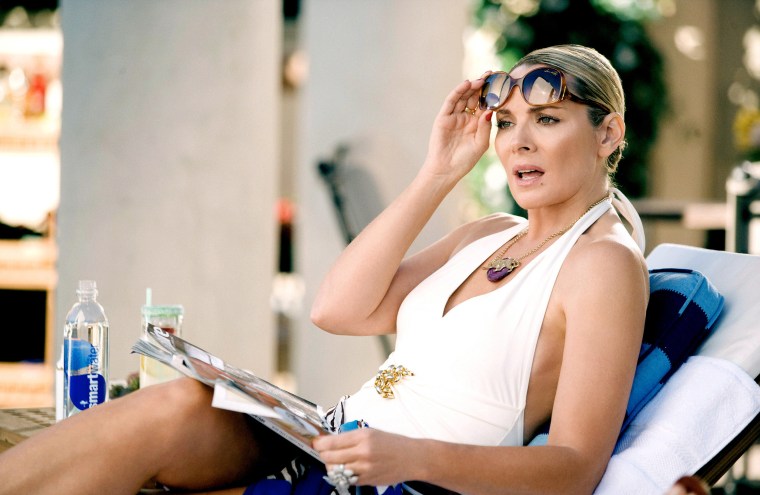 "This video without Samantha is simply rude. She was as much a part of SATC as these three," one person commented.
Another wrote, "We want Sam," with three fire emojis.
"@kimcattrall i miss you," another commented, referring to the fact that Cattrall's quick-witted, sex-positive character has thus far been missing from the latest "Sex and the City" offshoot, "And Just Like That..."
Max and the "And Just Like That..." official Instagrams also shared a joint video celebrating the 25th anniversary. Their clip included characters from "Sex and the City" and its current spinoff. Cattrall was not featured.
In a 2022 interview, Cattrall spoke out about leaving the franchise in 2017 after portraying Jones from 1998 to 2004, as well as in its 2008 and 2010 films.
"It's a great wisdom to know when enough is enough," Cattrall said.
After appearing in the second movie, Cattrall declined an offer to do a third "Sex and the City" film, standing her ground that she wouldn't take Jones to the big screen ever again.
"Can you imagine going back to a job you did 25 years ago? And the job didn't get easier; it got more complicated in the sense of how are you going to progress with these characters?" she asked. "Everything has to grow, or it dies. I felt that when the series ended, I thought that's smart. We're not repeating ourselves."
Before "And Just Like That..." premiered on HBO in December 2021, Cattrall said she found out about the revival on social media "like everyone else."
"The series is basically the third movie. That's how creative it was," she added at the time.
After Cattrall's strong-willed comments on never reprising her role, fans were surprised to find out that Jones would have a brief appearance in the upcoming season of "And Just Like That..."
Last month, the official Twitter account for the show confirmed the big news, writing, "Secret's out!!" and retweeting a report that Cattrall could be returning.
The reemergence of Jones also came as a shock following an alleged ongoing feud between Cattrall and her former co-star, Parker. When asked in an interview in 2022 if Parker would be OK with Cattrall returning as Jones, the actor gave a fairly definitive answer.
"I don't think I would, because I think there's just too much public history of feelings on her part that she's shared," she said. "I haven't participated in or read articles, although people are inclined to let me know."
Parker, meanwhile, celebrated the 25th anniversary by sharing a photo of her famous "Carrie" necklace.
"It's our silver anniversary but the memories will always be gold. X, SJ," she captioned her Instagram.
Season Two of "And Just Like That..." will premiere June 22 on Max.