Chrishell Stause knows she's evolved since Season One of "Selling Sunset," the Netflix reality show that follows the agents and owners of a luxury L.A. real estate firm.
Six seasons and many confrontations later, she knows who she is — and it shows. 
"I'm just at a different stage in my life, and there's going to be things that I'm no longer willing to put up with. That being said, I don't think you have to lose your softness either … there's just a balance and a blend, and finding that balance is a beautiful thing," Stause tells TODAY.com.
"I'm just at a different stage in my life, and there's going to be things that I'm no longer willing to put up with."
Chrishell Stause
Take a moment during Episode Three of the recent season, when Stause spars with new cast member Nicole Young at a beachside brokers' open. In past seasons, she might have simmered before confrontation. This time, though, she's swift and to the point.
"You give me this energy, I'll give you this all day back. Don't go on about the real me. You don't know me," Stause tells Young.
She's banking on audiences knowing, and trusting, the "real her."
 Between seasons, Stause let audiences in on her budding romance — and now marriage — to the Australian musician G Flip, as well as her sexuality journey. Previously, she was married to the actor Justin Hartley and dated Oppenheim Group co-owner Jason Oppenheim (their relationship was detailed on Season Five). 
TODAY.com caught up with Stause about this season in the show and in her life.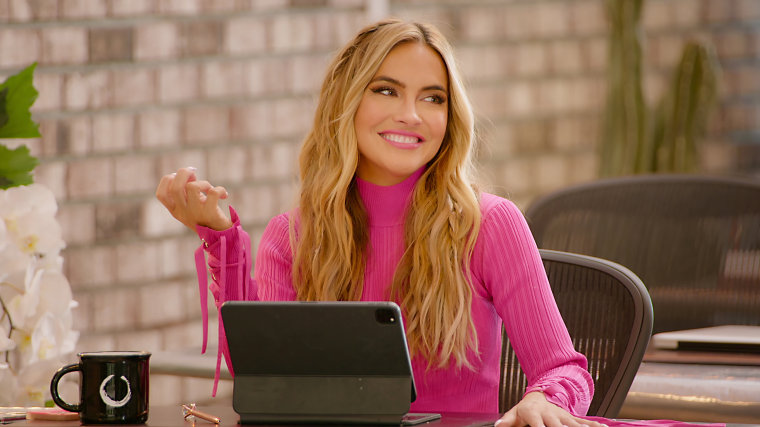 Her 'spur of the moment' wedding to G Flip
On May 9, Chrishell Stause broke the internet, or at least her corner of it, when she posted an Instagram Reel featuring clips of her and G Flip (the stage name of Georgia Flipo) with the caption, "Love doesn't always go as planned … sometimes it's immeasurably better." 
The last photo in the reel showed the pair at an altar, confirming they privately tied the knot in Las Vegas.
Speaking to TODAY.com, Stause says the wedding was "a spur of the moment decision" kept secret by her and G Flip's loved ones before and after the big day.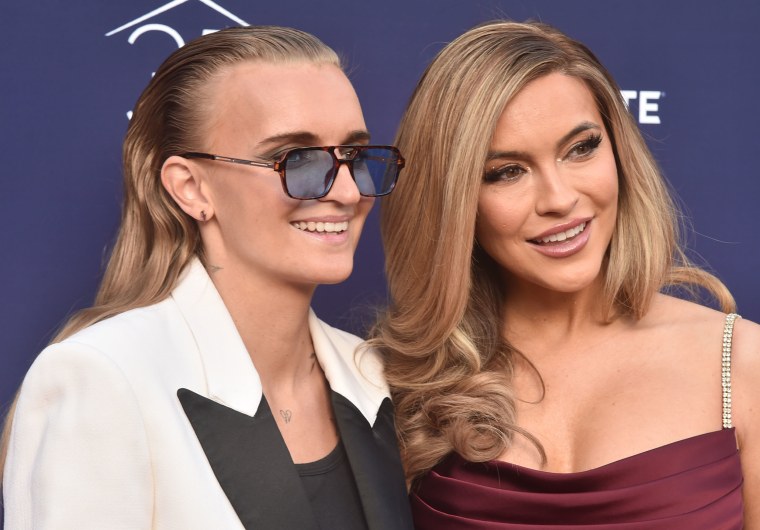 "The focus was on us and what it meant to us, and that is exactly the way we wanted it. We didn't want to stress about details. We just wanted to have fun and have the meaningful part between us. But then obviously, now we can celebrate with our friends and it's nice to be able to share," she says.
Only a few people attended the intimate ceremony. In fact, Stause says that none of her "Selling Sunset'' co-stars were physically there, but "some of them" watched via a virtual livestream.
"Everybody has their own way of doing things that works for them, and this works for us," she says.
'Camera time' was at the heart of her with conflict with Nicole Young, Stause says
Controversial cast member Christine Quinn may be gone — but peace did not reign in "Selling Sunset" land. Stause and co-star Nicole Young's season-long spar begins during a beachside brokers' open in Episode Three and just keeps growing. 
During their first interaction, Young accuses Stause of "taking credit" on a co-listing they shared three years prior; Stause replies by saying she didn't take a "single dollar" off those commissions. 
Stause says Young's actions towards her were "very strategic, wanting to come in and make a splash and get a lot of good camera time." She says they had a "great relationship" before Young joined the show.
"You're gonna see me so thrown by that because I really hate that fakeness …  being one way before we film and another way now all of a sudden. Does it make for great television? One hundred percent because I genuinely am really frustrated by that kind of stuff," Stause says.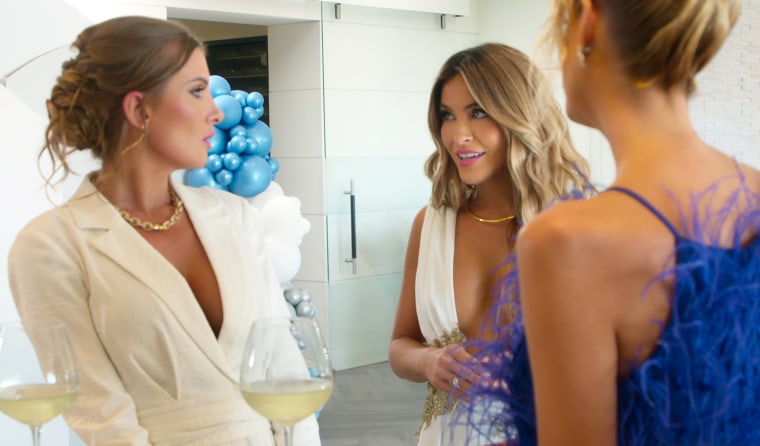 During a later confrontation, Stause says Young is "on drugs," which Young denies. A day after their confrontation, Young gets a drug test to prove her sobriety.
Stause says she "regrets lashing out" at Young, but "doesn't regret standing up for (herself)."
"At the point that I really kind of lose it, there had been so many things thrown at me to get a rise out of me. So when she finally does get one, could I have handled that better? One hundred percent. But can I also look at that and be like, 'Yeah, I'm human. If you keep barking in my ear, one day I'm going to bite you back,'" Stause continues.
All in all, Stause says audiences will see the pair "go through a journey."
"At the end of the day, I do hope that we all are successful, we want to all be proud of something and build each other up. So I'm hoping that's where we can land …  it's quite a bumpy ride to see if we'll get there or not," Stause says.
She has 'genuine love' for Mary Fitzgerald
Throughout Season Six, Stause also navigates a new chapter with her friend Mary Fitzgerald. In the wake of her breakup with Jason Oppenheim, Stause felt Fitzgerald gave Oppenheim more attention. Fitzgerald and Oppenheim are exes, too, adding to an already complicated workplace dynamic.
Although Season Six seemingly shows distance between the two, Stause tells TODAY.com that "nothing would ever come between my genuine love for Mary."
"I feel like she's one of the girls that no matter how much time has passed, I don't feel like we'd ever wish anything but the best for each other," Stause continues.
"It sometimes can be frustrating to work on a show and do things where it's in the better interest to not have his talk off camera and make sure we have those conversations on camera, but I think that it does a disservice to an obvious love that's there," Stause says.
Is Bre Tiesi really Christine Quinn's successor?
This season, Stause is in the middle of one conflict and is a close onlooker to another: Chelsea Lazkani and newcomer Bre Tiesi. Lazkani weighs in on Tiesi's relationship with Nick Cannon. The pair have a child together but are not in an exclusive relationship. Cannon has 12 children with six women.
"It really stresses me out because I'm really good friends with both of these ladies, and I love them dearly," Stause says. "Do I agree with everything that was said? Absolutely not. But we're on a show where we are being asked our opinions and things like that. So I think that it's tough."
Stause likens filming the show to "walking through a landmine and just trying as hard as you can to make it through."
Fans have drawn comparisons between Tiesi and Stause's former co-star Christine Quinn, who departed "Selling Sunset" after last season. Stause isn't sold.
"I think people say that because Bre is so beautiful and she's got the fashion. If you don't know Bre, then yes, you could easily make that correlation because obviously, as we know, Christine is beautiful and she always had the fashions. With that being said, I actually think they're opposite otherwise personality wise," she says.
Stause says she's moved on from Quinn. "It's such old drama. I literally don't have any ill will (towards Christine), I wish her the best. I think everybody's kind of moved on, and I think that's great."
Chrishell clarifies her future with the Oppenheim Group
The final moments of Season Six show Stause and Fitzgerald debating over Stause's future involvement at the Oppenheim Group. She indicates she'd like to take a step back.
Stause says she isn't leaving the show, but is prioritizing herself.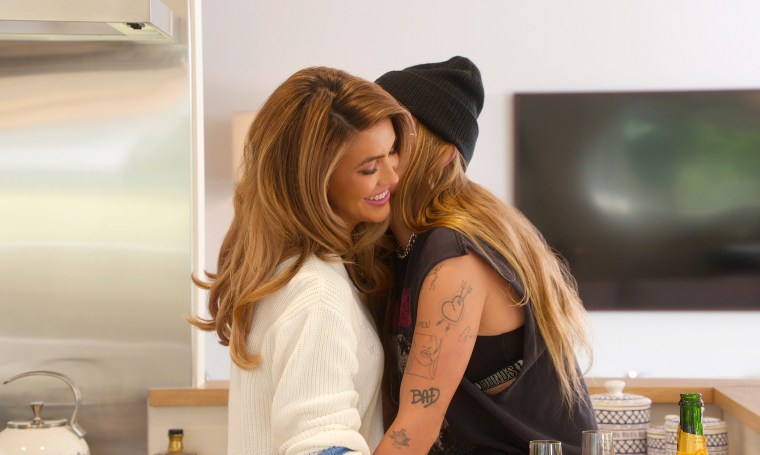 "I think it's OK to be honest, where it's like, I'm not out looking for new clients, I have a list that I'm happy with. And obviously I'm super happy in my personal life. When we started filming this season, (real estate) wasn't my main focus, and that can always change," she says.
If she could tell a younger version of herself anything, Stause says it would be: "Trust your instincts. Don't second guess yourself, and if you get it wrong, that's OK, too. You can come back from that, but really, lean in. Stop leaning back."