It's one of the unexpected joys "Saturday Night Live" can deliver — the laughter generated from a sketch when the actors break character, causing even more hilarity.
That's exactly what happened on the Feb. 4 episode of "SNL" in a sketch called "Lisa from Temecula."
In it, Paul, played by host Pedro Pascal, takes a friend played by Punkie Johnson out for a birthday dinner with a few other pals, played by Bowen Yang and Molly Kearney. They're joined by Johnson's character's sister, Lisa from Temecula, played by Ego Nwodim.
The sketch starts out innocently enough, but things take a turn when Lisa's request for her steak to be "extra, extra well done" is honored. As she works hard to cut it, the table violently shakes, sending plates and drinks clattering and a pitcher of sangria nearly tumbling to the ground.
Pascal had trouble staying in character, as he began laughing while trying to tell a story about a dog following him home. As Lisa complained about not having any ketchup, Pascal continued his battle against the giggles, while Yang and Johnson also struggled to keep their cool, especially after Lisa dropped her steak in her lap.
Eventually, a restaurant manager (Devon Walker) appears to make sure everything is OK, saying he's gotten some complaints.
"Oh, because we Black?" Lisa fires back, causing Yang to drop his fork and cover his face in laughter.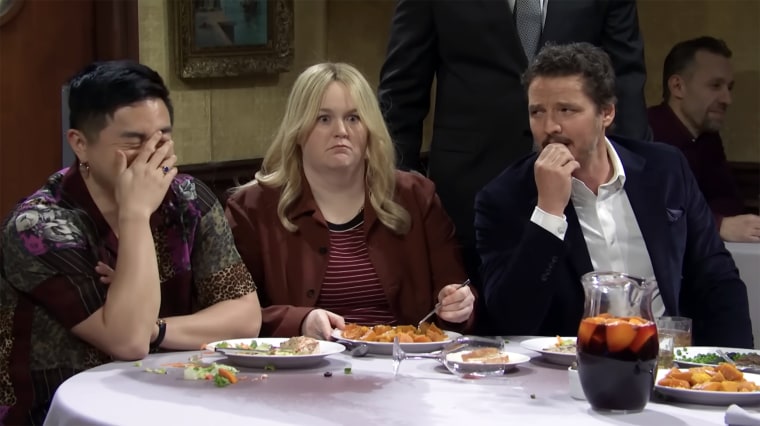 Even Nwodim, the driving force behind the sketch, nearly lost her composure when her character began cutting her steak again, sending the table quaking.
The sketch won raves from fans who found the whole thing charming.
"There were NO survivors," someone wrote on YouTube. "This sketch broke everyone! Kudos to all the SNL staffers under the the table!"
"The skit is already hilarious but everyone breaking character and laughing makes it 10x funnier," another person wrote.
"Ego had everyone including herself cracking up! She is so funny!" someone else wrote.
On Twitter later, Nwodim gave a shout out to the apparent brains behind the sketch, Alex English, Gary Richardson and Michael Che.