When Sarah Shahi got to a certain sex scene in the script for Season Two of "Sex/Life," she was so shocked she had to pause.
"I could not believe it," Shahi tells TODAY.com.
If you've seen the second season, you may know exactly what shocked her. Or maybe not: The season is teeming with daring sexual encounters, carrying on the legacy established in Season One (if you're not sure what we mean, Google the Sex/Life "shower scene").
Season Two picks up where Season Two leaves off, after Billie Connolly, Shahi's character, shows up to the apartment of her dreamboat lover, Brad (played by Netflix romance mainstay Adam Demos).
She's just left her husband, Cooper (Mike Vogel) and their two kids in favor of the exhilarating life she has with Brad ... and he rejects her.
Rather than going back to the 'burbs, throughout the second season Billie continues on a journey of self-discovery. And since this is "Sex/Life" we're talking about, much of that journey unfolds in the bedroom (though Billie also becomes a professor and furthers her writing career).
This season, Billie also stokes up a relationship with Majid, a restauranteur interested in Billie the Alluring New Yorker, but less interested in Billie the Connecticut Mom.
During one graphic sex scene, Billie trails her finger along Majid's back, toward his bottom ... and then keeps going — which leads to the moment that gave Shahi pause.
"The whole finger action..." she says, trailing off on the phone.
She says a nervous energy was in the air the day of the, um, prostate scene. "The camera guys couldn't even look," she says, laughing. "We're just going to push record and step away."
But she and her co-star, Darius Homayoun, who plays Majid, thought the scene was in line with the spirit of the show and were happy to film. "Thank goodness he was so game for it," she says.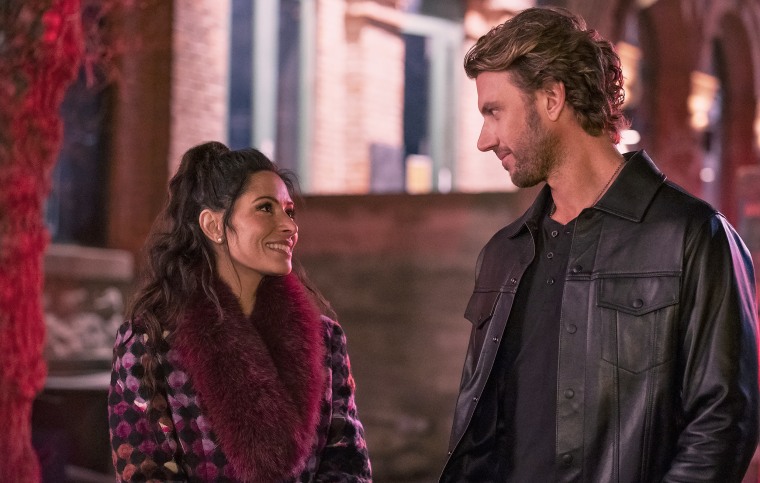 Shahi says part of the show's reasoning for including scenes like this one is, of course, "entertainment value." But she also reads more deeply into it.
"It is making a statement. Sexuality and what gets people off is not anything to be ashamed of," she says.
She points out another conversation-starting scene in the season, when a woman has sex late into her pregnancy.
"Pregnant women should have sex. Pregnant women are very horny!" the mother of three says.
"These statements are true. But as a rule, society is told to shut those voices off. Those are not supposed to be for public knowledge. But we shouldn't be afraid to go after our desires," she says.
As Billie, Shahi says she's become the "poster child" for women who want to go after their desires. Since the release of Season One, she says people spill their secrets to her.
It helps, she says, that her life aligns with Billie's. She's also a divorced woman with children and is in a new relationship — with her co-star, Demos.
"I was open and honest in terms of how my life paralleled with what was going on with Billie," she says.
She says Billie, though fictional, became a very real part of her own life as she transitioned.
"Billie really seeped into my skin. Instead of, 'What would Jesus do?' It was, 'What would Billie do?' I found her to be such a courageous character. She has an appetite, and there's nothing to be ashamed of for that. I needed help in my life to get to that point," she says.
Today, Shahi says women often come up to her and share their situations. "Here I am at a 7 year old's birthday party, and I'm sitting on the couch giving advice like Dr. Ruth," she says.
But she embraces the offscreen role. "(The show) put me in a really beautiful position to, I feel like, help a lot of people," she says, adding that she's writing a book.
Billie helped Shahi find her way — and maybe, she'll lead audiences to awakenings of their own.