Buffy Summers is one of the most beloved and admired television characters thanks to Sarah Michelle Gellar's ability to portray a relatable and heroic vampire slayer who can utter a few funny quips in between landing a punch. 
In the years since "Buffy the Vampire Slayer's finale aired in 2003, longtime fans and newcomers have continued to celebrate the show, but allegations of abuse by creator Joss Whedon make the show's legacy difficult to explain. 
The 45-year-old actor spoke about how she handles being associated with the supernatural drama and revealed some of the treatment she received on set during an interview with The Hollywood Reporter, published on Jan. 18.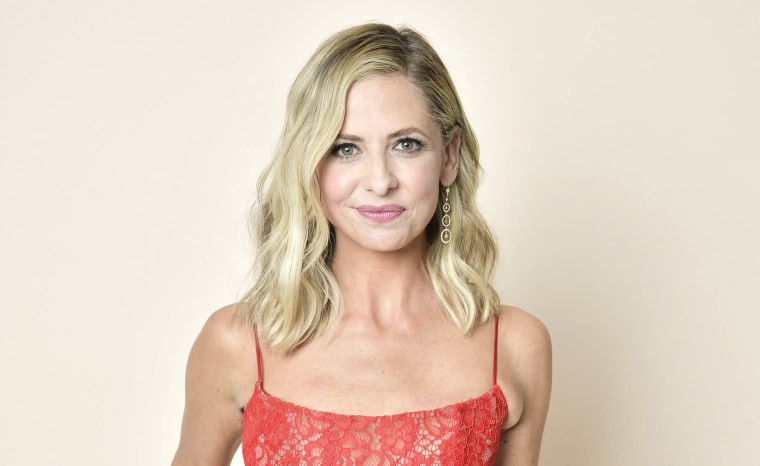 "I've come to a good place with it, where it's easier to talk about," she told the publication, without mentioning Whedon's name. "I'll never tell my full story because I don't get anything out of it."
She added, "I've said all I'm going to say because nobody wins. Everybody loses."
Later in the interview, Gellar commented on the show's lasting impact in the media. 
"I'm not the only person facing this, and I hope the legacy hasn't changed," she shared. "I hope that it gives the success back to the people that put in all of the work. I will always be proud of 'Buffy.' I will always be proud of what my castmates did, what I did."
She then acknowledged the working conditions she experienced behind the scenes. 
"Was it an ideal working situation? Absolutely not," she said. "But it's OK to love 'Buffy' for what we created because I think it's pretty spectacular."
In 2021, multiple "Buffy" co-stars opened up about their experiences working with Whedon. In a lengthy Twitter post, Charisma Carpenter, who played Cordelia on "Buffy" and the spinoff series "Angel," detailed alleged "hostile and toxic work environments" created by Whedon.  
Other cast members like Michelle Trachtenberg and Amber Benson also spoke up at the time. 
Gellar posted a statement on Instagram on Feb. 10, 2021, to show support for her former cast members. 
"While I am proud to have my name associated with Buffy Summers, I don't want to be forever associated with the name Joss Whedon," she wrote.
She concluded, "But I stand with all survivors of abuse and am proud of them for speaking out." 
Whedon denied the allegations when speaking with New York Magazine in January 2022. 
THR also spoke to Gellar's husband and actor Freddie Prinze Jr. about her time on the show in the publication's cover story. 
"She had to deal with a lot of bull— on that show for all seven years it was on," he said. "The stuff they pressed upon her, without any credit or real salary, while she was often the only one doing 15-hour days … yet she was still able to get the message of that character out every single week and do it with pride and do it professionally."
The outlet interviewed "Buffy" co-stars Seth Green and Emma Caulfield who also praised Gellar for being a leader on set who stood up for the cast and crew. 
The "Cruel Intentions" star also revealed in her sit-down with THR that she started watching "Buffy" with her children, 13-year-old Charlotte and 10-year-old Rocky, during the first year of the pandemic. 
However, the family did not watch all 145 episodes. 
"We watched seasons one through five," she said. "We skipped around a lot on those last two."
For most of Season Six, Buffy is depressed and looks to villainous vampire Spike (played by James Marsters) to distract her. During an episode titled "Seeing Red," Buffy tells Spike she wants to end their sexual relationship and he attempts to sexually assault her. 
Speaking about the penultimate season, Gellar said, "I have trouble with six. It wasn't appropriate for them at the time, and I just don't want to rewatch it."
Now, Gellar is getting ready to return to television as the star and executive producer of the Paramount+ series "Wolf Pack." 
She said the new show, which premieres on Jan. 26, shares some of the "Buffy" show's best qualities in its approach to tackling heavy subjects. 
"I liked (creator Jeff Davis') work, but I wasn't going to do a werewolf show," she said. "But they convinced me to give it a look, and I loved what he was doing in the pilot. It reminds me of 'Buffy,' not the show itself, but the way it addresses the horrors we're facing today: anxiety, the stress of daily life, feeling isolated."
She hopes that her committed fans will enjoy her return to the supernatural realm.
"It's not a next act for me, but it's certainly a new chapter," she said.
CORRECTION (Jan. 20, 2023 at 4:14 p.m. ET): An earlier version of this story incorrectly stated the finale of "Buffy the Vampire Slayer" aired in 1997. This story has been corrected to show that the show premiered in 1997 and the finale aired in 2003.