Sarah Jessica Parker is teasing the "happy reunion" fans can expect to see between Carrie and former love interest Aidan Shaw, played by John Corbett, when "And Just Like That…" returns for Season Two. 
So far, the team behind the "Sex and the City" revival have been tight lipped when it comes to sharing details about the upcoming season and what Aidan's reappearance will mean for Carrie. But based on Parker's recent comments, it sounds there is potential for the two to rekindle their flame next season.
Parker spoke about Corbett joining the "And Just Like That…" cast in a recent interview with "Extra's" Adam Glassman at her SJP collection store in New York City. 
After chatting about an exclusive shoe made specifically for the HBO Max series, the 57-year-old actor shared what it was like to film scenes with Corbett again. 
"It's so nice," she said. "It's so happy. He brings a lot of joy."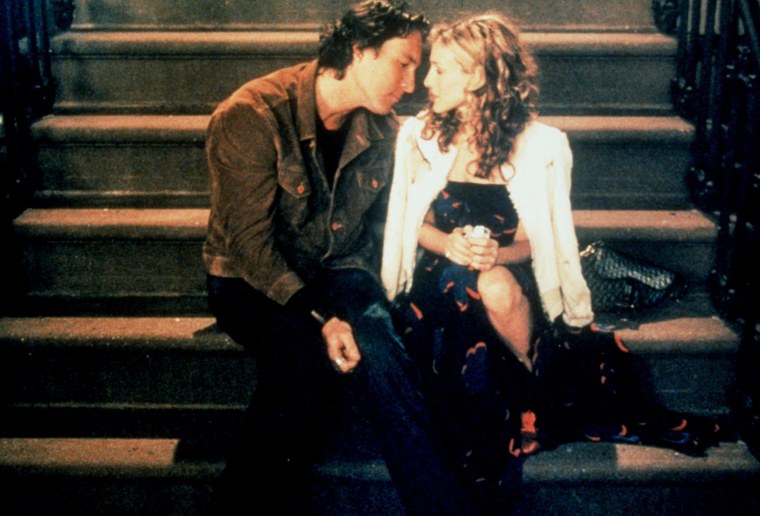 She continued to gush about the "My Big Fat Greek Wedding" star and said, "He's a kind of preternaturally happy person and he's so excited to be back and it's an amazing storyline that Michael (Patrick King) and the writers have sorted out and I think will be really meaningful to the audience who feel a lot of affection for him."
Without giving too much away about their reunion, she added, "I can't say anything except, it's just really great to be in his company again and to have a storyline, though, that is also happy and fun and familiar."
Fans have been eagerly anticipating seeing Aidan again after the official "And Just Like That" Instagram account shared a joint post with Parker last month that showed Carrie and Aidan walking down the streets of NYC holding hands. 
"Shh. Don't tell anyone," the caption said. 
During the beloved dramedy, which ran for six seasons from 1998 to 2004, Aidan and Carrie dated on and off before eventually getting engaged. 
Ultimately, they called it quits in Season Four and Carrie famously ended up with Mr. Big, played by actor Chris Noth. His character dies in the pilot episode of the revival series.
Viewers will find out Aidan's current relationship status when "And Just Like That" drops its second season. HBO Max has not confirmed when new episodes will arrive, but it could be sometime in 2023 since the first season debuted in December 2021.