Rudy Giuliani was the target of late-night jokes after he was revealed as one of the contestants of "The Masked Singer" earlier this week.
The controversial politician and former New York City mayor, 77, was unmasked as the jack-in-the-box character on Wednesday's episode of the hit Fox singing competition in which celebrity participants wear costumes to conceal their identities.
Just after revealing himself, Giuliani sang a wobbly version of George Thorogood and The Destroyers' 1982 hit "Bad to the Bone."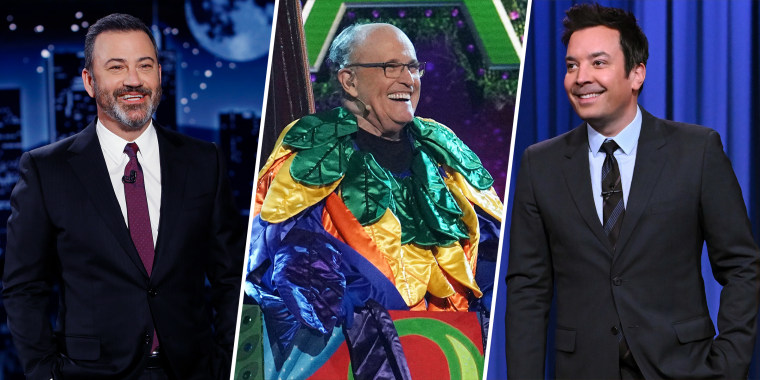 To say Giuliani's performance on the episode, which was taped in January, was met with a harsh response would be something of an understatement: One of the show's four judges, "The Hangover" star Ken Jeong, was seen leaving the stage in protest.
"I'm done," Jeong told the other judges before making his exit.
But it was late-night hosts who really let Giuliani have it.
"You know, it actually takes talent not to hit any notes," joked "The Tonight Show" host Jimmy Fallon, who added, "After seeing that, the CDC reinstated the mask mandate."
"The Daily Show" host Trevor Noah quipped, "Yeah, Rudy Giuliani just got voted off 'The Masked Singer,' which means he is about to spend the next five years claiming that he actually won 'The Masked Singer.'"
Noah added, "I guess history was made last night because for the first time in 'The Masked Singer's'' history, a contestant took off their mask and everyone was like, 'No, no, put it back on, put it back on!'"
On "Jimmy Kimmel Live!" host Jimmy Kimmel echoed Fallon's pandemic-themed joke, saying, "They finally get a Republican to wear a mask and that's how it goes."
Meanwhile, "Late Night with Seth Meyers" host Seth Meyers provided viewers with a lengthy list of Giuliani's most controversial actions during his time working for the Trump administration before poking fun at the politician.
"There is a good chance Rudy genuinely did not know where he was, and was just as surprised as everyone else when they opened that box. He was probably thrilled, by the way: 'A singing competition? I just assumed I was going to jail,'" Meyers teased.