Bravo's putting the new in New York.
After months of anticipation, Bravo released the trailer for the upcoming season of "The Real Housewives of New York City" on Monday, May 15. 
The show, a completely refreshed version of the "RHONY" fans know and love, introduces an all-new cast composed of Sai De Silva, Ubah Hassan, Erin Dana Lichy, Jessel Taank, Brynn Whitfield and Jenna Lyons.
The Season 14 trailer offers a peek at what's to come, with ample drama and debauchery on display as the viewers will get to know the new New York ladies.
If the start of the trailer is any indication of what we'll experience this season, the new cast is "loud, proud and larger than life" and "don't take no for an answer," meaning we're in for a season full of strong opinions with personalities to back them up.
One of the largest personalities appears to be Ubah, as the model and philanthropist is asked while posing for a photo: "What are you serving, Ubah?" 
Her response? "Chocolate, darling." Ubah is reportedly cousins with "The Real Housewives of Dubai" fan-favorite Chanel Ayan, who's known for her hilarious personality and jaw-dropping looks.
We also see glamour and opulence in the trailer, including Erin's experience trying on a $1.2 million dollar ring, Jenna's "infamous" shoe closet lined with shelves full of high heels and Jessel debating with her husband about sending their child to a $62,000 per year school.
Jessel's relationship with her husband looks to be in sharp focus too, as she admits they haven't had sex since she had their kids, and her husband says he's traveling to Vietnam to have time for himself. 
It looks like the other ladies get involved as well, as Sai says "the math is not mathing," seemingly referring to Jessel's relationship with her husband. In a separate scene, Jessel's husband says, "Is Sai bipolar? Yes."
The series offers a closer look at the personal life of former J.Crew head honcho Jenna Lyons, as a scene in the trailer talks about her coming-out journey. Sai asks Jenna, "Did you come out?" to which Jenna says, "Oh no, that was done for me by the New York Post."
The ladies go on their cast trip to a tropical destination, elevating the drama to even higher levels, as a confrontation over Jenna's travel preferences is teased. In addition, Erin is shown in tears saying, "You've trying to get everyone against me, it's enough."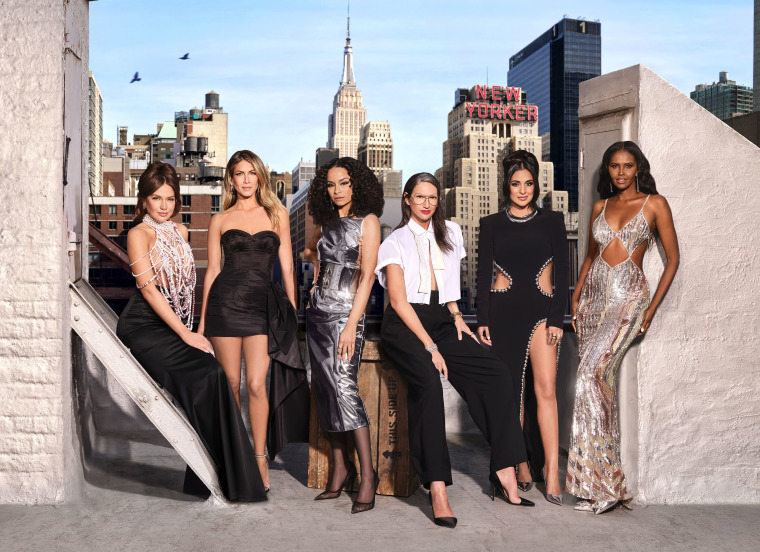 On a lighter note, we may even see our first "Housewives" love connection between Brynn and Jenna on the trip, as the pair is shown kissing before Brynn admits she has a "little crush" on Jenna. In the trailer, Brynn says she's "a little bit like Elizabeth Taylor," but actually doesn't "go through with it."
Elsewhere, the drama continues as confrontations between Erin and Ubah, Erin and Brynn and Sai and Brynn are teased, with one scene showing Erin saying to her castmates, "You guys all suck."
It's safe to say these ladies are giving "Housewife of New York City" a whole new meaning.
Season 14 premieres July 16 at 9 p.m. ET on Bravo and streams the next day on Peacock.
(Bravo and Peacock are part of our parent company, NBCUniversal.)