Quinta Brunson pranks in the most Janine way ever.
The "Abbott Elementary" star and creator will host "Saturday Night Live" April 1. In a promo sketch released March 29, Brunson channels her "Abbott" character's kindness in an attempt to show that she is ready for April Fools' Day.
The sketch is mockumentary style, an ode to Brunson's award-winning ABC show, and follows the upcoming host as she tries to "prank" cast member Molly Kearney.
"So, Quinta's hosting the show on April 1," Kearney says to open the sketch while sitting behind a desk. "Turns out, she is very into April Fools' Day."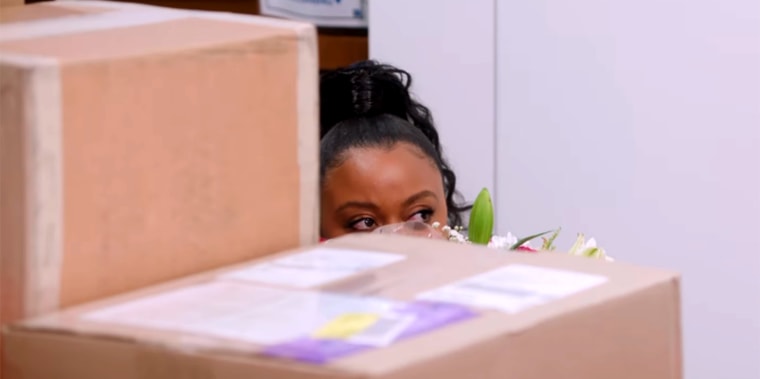 Brunson then jumps from behind a box and presents flowers and chocolates to Kearney as they're getting some water.
"Prank," Brunson boasts proudly, as Kearney spits out the water they had just drank.
Brunson later jumps out of a closet with balloons and a gift basket, yelling "prank" again as Kearney walks by. They roll their eyes and play along.
"Oh, hilarious" they say sarcastically, while giving the camera a look of "see what I mean."
"I'm not sure Quinta understands the concept of a prank," they say during their "interview" with the camera crew.
"Molly said that?" Brunson responds. "Dang, I was going to prank them with a brand new car, but I guess I'll just prank Marcello instead."
Suddenly, Kearney dashes into the frame and says, "No, no, no."
"Those are pranks," they say, with a huge grin, before adding in a singsong voice that Brunson is "queen of the pranks."
"That's me," Brunson says proudly.
April 1 marks Brunson's first time hosting "SNL." She's known for her Emmy-winning writing, so fans are excited to see her other sketches.
"This is gonna be so fun," someone said on Twitter.
"Prank me next please, Queen," another wrote.
"This is about to be the best episode of the season," another Twitter user wrote.
"Abbott Elementary" follows teachers at an underfunded Philadelphia public school that find creative ways to provide for their students. Brunson stars alongside Sheryl Lee Ralph, Tyler James Williams, Janelle James and Lisa Ann Walter. New episodes air Wednesdays on ABC.