Regé-Jean Page had words of wisdom to impart on Corey Mylchreest of "Queen Charlotte" — from one leading man to another.His advice was simple: Anything that doesn't help with the execution of a scene "doesn't exist" in those moments on set, Mylchreest tells TODAY.com, quoting his takeaway from the "Bridgerton" Season One star.
"Anything that's outside out the stuff that will help you between action and cut doesn't exist, and everything that will help you, it does," he says. "Let that stuff in, but everything else, just let it slide off you."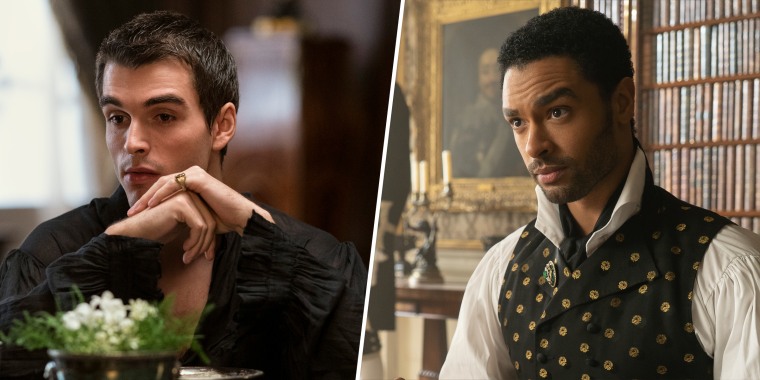 Mylchreest says he also had "quite a few conversations" with Jonathan Bailey, who plays Anthony Bridgerton, Season Two's romantic hero. So many in fact, that "it would take a long time to sum up," he says.
"They are both very lovely people. They are also incredibly beautiful. And I'm very aware that they are running different races to me," he says.
While Mylchreest says he didn't talk with Page or Bailey about taking on the mantle of the show's designated heartthrob, he did reveal who he thinks fans will flock to — and it's not himself.
"The real heartthrob in this series will be Freddie Dennis, who plays Reynolds, the king's butler," he says. "I cannot wait for the audience to fall in love with him."
In "Queen Charlotte," Mylchreest plays a young version of King George III, facing the growing pressures of running a country, the vulnerability that comes with love as he falls for Charlotte (India Amarteifio) and his own worsening struggle with mental illness.
Page's advice about prioritizing only what Mylchreest needs to get through a take likely came in handy. For his role in "Queen Charlotte," Mylchreest had to get inside the mind of the famously "mad" king of England.
"I felt like I owed him a voice, so in order to do that, you have to commit truthfully to that," he says. "So you have to go to those places."
While at first he was worried about his ability to find his character, he says he later realized "what I should have really been worried about was getting back." Sometimes he left set "not feeling so great" as he repetitively delved into the pain he character experiences.
But by prioritizing things like meditating, writing, reading and speaking with a loved one, he was able to to bring himself back to his "own instrument" and his "own soul."
"Sometimes it was enough just to remind myself ... that you are not your character," he says. "And so once I go, 'Oh, I'm Corey,' then the pain sort of subsides."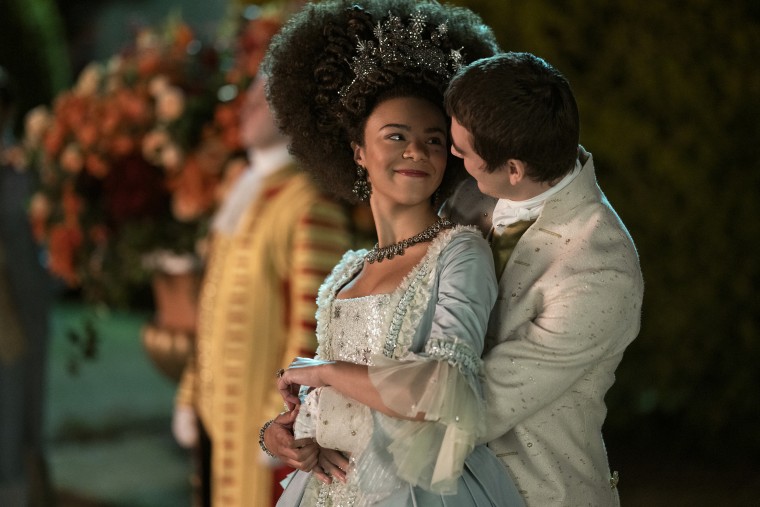 While Page made fans' — including TODAY's own Sheinelle Jones' — hearts flutter with his portrayal as the Duke of Hastings, he confirmed in April 2021 that he would not return for "Bridgerton" Season Two.
"It's a one-season arc. It's going to have a beginning, middle, end—give us a year," Page told Variety at the time. "(I thought) 'That's interesting,' because then it felt like a limited series. I get to come in, I get to contribute my bit and then the 'Bridgerton' family rolls on."
Last summer, rumors swirled that the actor might return to the show. But he quickly shut down the speculation by posting a picture with Jonathan Bailey, the romantic lead of "Bridgerton" Season Two, with the caption that stated in part, "No, I'm not going back to the show btw — the papers made that one up."
He's since starred in "Dungeons & Dragons: Honor Among Thieves" while fans clamor for the scientifically proven-handsome man to star as the next James Bond after he posted a picture of himself wearing a tuxedo.
When asked on TODAY March 15 if the flattery ever gets annoying, Page says he doesn't think too much about it.
"I don't know who doesn't want that," he said. "When you put on a tuxedo you want people to walk around saying that. 'Hey, you look like this action hero for the ages,' its like, 'Cool I wore the tux right.' That's as far as I think about it."