Nearly six years after the show's finale aired, the cast of "Pretty Little Liars" got together for an impromptu reunion.
Lucy Hale shared a photo of the sweet moment on Instagram March 26. In the snap, the actor posed with her former co-stars Ashley Benson and Troian Bellisario at a casino night gala for the organization Every Day Action.
"mini reunion for an amazing cause @every_day_action — a nonprofit organization working to re-allocate the food waste on film sets directly to those living on the streets of Los Angeles and surrounding areas," Hale's caption read.
Benson also shared the sweet reunion photo, posting Hale's snap on her Instagram story.
"My little loveys," she wrote over the picture.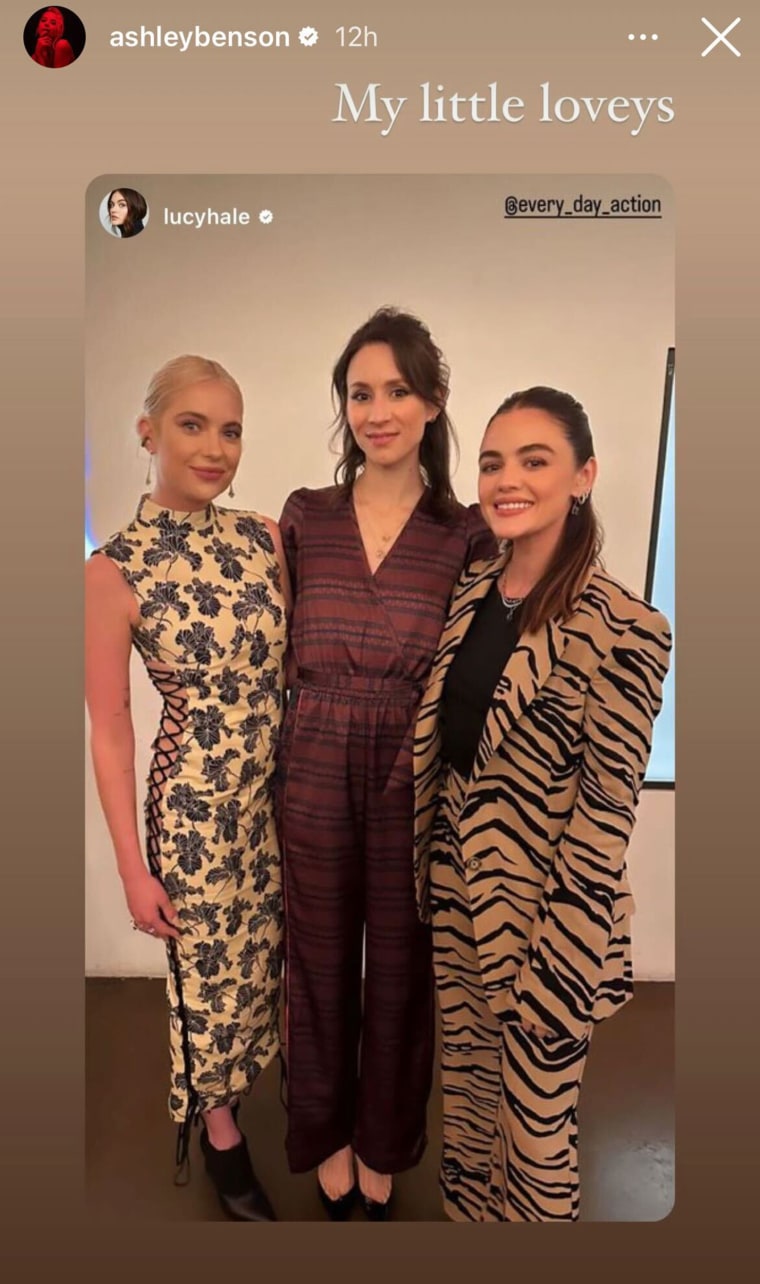 Fans celebrated the mini "Pretty Little Liars" reunion in the comment section of Hale's post, with one user writing, "my favourite girls ever ever! the nostalgia."
"Pll family forever," one fan wrote, with another adding, "my favourite people reunited."
One fan wrote, "Be still my PLL heart."
"Pretty Little Liars," based on Sara Shepard's book series of the same name, ran for seven seasons between June 2010 and June 2017. Hale, Benson, and Bellisario starred as the characters Aria Montgomery, Hanna Marin and Spencer Hastings.
In the comments, several fans noticed the one missing member of the crew: Shay Mitchell.
"We're missing Emily," one fan wrote, referring to the mom-of-two's character, Emily Fields.
In November 2022, Hale had another reunion with a former co-star from the series. The 33-year-old actor shared a snap last year with Sasha Pieterse, who portrayed Alison DiLaurentis on the show.
"it's been years since ive had a @sashapieterse fix," Hale captioned the sweet selfie of the duo. "she's as wonderful as ever."
Hale has previously said that she wouldn't necessarily turn down the possibility for a sequel if presented the opportunity.
"We've all gone on to do other things, but I'll always remember and hold that show so close to my heart," Hale told TMRWxTODAY in a June 2021 interview. "Without that I wouldn't be where I am, and I know that. I'll always hold pieces of Aria with me."
Hale added, "It's a show people will continue to watch. There are so many episodes, I'm so impressed when people say they binge-watched it! I'm like, did that take you a year?!"
"Pretty Little Liars" ultimately got a reboot with a whole new cast in 2022 called "Pretty Little Liars: Original Sin." The show was renewed for a second season and renamed "Pretty Little Liars: Summer School."