(Warning: Spoilers from the season finale of "Perfect Match" ahead)
After watching Season One of Netflix's reality series "Perfect Match," you might think the show was created solely to bring Joey Sasso and Kariselle Snow together. 
First seen on "The Circle" Season One and "Sexy Beasts," respectively, the two cast members connected early on.
The two met before being cast on the dating competition show, but it took being stuck in a luxury villa in Panama with a bunch of other reality television stars to help them realize they were meant for each other. 
In the series premiere, Sasso and Snow explained in their confessional interviews that they had previously dated but they were not able to make their relationship work in the outside world.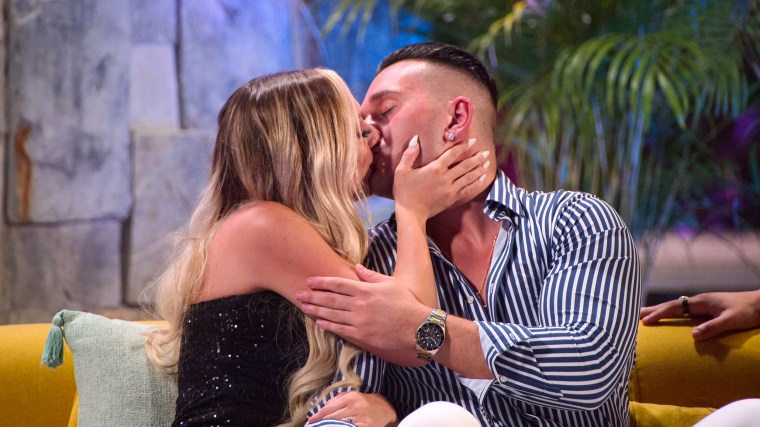 As soon as they arrived at the villa, their connection was obvious. Snow went on a date with Chase DeMoor ("Too Hot to Handle" Season Two) early on, but returned to Sasso.
Snow and Sasso's relationship grew each episode and they seemed like the clear frontrunners to win the show (with host Nick Lachey telling TODAY.com he agreed). During their date in the season finale, which was released on Feb. 28, Sasso proposed to a stunned Snow. She tearfully said, "Yes!"
In an interview with TODAY.com, Sasso explains why the timing of the show allowed him to pursue Snow in earnest.
Sasso says the timing of 'Perfect Match' really was perfect
Prior to going on the show, Sasso spent time with his sisters, who are all married, and realized he was ready to settle down, he says.
He says "Perfect Match" arrived at the right time for him to reconnect with Snow.
"She's a really amazing person who's been in my life now for a number of years," he says. "I'm a recovering addict. I've been sober now for about two and a half years and when we first tried getting together I was not sober."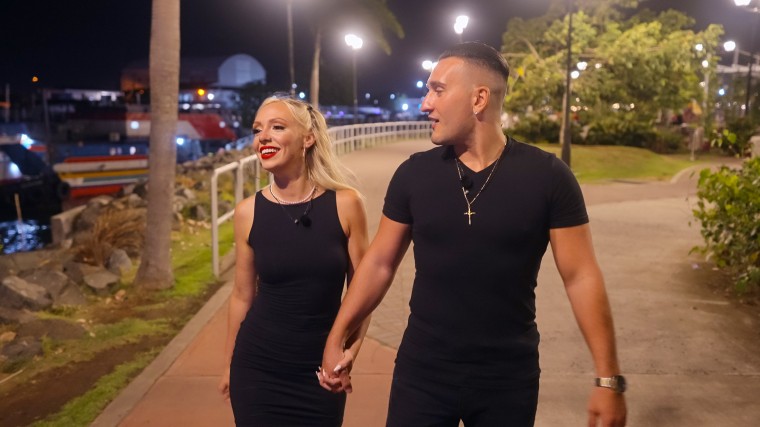 He continues, "This was something that I felt was a really amazing time to give our relationship a real shot. In the past, we had tried making it work, but it just never really matched up. I knew when I saw her night one that was the person I was going to be dedicated to the entire time on the show. There was no one else who caught my eye during filming."
Sasso never expressed interest in another contestant and remained committed to Snow. The two repeatedly spoke about their plans for the future, including moving in together. 
Despite getting engaged, they didn't win in the finale
In the finale, despite being praised by their fellow contestants and host Nick Lachey, Sasso and the "Sexy Beasts" star were not declared the winners and instead Dom Gabriel and Georgia Hassarati were announced as the perfect match. 
After hearing that they lost, Sasso and Snow gushed about their love story and said they didn't need to win to know how they felt about each other.
The star of "The Circle" Season One elaborated on his reaction to Gabriel and Hassarati beating him and Snow by one vote.
"To tell you the truth, I didn't even know there was going to be a winner of the show," he says, laughing. He says he was more preoccupied with enjoying his tropical vacation and falling madly in love with Snow during his time on "Perfect Match" than winning.
Are Joey Sasso and Kariselle Snow still together? 
Sasso reveals that he and Snow ended their engagement after the show. 
"We both sort of agreed right now we need to step away from each other. That's for the best, but her and I have so much love for each other," he says.
He says returning to the world outside the show had insurmountable challenges.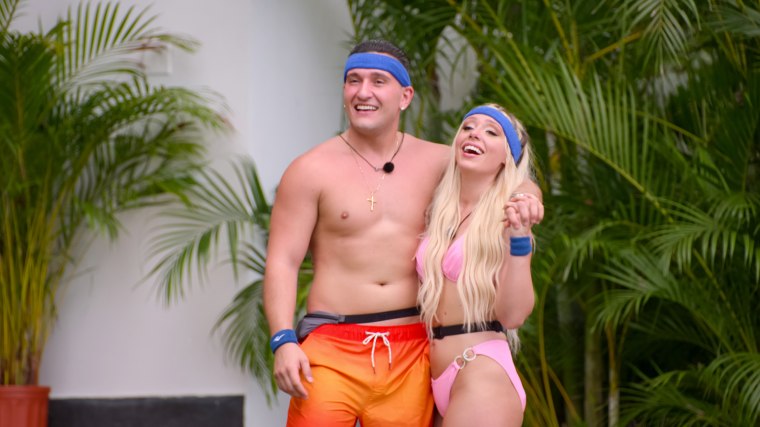 "When I was there, I was like, 'This is the perfect person I want to spend the rest of my life with.' When you finish filming, you go back to reality. There's a lot of life things to deal with," he says.
But they're still in touch. "We have been such good friends for such a long time. And as of right now we're really working on repairing the friendship before anything else," he says.
Although his relationship did not work out, Sasso says he does not regret going on the Netflix show because he appreciates the lasting connections he made with the other contestants. He jokes that it felt like they were living together in the villa for years even though they only filmed for about a month. 
"I feel good that since we've wrapped the show there hasn't been any times I've been laying in bed going, 'Why do I say that? Why'd I do that?'" he says. "We took a plunge and it was a great experience."