(Warning: Spoilers from the season finale of "Perfect Match" are ahead.)
After 12 episodes and plenty of tears, the cast of "Perfect Match" crowned Dom Gabriel and Georgia Hassarati the winners of Season One. 
The reveal in the finale, which Netflix released on Feb. 28, that the couple had won came as a surprise, considering fellow finalists Joey Sasso and Kariselle Snow got engaged during the same episode.
Viewers also heard some past contestants voice their doubts about the strength of Gabriel and Hassarati's relationship, as the "Mole" star matched with "Too Hot to Handle" Season One alum Francesca Farago for the first part of the season. 
In Episode Five, Farago decided to couple up with "Love Is Blind" star Damian Powers instead, blindsiding Gabriel. He sobbed and told Farago he loved her.
Gabriel later realized he had a budding connection with Hassarati and the two became inseparable throughout the rest of the season.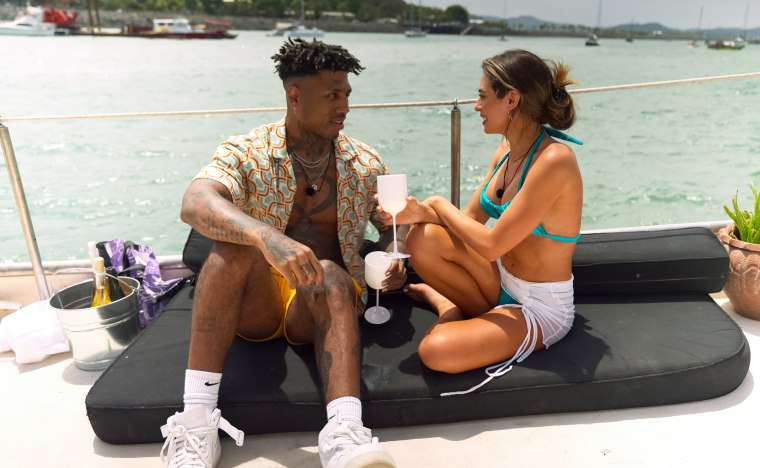 TODAY.com caught up with Gabriel and Hassarati about overcoming the obstacles they faced in the villa — and, of course, the status of their relationship today. 
'A difficult atmosphere': Overcoming challenges on the show
"It was tough," Gabriel says, referring to their time on the show. "There was definitely a lot thrown at us but I guess that's just a testament to, as corny as it may sound, love." 
Among the obstacles? Hassarati learning that Gabriel confessed his deep feelings for Farago, who is one of her close friends, and dealing with Ines Tazi ("The Circle France") being interested in Gabriel.
Meanwhile, Mitchell Eason ("The Circle" Season Two) wanted to pursue a connection with Hassarati. 
Despite being faced with potential matches at literally every turn, the couple decided to keep matching with each other. Viewers saw them work through their issues, but there were some behind-the-scenes disagreements that didn't make the cut.  
"I think there was a night where I had to sleep on the couch and I was kind of in the dog house," Gabriel says, laughing. "The Mole" star credits the pair's "love and communication" as the key to them staying together and ultimately being named the perfect match. 
Hassarati tells TODAY.com, "It was a very difficult atmosphere and we rose above every challenge that was thrown at us. It brought us together. It made us stronger."
As the winners, they were awarded a trip for two to anywhere in the world.
Are Georgia Hassarati and Dom Gabriel still together after the 'Perfect Match' finale?
They confirmed that they broke up after the show. 
"I just loved my time with him and getting to know him," the "Too Hot to Handle" star says. "He's a great person and I wouldn't change anything. However, now we're not together at the moment."
She says that she wishes him the best and that they are both focusing on their careers right now. 
Gabriel says that long distance played a role in their split. Hassarati is originally from Brisbane, Australia while Gabriel is from Toronto, Canada. 
He explains, "I think after the show there's a lot of things that you have to take into account, such as distance. And going from being in a house with cameras around you all the time is tough. We're on good terms and there's no bad blood there."
It seems like the door isn't fully closed between the two. 
"I think it was the kind of thing where, 'Let's see where the future leads us. Let's kind of do our thing on our own,'" he continues. "If the future has something else in store, if it's meant to be, then it's meant to be." 
Gabriel says that spending one day building a connection in the villa in Panama felt like an entire week. "That sort of bonding that you have in that house is definitely different. It's so unique," he says.
Looking back on his "Perfect Match" experience, he says he was happy with the connections he made and he wouldn't change anything. 
"We all fell hard," he says. 
All episodes of Season One of "Perfect Match" are streaming now on Netflix.