(Warning: Spoilers from the season finale of "Perfect Match" ahead.)
"Perfect Match" is a Netflix show that pairs up cast members from past reality shows for another shot at love.
For the first few episodes of Netflix's "Perfect Match," it seemed like Shayne Jansen, first seen on "Love Is Blind" Season Two, would eventually leave the show without finding love. He went on a couple dates, but the connections quickly fizzled.
Everything seemed to be going in the wrong direction — until he met Chloe Veitch of "Too Hot to Handle" Season One and "The Circle" Season Two.
The two immediately hit it off on their date and Jansen was enamored with her effervescent personality. They decided to match with each other. She later expressed she was falling for him.
However, the arrival of Veitch's ex, Mitchell Eason, whom she met when they both appeared on Season Two of "The Circle," temporarily paused their budding romance. Veitch chose to rekindle her relationship with Eason and Jansen was briefly sent home.
Eventually, Veitch realized that she and Eason were still battling the same issues they had that led to their breakup. She cut things off with Eason for good and Jansen returned to the "Perfect Match" villa. 
Veitch and Jansen had a few explosive disagreements — including one about her splashing him after jumping into a pool — but they managed to make it until the finale. They were named as one of the finalists, but ultimately Dom Gabriel and Georgia Hassarati were crowned the winners. 
In an interview with TODAY.com, Veitch opens up about her love triangle.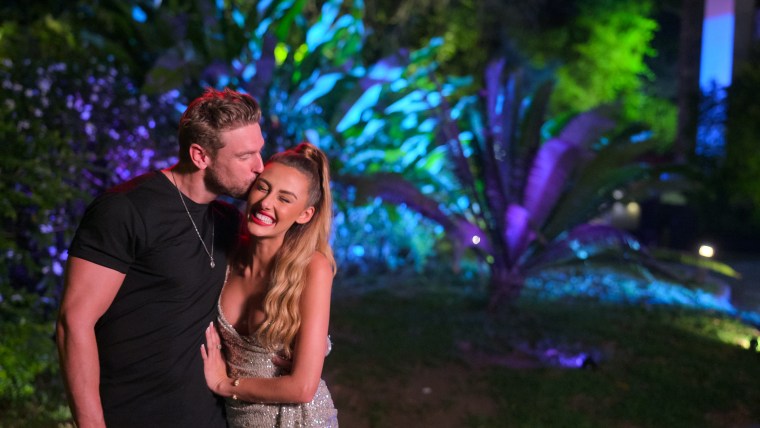 Chloe Veitch has no 'Perfect Match' regrets
The "Too Hot to Handle" star says she does not regret choosing to pursue Eason and pausing her promising connection with Jansen. 
"I needed to date Shane and then date Mitchell to really see how different they were. Not comparing them to each other but to also my inner self. Like, how do I feel being with these individual men? Do I feel strong, empowered, loved, cared for? And it really opened my mind to what Chloe actually wants in a man," she says. 
She jokes, "Dating multiple guys isn't normally my forte, but it is amazing because obviously they're both really sexy."
At the time of the interview, Veitch hadn't seen the episodes. She was dreading watching Jansen's reaction to her exploring getting back together with Eason. 
"I'm gonna see Shane hurting on the show when I watch it," she says. "So I'm probably gonna close my eyes for that. But (on a) competition dating show, these things happen."
She says the decision was difficult but necessary at that moment.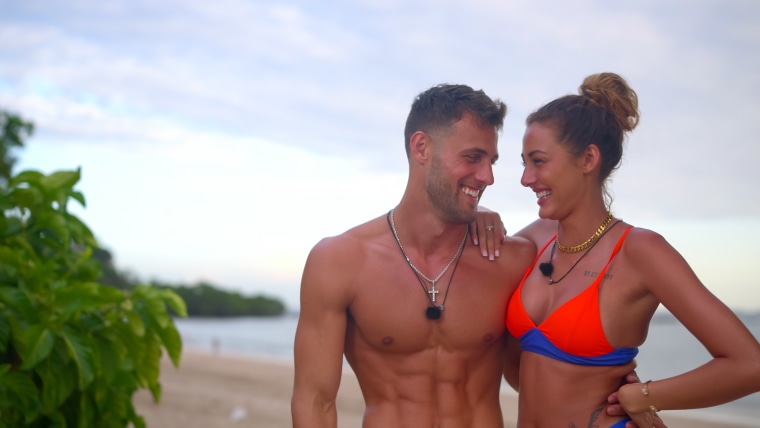 Eason shares a similar view of the situation in a separate interview with TODAY.com. He says did not know his ex-girlfriend would be on "Perfect Match" when he agreed to do the show. 
He wanted to give their relationship another chance because they didn't really get to know each other before it ended the first time, he says. 
"I don't regret it because at the end of the day, I wanted to just give it my all for the show and for myself. It's sad it didn't work out with me and Chloe, but we're good friends," he says. 
Are Chloe Veitch and Shayne Jansen still together?
In short? No, Veitch and Jansen are not together. After "Perfect Match" ended, Veitch and the "Love Is Blind" star broke up. 
"We're not together unfortunately," she says. "Towards the end of the episodes in 'Perfect Match,' there were some bumpy roads, up and down." 
On the show, Jansen struggled to forgive Veitch and move on from her short-lived reunion with Eason. 
She continues, "When I decided to make him my perfect match, I was feeling very hopeful. When we got outside of the villa, the bubble that we had around us just popped."
The UK native points out that Jansen resides in Chicago while she lives across the pond. 
As a single woman, Veitch says she is focusing on presenting, acting and following her dreams. 
"I will find my perfect match one day," she says.