Drew Barrymore was treated to a creepy birthday surprise courtesy of "You" star Penn Badgley.
The "Drew Barrymore Show" host has made no secret of the fact that she's a fan of Badgley's Netflix thriller series, which has featured his serial killer character, Joe Goldberg, holding victims hostage in a glass cage.
To help Barrymore ring in her 48th birthday on the Feb. 22 episode of her show, co-host Ross Mathews blindfolded Barrymore and locked her inside her very own glass cage — and then brought Badgley out to greet her.
"So, Drew, you are, of course, in a glass cage because we know that you love a certain show," Mathews says in a promo clip the program tweeted ahead of the episode.
"So we brought 'You' to you," he adds as Barrymore, dressed in a colorful striped full skirt and magenta blouse, looks shocked.
That's when Badgley saunters up to Barrymore's cage and knocks on the glass. The "Charlie's Angels" franchise star holds her face in her hands and then dramatically falls to the floor in joy.
"It's not supposed to be this way. ... You're not supposed to want this!" Badgley jokes of Barrymore's glee at being held captive.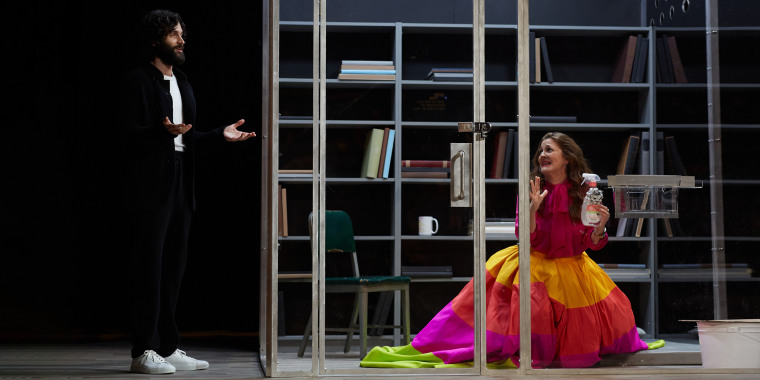 It's not the first time Badgley has dropped by Barrymore's show to delight her. The actor surprised the host last year around the time of her birthday when he checked in via video as she was chatting with guest — and fellow "You" enthusiast — Casey Wilson during the show's "Drew's News" segment.
When Badgley appeared on screen, Barrymore and Wilson leapt over the show's news desk in their excitement.
"I'm actually sick and I'm in London," Badgley told the pair.
"We can take care of you," joked an out-of-breath Barrymore as Wilson campily removed her wedding ring.
"We love you. I can't believe we're talking to you. This is so crazy," said Barrymore, adding, "I was worried we were going to summon weird people to our lives because we kept talking about why couldn't we be loved the way you love."
Wilson made it clear that her fantasies about the handsome and charming but psychopathic Joe Goldberg were just as warped.
"Why couldn't you put me in a glass box and starve me and leave me from the world?" she asked.
Badgley shared his own feelings about his scary character during a January 2019 visit to TODAY.
"He's a pretty reprehensible guy. You start to discover his true motives pretty early on. He's a guy who's capable of stalking, he's a guy who's capable of murder, he's a guy who's capable of a lot of manipulation," said the actor.
Joe, continued Badgley, believes he is a "true romantic" but he's actually "completely obsessive and compulsive."
"What he does is he takes the tropes that we've seen in romantic comedies ... and it totally subverts them by actually following them closely, and he comes to this really kind of terrifying conclusion."