"The Thing About Pam," an NBC limited series starring Renée Zellweger, is the latest in a series of projects that center on the story of convicted murderer Pam Hupp.
Hupp has been the focal point of five Dateline reports, starting in 2014, as well as a 2019 podcast.
Zellweger listened to the podcast and was instantly riveted by the story's twists. More than riveted, actually: In "The Thing About Pam," she found her next major project. Zellweger transformed into Hupp for the series, which she also executive produced.
If you've already started "The Thing About Pam" and are looking to do a deep dive into the rest of the story, we've rounded up all of the books, podcasts and documentaries to check out in between episodes of the new NBC show.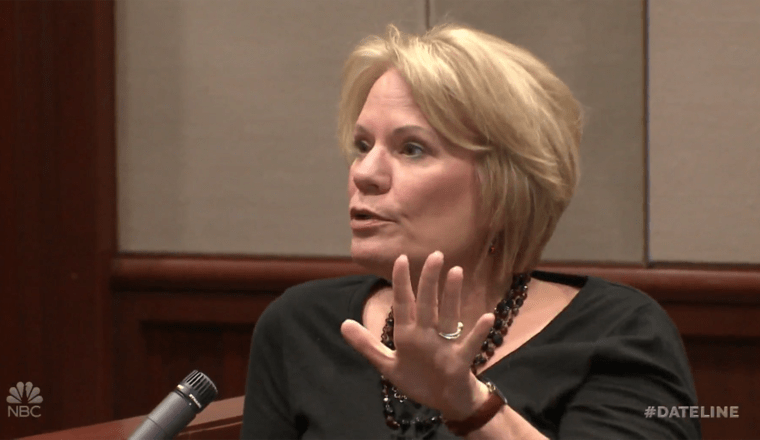 Who is Pam Hupp and what exactly has she been accused of?
It takes "The Thing About Pam" six episodes to tell Hupp's story — but we'll briefly condense its many twists and turns below.
Hupp is currently facing a murder charge for the 2011 death of Betsy Faria, a woman she claimed was her best friend. Prosecutors allege Hupp killed Betsy in a bid to collect a $150,000 life insurance payout and tried to frame Betsy's husband, Russ Faria, for the crime. Russ was sentenced to life in prison and served more than two years before a retrial set him free.
Hupp is currently serving life in prison for the 2016 murder of Louis Gumpenberger — a man she claimed that she had shot in self-defense after he followed her into her house. She was already in prison when she was charged with Faria's murder in 2021. She has pled not guilty.
Listen: "The Thing About Pam"
If you're looking for a podcast, you might want to give NBC's "Dateline" podcast a try.
This episodic series presents a compelling look at the allegations against Hupp while touching on the broader implications for the criminal justice system. "Over and over again, I just kept asking the question: 'How?'" Zellweger told Keith Morrison of Hupp's tactics on "The Thing About Pam."
Where to listen: Spotify, Apple Podcasts, or wherever you listen to podcasts
Read: "Bone Deep" by Charles Henry Bosworth and Joel Schwartz
Published in 2022, "Bone Deep: Untangling the Twisted True Story of the Tragic Betsy Faria Murder Case" is a thorough analysis of Faria's murder from the perspective of someone who knows it better than most.
Co-author Schwartz represented Faria's husband, Russ, in his 2013 trial, and later fought for his client's release after he was wrongfully convicted of murder. It doesn't get more "insider perspective" than "Bone Deep."
Read: "Pam Hupp: Death 'Insured'" by Rebecca F. Pittman
If it's details you're after, then details you shall find in this true crime book. "Pam Hupp: Death 'Insured'" by true crime writer Rebecca F. Pittman is packed with exclusive interviews from prosecuting attorneys; law enforcement agencies; members of the press; and members of Faria's family.
CLARIFICATION (March 15, 2022 at 10:20 p.m. ET): This article has been updated to clarify that a charge against Pam Hupp for the murder of Betsy Faria remains pending. Hupp has pled not guilty.
CLARIFICATION (March 16, 2022 at 12:58 p.m. ET): The article was updated to clarify Hupp's account of the Gumpenberger shooting, and updated to reflect Dateline's extensive coverage of Hupp.