For Pete Berg, the decision to make a show putting a spotlight on the opioid crisis was personal.
Berg, director and executive producer of Netflix's "Painkiller," tells TODAY.com that when he was approached with the idea for doing the show, he immediately started thinking about how opioid addiction has affected the people in his life.
"I thought about counting the people that I know that have died or really, really struggled with opioid addiction. I quickly got off both hands, it was over 10," he says. "And I started thinking about how it has personally impacted me, and that created passion inside of me that I knew would help drive me to do the best job that I could with this show."
As the team was finishing the show, lawyers approached and said for legal reasons, the show had to put disclaimers at the beginning of each episode, which read: "This program is based on real events. However, certain characters, names, incidents, locations, and dialogue have been fictionalized for dramatic purposes."
"To me, those disclaimers always devalue what people are about to see in some way," Berg says. "It didn't sit with me well for this one. I didn't want people to be able to devalue the enormity of the tragedy and the magnitude of the brutality of this crisis."
To bring the crisis home for viewers, Berg enlisted real people who had been affected by the opioid crisis to read the disclaimers at the beginning of each episode. Before they do so, the speakers share stories of their loved ones who died as a direct result of the opioid crisis.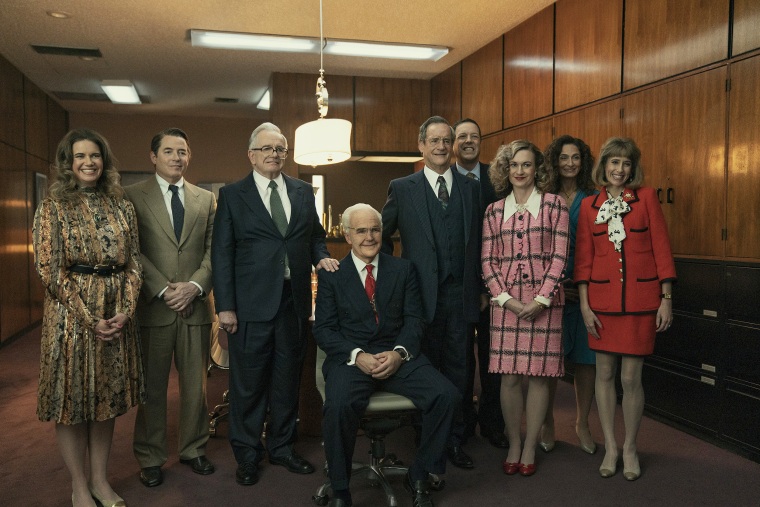 A different person reads the disclaimer before each of the six episodes of "Painkiller," which recounts the rise of OxyContin, a highly addictive prescription drug manufactured by Purdue Pharma, which has played a role in the hundreds of thousands of drug overdose deaths caused by prescription opioids in the U.S.
"And so I thought, what if we could find parents whose children had died from OxyContin, get them to read this standard disclaimer, but then say, hey, what is real and then talk about their own experience and children, that it would set the tone for what we were trying to accomplish, and allow us to make sure that the viewer was properly prepped for what they were about to see," Berg says.
"Painkiller" also tells the story of the people behind the marketing plan of OxyContin, including members of the Sackler family, like Richard Sackler, the former president of Purdue Pharma.
Berg says he wanted to represent some of the "absurd" nature of some of the events Purdue hosted to try to market the drug in "Painkiller," particularly the dancing scenes throughout Episode Three.
"I started to unpack the reality of the Sacklers. It's a tricky unpacking because they're so secretive, he says. "But the more I learned, the more absurdly farcical the whole Purdue Pharma culture seemed — these bizarre retreats they would do in South Beach, Florida, where a bunch of giant OxyContin plushies would dance. They'd have bad entertainers singing songs about selling OxyContin and it all just seemed absurd to me."
"If you evaluate someone's talent based on their ability to make money, the Sacklers get A pluses. But if you look at the taste, and the morality, and the lack thereof, and sort of try and start adding it up, there's something almost absurd to me about them," he continues. "That's why you hear smoke alarms and you see giant dancing OxyContin plushies, and you see Richard and (his uncle) Arthur dancing with glee when they get the approval from the FDA."
While the characters in the show are played by actors, several of them are based on real people, like the Sacklers, while others are fictional characters based on a collection of real people, like lawyer Edie Flowers and Purdue Pharma sales rep Shannon Schaeffer.
Berg says the show reached out to the real Richard Sackler to try to have him involved in any way, but "there was no response."
"I tried to see if he would meet with me. I was not able to do that," Berg says. "The Sacklers do a very good job of letting their lawyers do the talking. They are very, very effective at staying in the shadows."
Berg is aware there have been other shows before "Painkiller" about the opioid crisis, like "Dopesick," as well as books like Barry Meier's "Pain Killer" and Patrick Radden Keefe's "Empire of Pain." He says he considers the totality of the pop culture reckoning of the Sacklers to be a different form of justice outside of the legal system, as the Sacklers have never been criminally charged.
"When you realize how much money this family has and how they're using the interest payments from their fortune to pay these fines, it's not touching them," Berg says. "You realize that, that's not really right, isn't it? It's hard to get justice if your children have died."
"The totality of all of these shows, books and writings is that you walk out anywhere and start talking to someone to mention the name Sackler and people know," Berg continues. "I think that probably hurts quite a bit." 
The Sackler family denies wrongdoing. 
At a 2020 Congressional hearing, David Sackler, former member of the Purdue Pharma board of directors and son of Richard Sackler, gave his family's perspective on the epidemic. 
"I want to express my family's deep sadness about the opioid crisis. OxyContin is a medicine that Purdue intended to help people, and it has helped and continues to help millions of Americans. Far too many lives have been destroyed by addiction and abuse of opioids, including OxyContin.
"There are many lawsuits that have blamed Purdue and my family for the opioid crisis. While we deny liability and are vigorously contesting these claims, we want to respond to the opioid crisis, because the prescription medicine that our company manufactured and sold, which was never intended to harm anyone, ended up being part of a crisis that has harmed too many people," he said. 
The Supreme Court announced on Aug. 10 that it would pause Purdue Pharma's bankruptcy deal that would have protected members of the Sackler family from further civil lawsuits.
As part of the deal, the Sackler family agreed to pay $6 billion that could be used to settle opioid-related claims, but only if the deal included complete release from any liability in future cases. Purdue Pharma pled guilty to criminal charges as part of an $8 billion settlement, per NBC News.